OOIDA's Lewie Pugh on tap as House transportation committee witness
Last Updated: Wed, February 3, 2021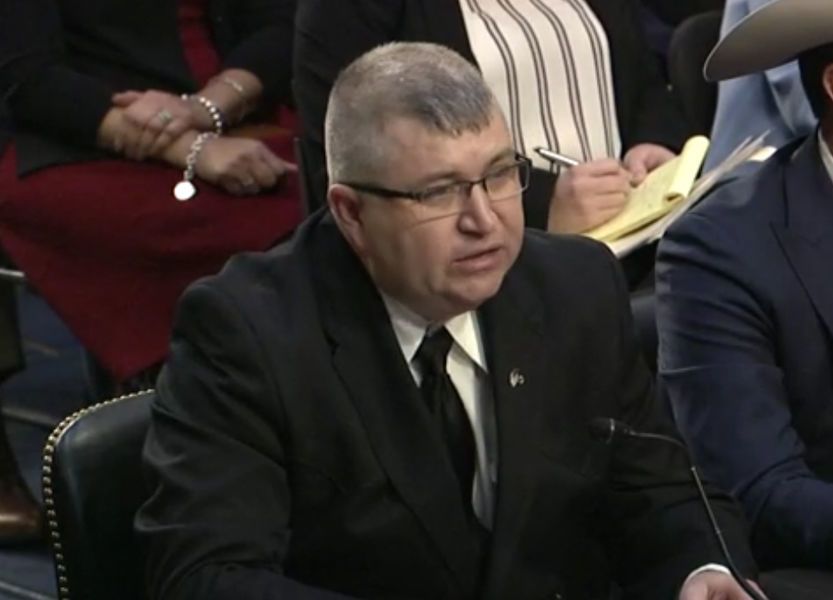 OOIDA VP Lewie Pugh at last year's Senate hearing
Outspoken advocate for truckers, Lewie Pugh with the Owner-Operator Independent Drivers Association, is expected to drop some more of his infamous "truth bombs," as one of six witnesses testifying before the House Transportation and Infrastructure Committee this Thursday.
One of the items on the agenda during its full committee organizational meeting is a hearing for "Protecting Transportation Workers and Passengers from COVID: Gaps in Safety, Lessons Learned, and Next Steps."
The February 4, 11 am, meeting will be available to everyone with an Internet connection. Go to the House committee's website to catch the event live.
Pugh, who is Executive Vice President of OOIDA, has been with that organization since 1996. He was a commercial truck driver for 23 years, amassing 2.5 million safe miles. He got off the road in 2017 to begin working at OOIDA headquarters.
He is the only trucking industry representative among the six witnesses being called to testify to the House transportation committee. Witnesses include a mix of academics, union and association members, and a politician.
The others testifying include:
David Michaels, professor in the Department of Environmental and Occupational Health at George Washington University
Sara Nelson, international president of Association of Flight Attendants
Ismael Rivera, bus operator for Lynx and member of Amalgamated Transit Union
William P. Bahnfleth, professor of architectural engineering at Pennsylvania State University
Joe Buscaino, member of the Los Angeles City Council and past president of the National League of Cities.
In a statement last week, and published on Land Line, the OOIDA's online news website, Pugh said lawmakers need to hear that they need to "provide tangible relief to the truck drivers who have been keeping America moving during this crisis."
He told Land Line, "It's an honor to represent the hardworking men and women who drive trucks every day to keep American rolling. Truckers face countless obstacles, both during and pre-COVID."
"While FMCSA and FHWA both stepped up to provide relief, Congress was pushing more costly mandates, including a massive cost increase for insurance. You can't refer to truckers as heroes while simultaneously trying to put them out of business. It just doesn't work that way," Pugh said.
Pugh unleashed on a Senate hearing last year
This outspoken OOIDA representative is no stranger to controversy. As reported in a February 9, 2020, Trucking Truth article, Pugh gained a lot of attention almost exactly one year ago when he delivered a series of "truth bombs" during testimony before the Senate's Transportation and Safety Subcommittee.
The purpose of the hearing was to learn trucking industry perspectives on trucking in America. Pugh gave them an earful.
During that hearing Pugh disagreed with the other witness, American Trucking Associations' CEO Chris Spear about safety requirements, the Drive Safe Act, and under-21 drivers.
In his blunt appraisal of the job that Congress was doing in regulating trucking Pugh called on the committee to pull back on some proposals that he called meaningless, including speed limiters, mandated front and side underride guards, and increased insurance premiums.
Pugh said that OOIDA does not support the DRIVE-Safe Act that allows drivers under the age of 21 to engage in interstate commerce, adding that the purported reason for allowing under-21 drivers, a driver shortage, is a false premise.
"Contrary to what other associations repeat, constantly, there is no driver shortage." Pugh said in his testimony. "The notion of a driver shortage isn't supported by facts, data, or reputable research. In other words, it's a myth. We oppose this bill because it's a solution in search of a problem, and we urge Congress to reject it."
He continued: "I would agree that I learned the skills on how to operate a truck and maneuver a truck very well in the United States Army, and I'm very thankful for that. But I think there's still more training that needs to be issued. Because driving a truck in military life … is much, much different than in civilian life. You're usually in convoy. You usually had people overseeing where you were going. You had designated routes, and you weren't just turned loose.
"When I turned 21 and went to work as an over-the-road trucker, I was just turned loose. Again, I was fortunate to be trained with the skill, but as far as the knowledge and the real-world knowledge of what's out there … I was lucky. I didn't have any accidents or anything happen, but that real-world knowledge would have been nice to have had a little more training on before I was just turned loose."
Spear's argument to counter Pugh's statement was that since 48 states allow an under-21 driver to haul freight in a big rig within state lines the reasoning for not allowing that driver to cross a state line fails when one considers that an under-21 driver can haul freight 850 miles the length of California, but is prohibited from hauling a load 10 miles from Providence, Rhode Island, to Rehoboth, Massachusetts, because a state line must be crossed.
The DRIVE-Safe Act, according to Spear, requires young drivers to undergo a 400-hour apprenticeship period, and training in safety technology. Currently, 48 states do not require this additional experience and training to receive their intrastate CDLs.
Pugh also had some strong words opposing the then-new ELD mandate
"Today's truckers are subject to more regulations and greater enforcement than ever before, and while compliance with those regulations has never been higher, crash rates are still moving in the wrong direction. A prime example of this problem is the electronic logging device (ELD) mandate," he stated in his written testimony.
"This massively expensive rulemaking, disguised as a silver bullet to improve safety, has driven many experienced truckers out of the industry. The roughly $2 billion in costs associated with the mandate have imposed financial and compliance burdens on American businesses of all sizes, especially small carriers who are forced to spend their resources on installation compliance, and service fees for equipment that has not shown any proven safety benefit," he went on to say.
"We urge the Committee to repeal the ELD rulemaking or consider commonsense legislation that would exempt small-business carriers and drivers who have exhibited a proven history of safety."
It is expected that during Thursday's hearing about COVID and trucking Pugh will fire off some "truth bomb" comments like these from last year's pre-COVID hearing:
"From the perspective of small-business motor carriers and professional drivers, the state of the trucking industry is dysfunctional. This is because too many people who know virtually nothing about trucking have an oversized role in shaping trucking policy. Drivers feel the negative effects of this firsthand, myself included."
"The hours-of-service rules are broken. There are hundreds of regulations that have nothing to do with highway safety. The lack of available truck parking is a national crisis. Enforcement is often motivated by profit. And drivers work extremely long hours with notoriously low pay."
Speaking of COVID restrictions
The U.S. Department of Transportation has clarified a recent regulation by the Centers for Disease Control requiring transportation workers to wear masks during all transportation-related activities such as at airports, seaports, marinas, train stations, U.S. ports of entry, warehouses, distribution centers, shippers and receivers, truck stops and hotels.
Team drivers are required to wear masks within the confines of their cabs, but the DOT clarified that a solo driver in the truck by himself or herself is not required to wear a mask.
That exemption expires, however, when the driver steps out of the cab to conduct business at a shipper, DC, or truck stop, for example.
Sources: Land Line, House Transportation, Senate Transportation, FreightWaves
Tagged Under:
Coronavirus
DOT
Electronic Logbooks
Life On The Road
Owner Operator
Truck Stops