Carriers muster to pick up Celadon drivers, employees
Last Updated: Tue, December 10, 2019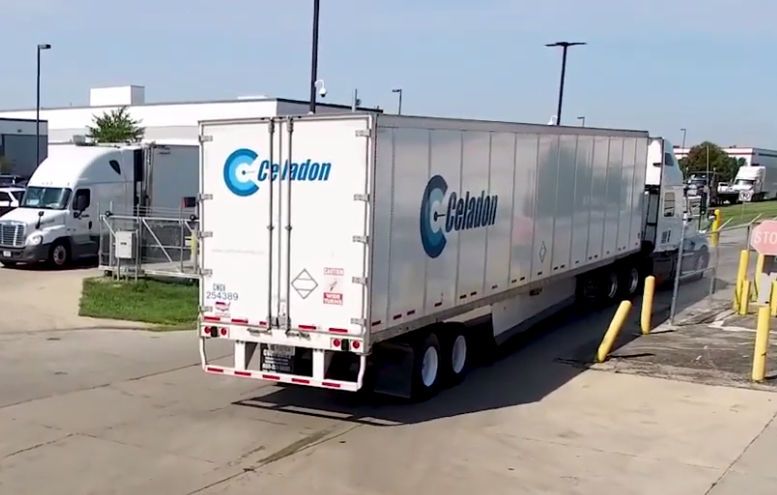 From among the stories of driver abandonment and hardship resulting from the largest truckload carrier bankruptcy in American history there are emerging heart-warming human-interest stories of just what it means to be a part of the truck driver community, where drivers take care of each other.
As Celadon Group announced Chapter 11 bankruptcy on Monday morning, its 3,000 drivers learned just hours earlier that they were out of a job via messages on their tractor ELDs.
The messages promised drivers that they will be paid for completing loads in transit, and will be given instructions for returning to home base in Indianapolis, Indiana.
Here is the content of the "Dear John" message in its entirety:
**Fleetwide Message: We regret to inform everyone that Celadon Group, Inc., has filed for Chapter 11 bankruptcy. We will continue to haul and deliver all loads that we now have in transit.

We will have more information in the morning as to where equipment needs to be returned to. We have been assured that everyone who follows instructions will be paid for the work and miles assigned and completed, and Celadon will not leave anyone stranded away from home.

Finally, we truly appreciate your commitment and dedication to this company, and wish you all luck moving forward.

Celadon management
Despite the company's promise to "not leave anyone stranded" it is reported that fuel cards were shut off, leaving some drivers unable to fuel up their trucks for the return journey. Other company drivers report witnessing Celadon trucks being loaded up at truck stops and being towed away.
Industry watchers know that a failure of this magnitude doesn't happen in a vacuum and that it doesn't come as a sudden surprise.
According to a FreightWaves article announcing the bankruptcy, Celadon began shedding shipping customers the week before the breakup. Large shipping customers like Walmart, ConAgra and MillerCoors cancelled pre-planned loads, and lenders even began repossessing equipment.
In some instances, it is reported that pre-loaded Celadon trailers were returned to docks and their loads transferred to other carriers.
The shut-down, which many industry watchers attribute to a cash-flow problem, was exacerbated by a recent securities scandal that has seen some former Celadon executives being indicted on fraud charges.
On the positive side of this tragedy, however, stories abound about other carriers and individuals stepping up to come to the aid of the nearly 3,000 jobless drivers and 1,000 technical workers and office staff employed by Celadon.
While many carriers have in mind benefiting from being able to recruit from a labor pool of available experienced drivers, many are making more altruistic offers.
For example, Carter Logistics has announced they will pay for bus tickets home for any stranded Celadon drivers. Drivers can call the Carter Logistics recruitment office at 877-628-6806.
They have also advised Carter drivers to keep an eye out for stranded Celadon drivers and to help them in any way they can. And Carter is putting together a recruitment package for Celadon drivers and technicians that includes sign-on bonuses and working-day minimum guarantees for new Celadon hires.
Many other carriers, like Dart Transit Co., of Eagan, Minnesota, have announced they will match or exceed Celadon pay for a similar route, but will also help stranded Celadon drivers get home whether they end up working for Dart or not.
Similarly, Hirschbach Motor Lines of Dubuque, Iowa; CRST and Covenant Transport have made offers not dependent on the Celadon driver eventually hiring with them.
FreightWaves job board
FreightWaves has established a free job board that can be used by companies wishing to recruit from among former Celadon employees, and for those employees to post their resumes that will get the attention of employers.
The board offers information about those offering jobs ranging from freight brokerage professionals, customer service, load planners, dispatchers, sales, and recruiters as well as drivers.
"The tragedy of Celadon is impacting so many people across the industry. FreightWaves is a part of driving transparency and connectedness in the freight community and we wanted to expand that to connecting the great talent with prospective employers. Families are being impacted by the sudden closure of one of the trucking industry's greatest franchises and the timing around the holidays is even more unfortunate," Craig Fuller, CEO of FreightWaves stated on the FreightWaves website.
To The FreightWaves jobs board can be found at FreightCareers.FreightWaves.com.
Small Sacramento carrier declares Chapter 11 bankruptcy
In the meantime, hard of the heels of Celadon's closing, another smaller carrier declared bankruptcy this month. Hendrickson Truck Lines of Sacramento, California, announced on December 3 that it will be closing it doors and letting its 97 drivers go.
This is the second go-around for Hendrickson, the company having filed for Chapter 11 bankruptcy in 2015.
Company officials blame the soft freight market for its financial troubles, saying it suffered a 21 percent drop in rates per mile and lost half its customers from the highs of 2018 – causing it to lose about $400,000 in revenue per month.
In addition, Hendrickson recently made an investment of nearly $133,000 per month in leasing 89 new tractors, but soon discovered that more than a quarter of those tractors had maintenance issues resulting in nearly $1 million worth of repairs, lost revenue from downtime and towing costs.
Sources: FreightWaves, Indy Channel, Seattle Times, Transport Topics
Tagged Under:
Celadon Trucking
Covenant Transport
CRST Van Expedited
Dart Transit
Trucking News