Clearinghouse deadline, and new FMCSA guidance about yard moves
Last Updated: Mon, January 4, 2021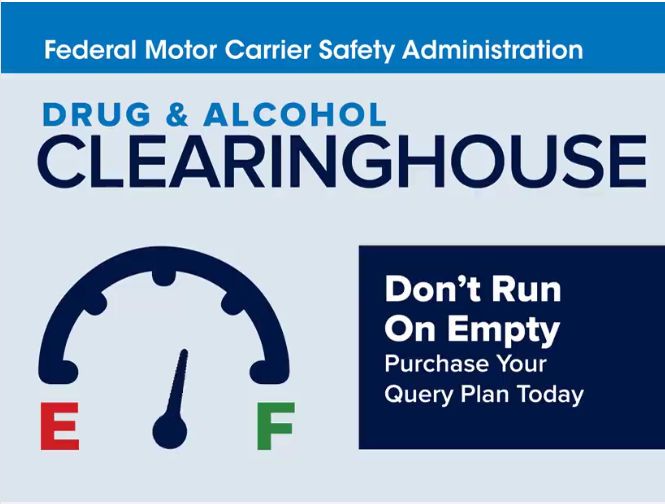 A hard deadline looms for carriers and owner-operators to register and make their first query with the FMCSA's Drug & Alcohol Clearinghouse. That deadline is tomorrow, January 5.
The FMCSA had been heavily promoting the obligations of carriers and independent drivers to register with the Clearinghouse long before the Clearinghouse was launched on January 6 of last year.
Basically, carriers were required to have made a full query by January 5 of this year of drivers hired before the Clearinghouse January 6 launch date last year. New drivers hired in 2020 would have undergone the query by their employing carriers as they were hired.
Owner-operators and independent drivers operating under their own authority were responsible for making inquiries on themselves sometime during the past year, and time is running out … that January 5 deadline holds for them too.
After the Clearinghouse opened for inquiries on January 6 of last year the agency experienced website crashes from the surge of query requests.
A similar situation has been developing in the past few weeks as carriers and independents scramble to make their inquiries for this year's January 5 deadline.
There could be penalty fines for failure to complete a required query by the deadline.
One commenter expressed his frustration at not being able to access the Clearinghhouse in December:
"Why can't I get through to do the annual limited mass query?" he wrote.
"When I call customer support for the Clearinghouse portal all I receive is a voice message advising me to call back later. I have attempted to utilize the help function from the website as well (as of this writing no response to my email validation from 12/22/20).
"How do you expect carriers to comply with this mandate when the system will not accept a bulk upload in the format that you prescribe, and then fail to provide timely follow up to resolve the issue? Note, these comments are my own and do not reflect my employer," he concluded.
Land Line, which is the online magazine for the Owner-Operator Independent Owner's Association, suggested that carriers can bypass the portal logjam to register their query in time.
When the Clearinghouse asks if they have an FMCSA portal account, they should answer no.
When asked if they have a DOT number they should say no, but that they will obtain one later.
This bypasses the Clearinghouse logjam and allows the carrier to register and run the query.
The FMCSA has an extensive FAQs section on its Clearinghouse website; which provides helpful information for carriers and their drivers, and for independents.
The FMCSA Drug & Alcohol Clearinghouse home page is located at https://clearinghouse.fmcsa.dot.gov/
FMCSA proposes new guidance defining yard-moves for HOS purposes
Five years ago the FMCSA wrote into its minimum requirements for ELD manufacturers to include two special driving categories that authorized a "personal conveyance" and a "yard move" exemption to on-duty, driving time.
These two categories allowed drivers to have their commercial vehicle in motion without putting the driver into driving status.
The FMCSA, however, failed to clarify at the time just what was a "yard-move" for purposes of the exemption.
Now, the agency has written a guidance proposing to exactly define what is an authorized "yard." The proposed guidance was set to be entered into the Federal Register today, triggering a 60-day comment period.
An older hours of service regulation from 1997 stated that "a driver who jockeys CMVs in the yard (private property) on weekends should record that time as on-duty (driving) time."
That rule is no longer in effect after the latest FMCSA HOS revisions, and this recent proposed guidance now specifies what qualifies as a yard for purposes of HOS status.
According to the proposed guidance, "The 2020 updated guidance is consistent with the principle in the ELD rule that time spent performing 'yard moves' should be recorded as on-duty not driving time. Because ''yard moves'' occur on private property within the confines of a yard and not on a public road, this time does not constitute ''driving time'' within the meaning of 49 CFR 395.2."
Specifically, properties that may qualify as a "yard" can include, but are not limited to:
An intermodal yard or port facility
A motor carrier's place of business
A shipper's privately-owned parking lot
A public road, but only if and while public access to the road is restricted through traffic control measures such as lights, gates, flaggers or other means. For example, if a driver must operate on a public road briefly to reach different parts of a private property, the movement may be considered a yard move if public access is restricted during the move.
Some properties that do not qualify as a "yard" include, but are not limited to:
A public road without the traffic control measures in paragraph (a)(4) above
Public rest areas.
The FMCSA is interested in industry input to specific questions about the proposed guidance, and encourages interested persons to visit Regulations.gov and comment by entering Docket No. FMCSA-2020-0118.
FMCSA wants to know:
Would defining "yard moves" in the Agency's regulations provide necessary clarification and therefore benefit carriers and drivers
Are there other properties or situations where drivers may be in a "yard move" status that should be included as examples in this guidance?
Would adding examples of "yard moves" be beneficial for this guidance (e.g., moving a CMV for maintenance)? If so, please provide examples for consideration
How should "yard" be defined for the purposes of this guidance?
Sources: Land Line, Clearinghouse FAQs, FMCSA, FMCSA Proposed Rule PDF
Tagged Under:
Background Checks
CDL Pre-Hire
Drug and Alcohol Testing
FMCSA
Hours Of Service
Logbook Questions
Owner Operator
Personal Conveyance
Understanding The Laws