Friday Short Haul - TuSimple watermelon run, Schneider diversity, pre-settlement claims
Last Updated: Thu, June 3, 2021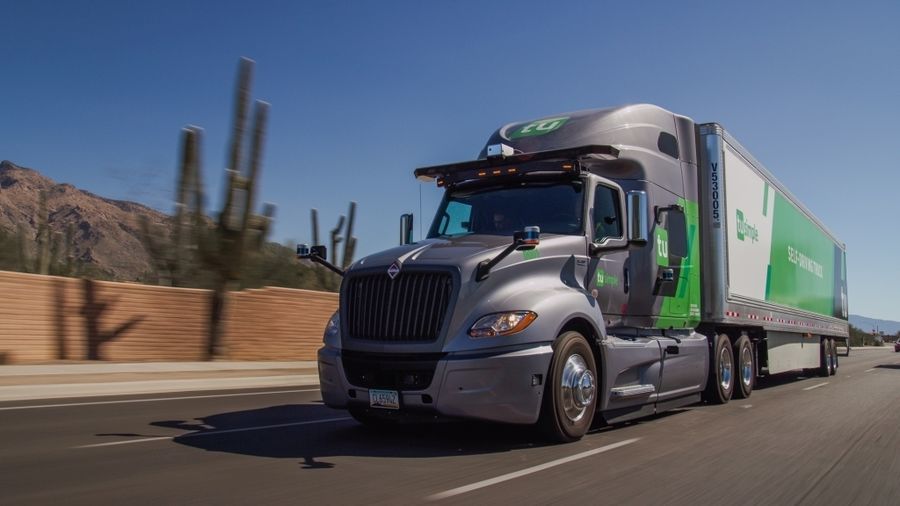 TuSimple stages "watermelon run" to prove self-driving viability
TuSimple, the leader in big-rig Level 4 automation, staged a run recently delivering watermelons from Nogales, Arizona, to Oklahoma City, Oklahoma, in a time they claim would be impossible for a human driver.
The route encompassed some 1,200 miles, but a human driver handled the first 65-mile leg, from Nogales to Tucson, and the final 200-mile leg from Dallas to Oklahoma City, with the self-driving component driving the 960 miles in between.
The company says the trip took 14 hours and 6 minutes, reduced considerably from the 24 hours and 6 minutes that a human driver would have needed to make the same trip. That higher number, of course, reflects the mandatory 10-hour break the human would have needed to take.
TuSimple's Chief Administrative and Legal Officer Jim Mullen said the company picked watermelon, a produce product that requires quick shipment, to highlight the benefit of fast delivery.
"Given the fact that autonomous trucks can operate nearly continuously without taking a break means fresh produce can be moved from origin to destination faster, resulting in fresher food and less waste," Mullen is quoted in a The Drive article online.
A human "safety driver" was present in the truck during the whole trip, as is required for Level 4 compliance, and that driver manually drove the leg from Nogales to Tucson, presumably sat idly by during the 960 miles when the TuSimple truck did all the driving, and then, 14 hours later, began driving again on the approach to Dallas.
The Drive article expressed the doubts that many are thinking about the human interaction during this particular trip.
"It does beg the question, though -- if the human driver is required to be present to supervise the vehicle on the road, then surely maximum shift limits should apply too," the article stated.
"While TuSimple is technically testing a Level 4 'self-driving' program rather than using a 'driver assist' system like Tesla's AutoPilot, the fact that a human was required to be present indicates that supervision was required."
"There's also no information regarding whether the human driver had to take over at any point, and if so, how often this occurred. Thus, long hours would still have a negative impact on attention and safety, even if a computer is handling most of the driving."
In other words, on this run, a driver was present and apparently on-duty the whole time, certainly at the beginning of the trip and at the end, but presumably throughout in order to handle any sudden exigencies that might come up. Did that driver truly "clock out" for a legal 10-hours in order to not violate the hours of service regulations?
Another question comes to mind: Don't team drivers manage the same kind of time frames in delivering cross country? So, until full Level 5 automation is achieved, meaning no drivers are required in the cab – something that is very far into the future – wasn't this staged "watermelon run" just so much posturing to impress the uninformed?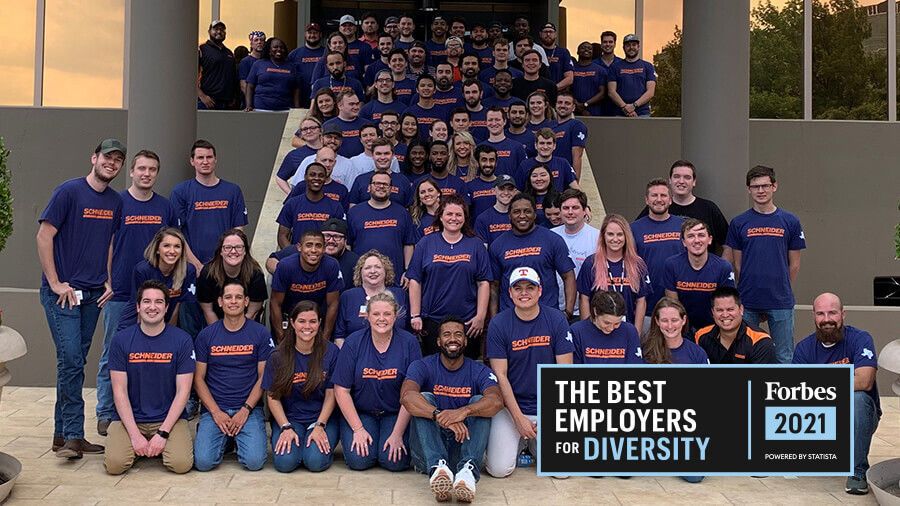 Schneider makes it in the Top 500 on Forbes list for diversity
Schneider announces it is proud to be named on Forbes' 2021 list of America's Best Employers for Diversity. The company ranked at 425 in the list of 500 other companies.
"We are incredibly honored to receive recognition as one of the Best Employers for Diversity," said Angela Fish, Schneider's senior vice president of Human Resources, in a Schneider news release.
"Respect for all and celebrating our differences is essential to what we do at Schneider. We are committed to creating an inclusive future for all."
Some 50,000 employees from across the country were surveyed by a market research company hired by Forbes. Responses were graded for companies based on diversity, equality, and inclusion.
"Through our ongoing education and development programs, we strive to create an inclusive environment where associates feel safe, supported and empowered to share their creativity, experiences and ideas," said Fish. "We continue to foster a culture of respect, enhancing the abilities of our talented associates."
In its announcement, Schneider noted it is "committed to embracing and seeking out diversity that is inclusive of thought, race, ethnicity, gender, age, religion, sexual orientation, experience and background. Fostering a diverse and inclusive workplace built on a foundation of mutual respect and integrity ensures that all associates have equal access to the opportunities and resources they need."
Pre-settlement funding firm sees uptick in business post-COVID
Legal-Bay, a company that specializes in advancing cash to plaintiffs in accident lawsuits who expect to be receiving settlements, states in a news release that they are beginning to see that "new car accident intakes are at levels not seen since before the pandemic."
The company expects that with COVID restrictions lifted in most areas there will be considerably more summer travel. "Unfortunately, however, more drivers on the road means more car, truck, and bus accidents, prompting an uptick in new accident filings."
According to Chris Janish, CEO of Legal-Bay, "Our sources close to the insurance industry say that new car accident intakes are at levels not seen since before the pandemic. Drivers need to be mindful that there are more cars on the road now that things are opened up. We expect a busy summer approving numerous cash advances for those in need."
The company says they can usually get cash to victims of car and semi-truck accidents within 24 hours. Even though the cash advance is in anticipation of a victim receiving a monetary award from a settlement or lawsuit, the money doesn't have to be repaid if the recipients lose their cases.
Sources: The Drive, Schneider news release, Legal Bay news release
Tagged Under:
Autonomous Trucks
Choosing A Trucking Company
Coronavirus
Schneider National
Self-Driving Vehicles
Trucking Accidents