Friday Short Haul - Truck wings, miles traveled tax, left-lane laws
Last Updated: Thu, March 18, 2021
TruckWings means 5.3% fuel savings for trucks
TruckLabs, a company that designs and engineers technology for the trucking industry, has designed a fuel-saving device that can be added on to virtually any truck that the company claims can reduce fuel usage by up to 6 percent.
Called TruckWings, the wind-deflecting device has finished undergoing testing by the Salt Lake City-based trucking firm, Maxway Trucking. After experiencing a 5.3 percent fuel savings, the company will have TruckWings installed on its fleet of around 100 trucks.
TruckLabs says that the addon unit; which was first developed in 2014, has data generated from more than 200 million miles of highway driving that has shown an average fuel savings of from 4 to 6 percent.
Maxway Trucking was an early adopter of the aerodynamic, fuel-saving solution that closes the gap between tractor and trailer, beginning running tests of the new product in September 2019. TruckLabs, following Maxway Trucking's input, continued to make improvements to its product.
"We're proud to be working with Maxway on its journey to greater fuel efficiency by demonstrating TruckWings' delivery of durability and significant fuel savings," says Daniel Burrows, founder and CEO of TruckLabs.
"Maxway has been a great partner in our continuous improvement efforts surrounding TruckWings and we're excited about adding additional products into their fleet to help expand the company's fuel and sustainability savings."
The fuel-saving device works by automatically deploying panels from the back of the cab to cover the tractor-trailer gap when a truck is at highway speeds. At slower speeds, when sharp turns are required, the panels automatically retract, allowing for clearance between the panels and the trailer.
Burrows explained that, "Trucks need the gap to turn, but they need to turn less than 1 percent of the time. The other 99 percent of the time, the gap is simply wasting fuel. TruckWings automatically closes the gap when it's not needed, improving your fleet's bottom line."
"Your truck becomes more like a bullet train on the highway, without any driver actions, changes to the trailer, or compromises on the turning circles," Burrows added.
ATRI turns its researchers to learning about the cost of a vehicle miles traveled tax
Last year, in the American Transportation Research Institute's analysis of what should be a priority for future research, the cost of deploying and operating a federal vehicle miles traveled tax was at the top of the list.
After conducting the study, ATRI has just released its results, with a stunning conclusion that replacing the fuel tax with a VMT tax would cost 300 times more to implement than it currently does with fuel tax.
In arriving at this conclusion, researchers explored the technical and administrative requirements that would be involved in charging ever driver for the miles that they drive. Then ATRI looked at the costs of operating a VMT tax program, considering the technology, data communications and account management involved.
The number arrived at for the costs of collecting the tax from 272 million private vehicles came to $20 billion a year – 300 times more than the same for the fuel tax. Telecommunications costs would be about $13 billion a year, and account administration would be an extra $4.3 billion a year. Even the shipping costs for hardware would add up to more than $1 billion.
They attribute this huge cost increase to the difference between collecting from a couple hundred fuel terminal operators and collecting from the driver of every single motor vehicle in the United States.
But, that's not all. The report found that on top of the exorbitant price tag that comes with a VMT tax is the cost of the initial implementation. According to the report, hardware costs could add $13.6 billion to the startup cost.
"It's clear that a VMT tax is a far more complicated and costly replacement for the fuel tax than many had anticipated," said James Burg Trucking Company President and CEO Jim Burg. "If a system like this is going to work for everyone, many years of thoughtful planning and federal leadership are needed."
In a thinly veiled warning that the current administration – which has demonstrated a deep dislike for the trucking industry – could hastily implement such an ill-conceived program as a VMT tax, American Trucking Associations President and CEO Chris Spear said the study "could not come at a more critical time."
"Most experts agree that some sort of VMT system is a part of that future, and ATRI's report makes clear that implementing it will take thoughtful leadership, cooperation from stakeholders and a strong plan to transition away from current funding streams," Spear said.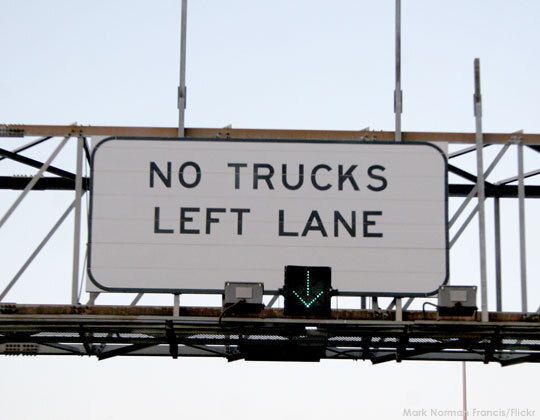 State legislatures looking at left-lane use
Several states have bills before their state legislatures amending their left-lane laws. Virtually all states have laws regulating travel in the far left lane of a multi-lane highway by all vehicles, not just by trucks.
A number of states are now looking at ways to add more teeth to their left-lane-driving laws by upping the fines that could be collected from violators, or by pushing cars farther to the right.
South Carolina, for example, can fine drivers $100 for traveling at less than the normal speed of traffic in anything other than the far right lane. But legislators say the current law is not enough of a deterrent, so a bill is being considered that would double that amount to $200, and impose a sentence of 30 days in jail. Truckers in that state in violation of the law would face only a $50 fine.
Arizona legislators are considering a bill that would make it a violation for any driver going slower than the speed of traffic must stay in the right lane except to pass … or face a $250 fine.
That's in addition to a law currently on the books prohibiting anyone going slower than the posted speed limit from driving in the far left lane.
In Iowa, legislators are considering a bill that would use a "reasonably should know" test for drivers who hang out in the left lane. In other words, if a driver doesn't move over when he should know that another vehicle is trying to pass he could face a fine of $135 for not moving over. Fines increase if an accident occurs because of this violation, up to $1,000 and loss of driving privileges for 180 days if an accident results in death.
Maryland drivers who are caught driving at least 10 mph below the posted speed limit in anything but the right lane already face a $500 fine. A bill in the state legislature would add a slower than "general speed" test to that law.
An attempt in Minnesota to limit truck usage of the far left lane has failed to pass. Current law specifies that any vehicle travelling at less than the normal speed should stay to the right or face a fine of $125.
A bill proposing outright prohibition of trucks from using the far left lane never made it out of committees. The Owner-Operator Independent Drivers Association has voiced opposition to excessive left-lane laws for trucks, saying they "pose serious challenges for truckers and jeopardize the safety of the traveling public," according to Land Line.
Mike Matousek, OOIDA manager of government affairs, told Land Line that by restricting the movement of trucks to the right lane, trucks will inevitably block entrance and exit ramps and impede motorists from safely entering and exiting the roadway.
He added that truckers contribute a significant amount of money to federal, state and local transportation accounts and they have every right to use any available lane.
---
Dave Wickenhauser went on the road driving big rigs after retiring from 33 years in newspaper journalism. His trucking novel, "Crimson Highway" the first in the Hugh Mann series, is available as an Amazon paperback, and as an Amazon Kindle ebook.
Sources: NGT News, ATRI News Release, Land Line
Tagged Under:
Truck Equipment
Trucking Industry Concerns
Trucking News
Understanding The Laws