FMCSA acts quickly to keep the new-driver pipeline flowing
Last Updated: Sun, April 12, 2020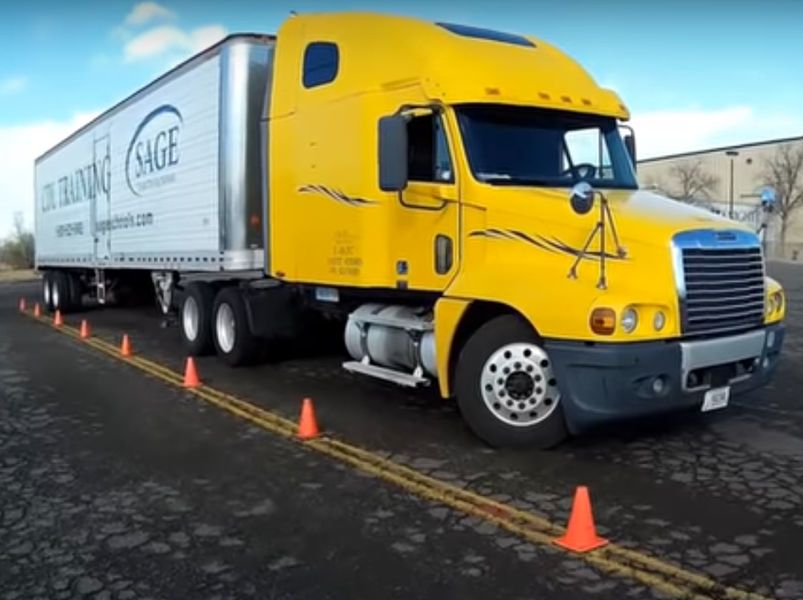 Just days after a coalition representing commercial drivers licensing schools, trucking companies and shippers sent a letter to federal and state officials trying to persuade them to keep state drivers license agencies open the Federal Motor Carrier Safety Administration announced it would temporarily allow CDL skills test examiners to also administer the written CDL tests.
The waiver began with the date of the announcement, April 9, and ends on June 30.
By way of background, the waiver announcement stated that because states have experienced a large number of employee absences or have been closed by governors' executive orders due to the COVID-19 response the "adequate and sustained supply of drivers" to haul essential supplies, equipment and persons has been interrupted.
"This waiver provides needed relief from the specified Federal motor carrier safety regulations (FMCSRs) for States and SDLAs," according to the waiver announcement.
Normally, third-party CDL skills test examiners must complete approximately four hours of Federally required CDL test examiner training in order to administer the CDL knowledge test. The training includes units of instruction on the CDL licensing system, and a general overview of CDL knowledge testing.
But FMCSA, in its written announcement stated that the CDL knowledge tests are easier to administer than the skills tests.
And because the "CDL skills test examiner has substantial direct involvement in the administration of the tests; which requires the observation and scoring of demonstrated driving maneuvers and several days of examiner training, the trained skills test examiners would be capable of administering the knowledge tests without first taking a CDL knowledge test training course," the FMCSA stated.
"Given the public health emergency, there is a public need for immediate transportation of essential supplies, equipment, and persons, which requires an adequate and sustained supply of drivers trained to operate a commercial motor vehicle," wrote FMCSA acting administrator Jim Mullen in the waiver document.
"This waiver is in the public interest because it would allow states and SDLAs to use third-party CDL test examiners to continue administering CDL knowledge tests while SDLAs remain closed, are unable to administer CDL knowledge tests, or are operating at a diminished capacity due to the COVID-19 national emergency."
Each FMCSA departure from normal regulations must include an examination of public interest and safety equivalency, and FMCSA notes that since this waiver has a limited scope and precautions remain in place, the agency determined that "the waiver is likely to achieve a level of safety that is equivalent to the level of safety that would be obtained absent the waiver."
The agency said that CDL skills test examiners have already completed a CDL skills test examiners training course; which has some overlap with the training to be had in the knowledge test training.
"Due to an overlap in training topics, such examiners would have already taken a CDL skills test examiner training course that complies with 49 CFR 384.228(d) and would have already received training on two of the three required units of instruction for the CDL knowledge test examiner training," FMCSA said in its announcement.
To help fill in the gap for training that does not overlap FMCSA directs state drivers licensing agencies to provide third-party CDL test examiners with access to written training and instructional materials regarding the knowledge testing process.
FMCSA notes that the materials may be provided electronically or through other means, but does not require states to provide third-party examiners with formal in-person or online training.
Additional prerequisites for CDL examiners wishing to partake in the waiver include that:
This waiver does not apply to third party CDL test examiners who have not maintained their CDL test examiner certification.
This waiver does not apply to third party CDL test examiners who had not completed a CDL skills test examiners training course
Even though the waiver's temporary period runs through June 30, it might be halted with the revocation of the President's Declaration of National Emergency concerning the COVID-19 public health emergency, whichever is sooner.
CVTA led the coalition asking for federal and state action
As reported in an earlier Trucking Truth News article, the nation's largest association of commercial driving schools led a coalition of major corporations, associations and commercial driving schools to persuade federal and state officials to open their licensing offices to continue to offer CLP and CDL services.
The organization spearheading the effort, the Commercial Vehicle Training Association, made its request in the form of two letters – one to the National Governors Association, and the other to Congressional leaders.
In a press release announcing the effort the CVTA pointed out that the trucking industry moves 71 percent of all freight across the country relying entirely upon drivers that have commercial drivers licenses, and that, "Abruptly halting the process of getting 25,000-40,000 new truck drivers trained, licensed, and on the road impacts a number of significant industries and the nation's supply chain."
In the letters to federal and state officials, President of CVTA Don Lefeve stated, "It's imperative that individual states recognize the national impact of their decisions to shut down CDL training schools and SDLAs. We need them to specifically recognize that CDL training schools and SDLAs are essential services."
In total, signing onto the letters were 23 trade associations, 52 commercial carriers, 77 CDL schools, and 19 suppliers and service providers.
Sources: FMCSA, FreightWaves
Tagged Under:
CDL Exam
FMCSA
Truck Driver Training
Trucking Industry Concerns
Trucking News