Controversy continues on under-21 driver pilot program proposal
Last Updated: Tue, February 9, 2021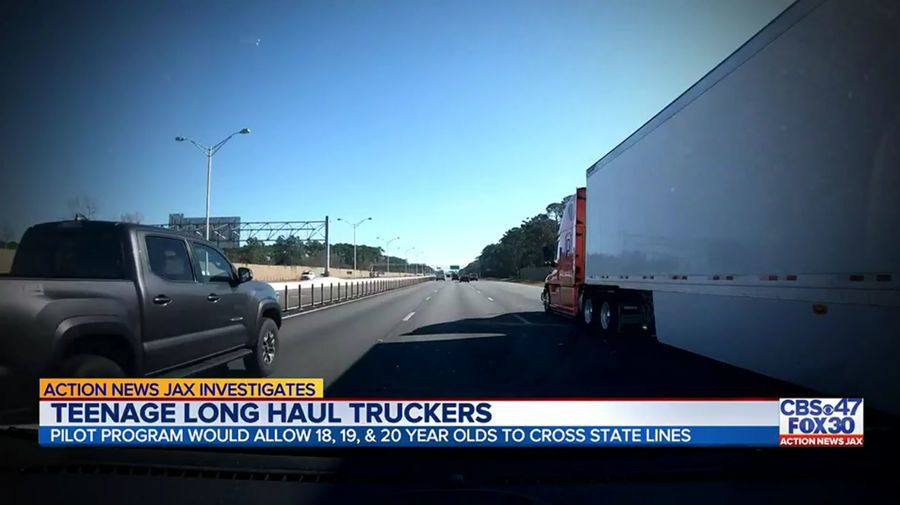 The comment period for the Federal Motor Carrier Safety Administration's proposed pilot program allowing under-21 drivers to operate across state lines has long passed, and the agency hasn't made a final ruling implementing the program yet, but concerns are still being voiced – on both sides of the issue.
Some trucking organizations, like the American Trucking Associations, have come out in support of allowing under-21 drivers to operate commercial vehicles interstate, many individuals, a vast majority, in fact, express opposition to the idea.
According to a poll conducted by CDL Life, some 83 percent of the more than 1,000 truckers responding said they do not support the proposal to lower the age for interstate drivers based on safety and insurance concerns.
The idea of lowering the driving age was initially proposed and announced by FMCSA back in 2019, and was given legs in September 2020 with the announcement of the pilot program. The comment period officially closed in November 2020, after racking up 1,331 comments.
The human factor
Bringing the human factor into comments from those opposed to the under-21 program Action News Jax interviewed Russell Swift, co-chair of Parents Against Tired Truckers, about the consequences of his then 23-year-old son meeting up in a tragic way with the teen driver of a big rig truck.
Swift told Action News that on October 14, 1993, his son Jason, a corporal in the U.S. Marine Corps, was on a trip with a service-member friend on a highway in the Nevada desert.
"By the time they came up on it, it was too late," Swift told Action News.
"It" was a tractor-trailer rig blocking the road in the predawn darkness, that was there because its 17-year-old driver had failed to properly execute a U-turn.
"They were both killed immediately," Swift told Action News.
Even though 27 years has passed since that accident Swift still wonders, "How did it happen, why did it happen, … to my son?"
The driver was just 17 years old, shortly to turn 18. And, according to Swift, he was afraid to ask his boss what to do next. "He screwed up, and it got my son and his friend killed," Swift said in the Action News interview.
That's what got Swift involved with Parents Against Tired Truckers.
Action News says that 49 states allow under-21 drivers to operate commercial vehicles within state lines, but the Federal proposal to create the under-21 pilot program would effectively turn them into long-haul truckers.
"They'll die on the highway and they'll take more of us with them," Swift told Action News.
Action News notes that National Highway Traffic Safety Administration data shows that younger drivers account for a disproportional number of accidents. In 2018, for example, under 21 drivers were involved in 12 percent of crashes, but made up only 5.3 percent of licensed drivers.
Younger drivers were attributable for 4,637 deaths in fatal crashes in Florida and Georgia – 13 percent of all deadly crashes that year.
Swift is unrelenting in his opposition to the under-21 pilot program and wants the Federal government to stop young truck drivers from crossing state lines.
"We're going to be the guinea pigs on the highway to see if the system works. Your family and my family are gonna be out there with them to see if he can do the job, right. We're the ones being tested. Can we get out of his way before he kills us?" Swift told Action News.
ATA says it can be done
From its interview with Bill Sullivan of the American Trucking Associations, Action News reports that the ATA believes the pilot program can be done.
"We believe there is a safe enough way to do it," Sullivan told Action News.
Allowing under-21 drivers to cross state lines would go a long way toward solving the problem of an estimated 60,000 driver shortage.
"We came into the pandemic with a need to put more men and women in the seats, uh, behind the wheel of trucks," Sullivan said in the Action News interview.
Sullivan points out that these younger drivers are not just going to be thrown into the drivers seat and told to drive.
"So we're talking about 400 hours of supervised training, on top of that, of mentorship, on top of that with four safety technologies as a requirement," Sullivan said.
Results of the CDL Life poll
In September 2020, after the FMCSA made the official announcement of its proposed pilot program for under-21 commercial drivers CDL Life conducted a survey, polling more than 1,000 drivers for their opinion about the proposal.
Some 83 percent opposed lowering the interstate driving age, with 17 percent approving of it. Those opposing the proposal said they were concerned with skyrocketing insurance rates, short driver-training programs, the maturity of the younger drivers, and driver wages.
One respondent suggested raising the age for driving a big rig to 25 years old.
While another said that hiring younger drivers will drive wages down for everyone. "The big carriers can con them into working for 23-28 cpm … and create headaches for the rest of us out here."
He continued, "This isn't a video game. When you crash there isn't a reset button. People die, and that is the reason I say NO."
Another suggested that insurance rates will "go sky high" for commercial drivers like they have been driven up for vehicle car drivers because of the increased risk of insuring younger drivers.
Some respondents said they would approve of the younger drivers if they had proper extensive training. "The training should last at a minimum 3 months out with the trainer. This mass producing seat warmers had got to go." Another driver notes that an under-21 driver in Texas can drive more than 860 miles from one end of the state to the other, but can cross the railroad tracks to go from Farwell, Texas, to Texico, New Mexico.
"Just saying, that seems ridiculous to me," he said, suggesting a longer training period and/or a graduated license that limits distance for three months at a time.
Sources: CDL Life, CDL Life, Action News Jax
Tagged Under:
Adverse Conditions
Becoming A Truck Driver
CDL Qualifications
First Truck Driving Job
FMCSA
Truck Driver Training
Trucking Accidents