AI technology is now playing a bigger role in driver-facing camera surveillance
Last Updated: Tue, November 24, 2020
Despite ongoing negative reactions from drivers and opposition from some organizations like the Teamsters Union, the latest innovation in driver assistance technology – machine vision and artificial intelligence – is continuing to make itself known inside a driver's cab.
To a truck driver, MV+AI means in-cab, driver-facing cameras; which many consider to be a privacy stealing stressful nuisance, and even a dangerous distraction.
To carriers that are signing up for the offerings provided by the various video telematics AI innovators, it means safer drivers, cheaper insurance rates, and fewer lawsuits lost or smaller payouts for those they do lose … but it especially means mitigating the risk of the dreaded "nuclear verdict."
The current leader in machine vision and artificial intelligence powered video telematics – ie., in-cab, driver-facing cameras – is Lytx; which got its start in 1998 as Drive Cam, Inc., and now boasts more than 100 billion miles of driving data analyzed.
With its 4,000 carrier clients worldwide deploying 650,000 cameras Lytx claims to hold a 60-percent market share, and is currently capturing 1.5 billion miles of driving data each month and 100,000 risky driving events every day.
What Lytx and other video AI innovators like Samsara and KeepTrucking do is convert all that immense amount of data constantly flowing into their systems from driver-facing cameras paired with truck telematics into algorithms they can use to track and predict whether a driver's in-cab behavior will lead to an accident.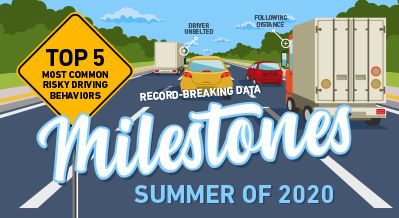 In a recent announcement Lytx said that from a data survey conducted last summer they discovered that of 3 million "events coached" they found five driver behaviors that were most likely to lead to recordable events.
Top on the list was driving without a seat belt, followed closely by having a following distance under two seconds. Together, the two behaviors accounted for 54 percent of behavior behind triggered events.
The remaining top 5 events included speeding at 9 percent, failure to stop at 8 percent, and coming to an incomplete stop at 7 percent.
"Seatbelt use continues to stand out as both a top behavior fleets are actively looking to address and one that drivers continue to struggle with, despite the inherent dangers and risk of policy violations and citations," said Del Lisk, Lytx's vice president of safety services.
"Drivers cited for not wearing a seatbelt are 3.4 times more likely to get into a collision, and remains a priority for nearly every driver and fleet. Because of this, seatbelt use is one of eight behaviors we proactively issue in-cab alerts for, helping drivers to self-correct in real-time."
Detection of distracted driving is also programmed into the system; which watches for drivers:
Cell phone use
Eating or drinking
Smoking
Inattentive driving
Lack of seat belt use
Failure to stop at intersections
Weaving within or departing from lanes
Following another vehicle too closely
Not everyone is happy with driver-facing AI technology
The Teamsters Union has been outspoken in its opposition to this new technology, saying that it leads to micromanaging, and that it is an invasion of drivers' privacy; which adds to the many stressful components of a commercial driver's job.
"From a driver perspective, there have been studies that show in other industries that workers who were surveilled electronically experience increased job stress," Lamont Byrd, director of Teamsters Safety and Health Department, is quoted in a OneZero online article.
"Especially in an industry like trucking, where you're already having to deal with weather conditions, traffic, tight delivery schedules, long work hours, and now in a pandemic, it's just something that's added to a list of challenges that they're already facing.
"There's a way to get at this data, in terms of what actually happened and the driver's response, without constantly monitoring what a driver is doing," Byrd concluded.
Drivers are also vocal in their disdain for driver-facing cameras and all of the tracking technology that comes with them.
In the YouTube video below, popular YouTuber Trucker Josh states, "If the truck I'm in ever gets a camera installed in it facing me, facing inside this truck, this home where I live in, I will stop the truck and quit on the spot."
Although Trucker Josh's video was from 2017 there are still comments, mostly negative against driver-facing cameras, being posted at his video.
Just last week a driver commented, "Even if you do something wildly dumb, like we all have at some time, do you want to be a "star" in the next company training video? No wonder people would rather deal drugs/panhandle."
Another driver posted, "As a female team driver with my husband, I feel that it is an invasion of our privacy. I understand that many places of employment have cameras in their facilities, but their employees don't reside there. We live in these trucks! I have to pee in a female urinal while my husband is driving. I have to dress and undress while my husband is driving!"
Back in 2017, Sysco of Canada was sued in Quebec by a driver who said he felt distracted by constantly checking to see if he was being recorded. The court ruled in favor of the driver and against Sysco, and ordered cameras – incidentally Lytx DriveCams -- to be removed from their trucks.
The issue of in-cab privacy was settled for the State of California back in 2014 when the California Attorney General at the time, Kamala Harris, published an opinion granting carriers the right to discipline drivers for behavior tracked by third parties with in-cab, driver-facing cameras.
In her nine-page published ruling Harris stated that, "Continuous videotaping surveillance of truck drivers during their on-the-job driving does not constitute a misdemeanor under Labor Code section 1051 where the video file is inspected by a third party and used as a basis for discipline by the driver's employer."
Harris went on to say that carrier discipline of surveilled drivers is permitted as long as "the third party is an agent of the driver's employer who is videotaping and inspecting the file for the sole benefit of the driver's employer, and that the file is furnished only to the driver's employer."
Wanting to mitigate driver concerns for privacy, Lytx says when their system spots a questionable driver behavior they first alert the driver, giving him or her the chance to correct that behavior before sending notification to a manager.
"We can now give alerts to the driver to help them self-correct. We can tell them the percentage of their trips that they have picked up a cellphone. We can tell them the percentage of time that they're driving where they're distracted or fatigued. And it's all about having the driver self-correct when they realize this information," said Lytx CEO Brandon Nixon in the OneZero article.
Sources: Lytx News Release, One Zero, CDL Life, Kamala Harris ruling
Tagged Under:
Adverse Conditions
Cameras
Distracted Driving
Driver-Facing Cameras
Life On The Road
Truck Driver Safety
Truckers Technology