COVID blamed for backlog in holiday deliveries
Last Updated: Tue, December 15, 2020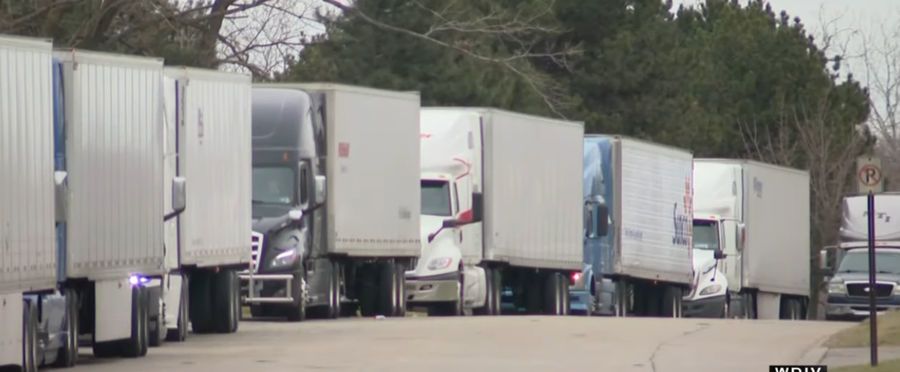 The COVID virus has been blamed for a lot of things this year – deserved or not – and now online Christmas shoppers are being told to expect a delay in receiving their packages … and it's COVID's fault.
To make matters worse, the emergency rollout of the COVID vaccine that is gearing up right now has taken precedence over Christmas gifts, creating a stackup all up and down the logistics supply chain from the nation's ports all the way to a Christmas shopper's front door.
The delays are attributed to the virus:
Indirectly in that stay-at-home orders have dramatically increased online shopping, creating a backlog for shippers
Directly in that delivery operations are short staffed or are stifled by social distancing and other virus mitigating measures
Indirectly again in that delivery providers like UPS and FedEx have dedicated their schedules to delivering millions of rounds of the virus vaccine, leaving an ill-prepared U.S. Postal Service unable to pick up the extra load.
While truckers are complaining about long delays at USPS distribution centers, port managers are complaining that they can't get their freight out of the ports because there aren't enough trucks to handle the loads.
The Postal Service backlog
The U.S. Postal Service normally experiences a Christmas "rush," but this year's gridlock is exacerbated by reaction to the virus and policies enacted by other shipping providers concerning delivery of the vaccine.
And, truckers are not happy.
An article at CDL Life illustrates the mood among truck drivers right now.
"Sitting about eight hours of the day waiting in line to get unloaded, then we get up there to the dock and we can't offload because there is no space to put the stuff," CDL Life quoted driver Terrance Briscoe.
"There's very few people out there. As a matter of fact, there's really not a place for people to walk. It's that crowded," Briscoe went on. "It's a stand still. By the time the trucks are loaded. Every truck is loaded trying to go in. There is really no place to put the mail. It's been mail left on trailers overnight."
According to the CDL Life article, Postal workers are saying that other deliverers like FedEx and UPS are not accepting shipments right now, overloading USPS.
"UPS and FedEx have shut us off. Nobody can keep up right now, but we don't have the luxury of turning people down. They're sitting on so much mail right now that it's almost one day at a time in these facilities," an anonymous Postal worker told CDL Life.
UPS and FedEx themselves are experiencing an above-average crunch this holiday season, hiring more seasonal employees than normal, moving to seven-day operations, and even having more Sunday deliveries.
"Delivery drivers, warehouse employees, and support staff across the globe are tirelessly and safely working to meet the surge in demand this holiday season on top of volume increases created by the COVID-19 pandemic," FedEx spokesman John Scruggs told CDL Life.
"Everybody is doing their best to try to accommodate this. There's a reality, though, that the increase that has been seen in the package industry, writ large, was really planned for over the next three or five years instead of the next three or five months. It's a real conundrum to have that much growth in that period," he said.
So, long waits for truck drivers that are reminiscent of the border crossing delays last year, look like they will continue to happen into the Christmas season.
"There's a lot of standstill now. With trucking, you're on a time schedule and most of the truck drivers are going to have to stay here and wait until tomorrow," trucker Fronrue Tarpeh told CDL Life.
He was stuck waiting at a Postal Service facility in Cleveland recently with other drivers who claimed they have been waiting there for 15 hours.
It's the COVID vaccine's fault
Online financial website PYMNTS says that "Shipageddon 2020 may be here," adding that the juxtaposition of the COVID effect with the holiday season is a "perfect storm" to hinder holiday deliveries.
"Every mode of shipping is already under tremendous pressure due to COVID-19-related and holiday shopping constraints, and vaccine delivery just adds another element of disruption to the already fragile mix," Sean Maharaj, managing director in the logistics practice of AArete, a global consulting firm, is quoted in a recent PYMNTS article.
The problem is the timing, with the first wave of vaccines getting preference among parcel delivery companies that ordinarily would be ramping up for holiday package deliveries.
Retailers are feeling the crunch. According to PYMNTS, Target, for example, is posting warnings on its website warning shoppers of potential shipping delays.
And it has yet to peak.
PYMNTS reported on an announcement from Adobe Analytics that online holiday sales -- which account for the vast increase in delivery needs this year -- have increased by 33 percent over last year. Gift giving my mail or other delivery methods are also expected to increase this year – by up to 18 percent – because people are prohibited from getting together to give gifts in person.
It all begins at the ports
And now COVID is the Grinch that stole Christmas for kids expecting to see special toys under their Christmas trees this year.
Shipping containers, nearly 270 of them, filled with $75 million worth of toys were sitting recently at Ports of Long Beach and Los Angeles, according to a Los Angeles Daily News article.
And dozens of container ships sit anchored just outside these ports waiting to off load, but that don't have ground carriers available to move their freight inland.
The cause of this logjam is that current volume at these ports is up 50 percent compared to the first months of this year due mainly to increased online buying spurred by COVID considerations, but also due to the lack of capacity in the supply chain.
"They cannot keep up and there's not enough space (in the ports)," Port of Los Angeles Executive Director Gene Seroka told the Daily News. "This is what I call a triage situation," he added, saying the stress has been felt all along the supply chain from the ships, to trains, and to trucks waiting to take on loads.
Isaac Larian, CEO and founder of toy manufacturer MGA Entertainment, who has been watching his Christmas profits evaporate as his cargo sits on ships or on the docks, told the Daily News that he is "saddened by the timing of the dilemma," as it comes right during the Christmas demand.
"It makes me sad because I've been in the toy business for 42 years," he told the Daily News. "We have the hottest toy this season, especially L.O.L Surprise! and Little Tikes. A lot of kids, unfortunately, are going to be disappointed."
Although Larian expressed doubts that stores will be getting enough of his toys for the holiday his hopes are that shoppers will order them online, and that parents will still want his "hot items" even when Christmas is over.
"What bothers me is having a lot of kids disappointed and parents frustrated," he told the Daily News.
Sources: CDL Life, Los Angeles Daily News, PYMNTS
Tagged Under:
Adverse Conditions
Coronavirus
FedEx Freight