Drivers come to the aid of crash victims, earn Highway Angel wings
Last Updated: Mon, May 10, 2021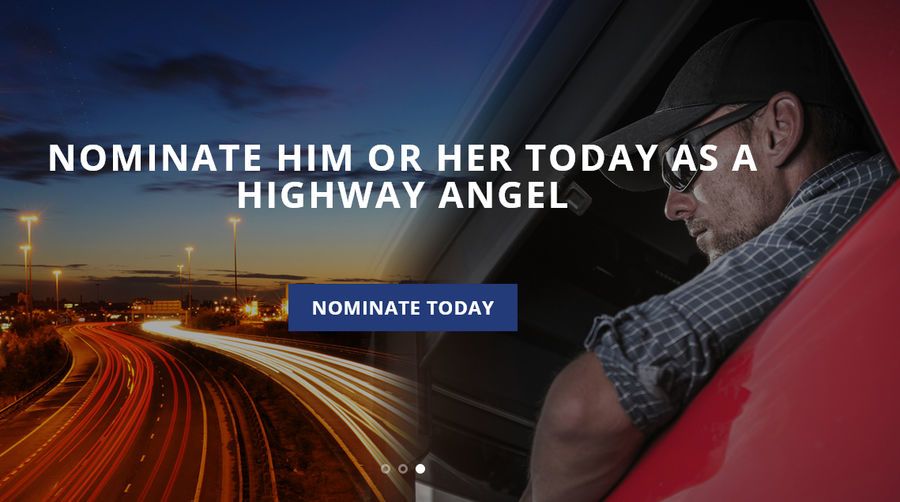 It's time to feature some more recipients of Truckload Carriers Association's Highway Angel award program. Honors this time went to a driver who helped the victim of a semi hit-and-run crash, to a driver who came to the aid of a fellow truck driver after a crash, another driver who stopped to help a young woman whose car went into a ditch, and to twin brothers who helped rescue crash victims whose car had gone into a ravine.
TCA, with EpicVue, has been recognizing professional truck drivers since 1997 for the "exemplary courtesy and courage they have shown others while on North America's roadways." Since the beginning, they have honored more than 50 a year, more than 1,250 to date.
Honorees are presented with a certificate, a patch, a lapel pin and truck decals. In addition, their employers also receive a certificate recognizing their driver as a Highway Angel.
Melton driver stopped to help a driver clipped by a hit-and-run semi
Aaron DeSilva, a Melton Truck Lines driver from Midland, Texas, received recognition for stopping to help a young driver whose car had been clipped by a semi-truck rig in a hit-and-run crash on I-40 in West Memphis.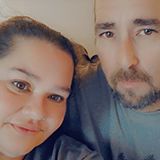 DeSilva, accompanied for this trip by his wife, Tiffany, said he saw a car on its roof sliding across the road in front of them.
"All of a sudden I saw a big flash, sparks, and fire as something flew across the road in front of us," DeSilva shared with TCA.
"Another tractor trailer looked like he was switching lanes, or maybe wasn't paying attention. He just came over the line and clipped the front of the car and spun it out and flipped him on his roof," he added, saying that the truck slowed and pulled over, but then took off.
DeSilva pulled over and grabbed his fire extinguisher and ran across two lanes of traffic to the car while Tiffany called 911.
"Cars and trucks slowed down long enough to look and then drove on," he recalled. "We were the only ones that stopped."
At the car, DeSilva pried the driver's door open and found a young driver in his mid-20s who appeared shaken up and disoriented. He later learned the car crash victim had suffered several broken ribs. "When I asked him if he was okay, his first words were, 'What did I hit?' I told him he didn't hit anything, a truck hit him. He was pretty shaken up."
DeSilva says they were probably put there at that particular time for a reason.
"We had made a couple stops during the day which put us there at that particular time," he said. "My wife says everything happens for a reason. We were meant to be there to help him."
He said he's been driving for more than 22 years, and nearly eight years over the road.
"I've been all over the country," he said. "Our kids are grown now so it's just the two of us. We decided to be on the road fulltime together. I enjoy my job, and seeing the country." DeSilva is originally from Bermuda and has lived in the United States for 12 years.
Driver's quick thinking helped to prevent a fire during fellow C.A.T. driver's crash
Daniel Cristian Ciorba, a C.A.T. Inc., driver from Laval, Quebec, was southbound on I-57 near Dix, Illinois, on a bright, sunny day when he came upon a construction zone that required him to slow down and changed lanes.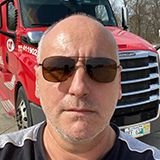 At the same time, a fellow C.A.T. driver traveling behind him had rear-ended another semi-truck rig. Ciorba said he could see the crash in his right mirror.
"I'm almost certain he must have been blinded by the sun," Ciorba shared with TCA.
Ciorba pulled over, hit his 4-ways, grabbed his fire extinguisher and ran back to see what he could do for that driver. The cab had sustained heavy damage, and there was a smell of gas.
Using training he'd had as a truck mechanic, Ciorba cut the battery cable and disconnected the fuel lines in order to prevent a possible fire.
When he checked on the driver he saw he had been pinned by the steering wheel, and that his face was covered in blood, and he was having difficulty breathing.
"I told him everything would be fine and to keep calm and breathe. I tried to open the door with a hand bar, but the door was completely compressed," recalled Ciorba. As he kept talking to him to keep him awake, Ciorva saw that the driver was going in and out of consciousness.
Even though first responders had arrived within 20 minutes it took them more than an hour to remove the driver from the truck. Ciorba remained with his fellow C.A.T. driver throughout the extraction, informing the company of the accident, and making sure the load was secured until it could be towed.
Ciorba has learned that the driver is now back at work, and the two have met.
Originally from Romania, Ciorba said he was raised to help others. He was a truck mechanic before becoming a truck driver three years ago. He credits his training with helping him know to disconnect the power and fuel to prevent a bad situation from becoming worse.
Bison driver catches falling female driver to earn second Highway Angel award
Last year, Bruno Filipe Da Costa Raposo, a Bison Transport driver from Montreal, Quebec, earned his Highway Angel wings when he talked someone down from a suicide attempt on an overpass near Amarillo, Texas.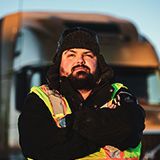 This year, Raposa had the unlikely occasion to have a female driver jump into his arms as he rescued her from her pickup truck rollover. This event happened on a late February afternoon on I-80 near Scott, Iowa.
"It was snowing really bad and icy," recalled Raposo. He had slowed to 50 mph when he saw a pickup truck trying to pass him in the left lane of a two-lane road. "When she was beside my drive axle she started swerving so I slowed down even more. She was able to clear me, but when she passed in front of my truck her rear bumper was just five or maybe six inches from my bumper and then she veered off the road and went in the ditch."
When he pulled over, he saw that the pickup truck had come to rest on its passenger side.
"I pulled over and got out and she was already standing up inside the pickup cab with her feet on the passenger door," said Raposo. "I told her to climb out the driver's window and then I told her to jump, but she was scared. She had to jump down about six feet. I told her to jump and I would catch her. She was little, maybe 120 pounds, but I thought, 'Oh, this is gonna hurt,' but I caught her and then we both fell into the snow."
The woman didn't appear to have any injuries, and Raposo let her wait inside the cab of his truck to stay warm while he called 911. "I told her she was very lucky," he said.
Raposo, whose family immigrated to Montreal, Quebec, from São Miguel, Azores, Portugal, when he was young, learned French at school and taught himself English by listening to the radio at home.
He and his wife, Stéphanie, have two young children, with a third child expected in April.
Twin brothers endure freezing cold to help rescue crash victims from steep ravine
Calvin and James (Corey) Williams, drivers for Armellini Express Lines, from Port St. Lucie, Florida, found themselves braving freezing cold in the early hours of the morning on I-44 near Bristow, Oklahoma, when they became involved in the rescue of persons in a vehicle that had gone off the road, down a steep embankment and into a ravine.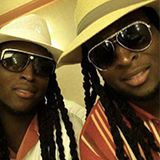 Calvin, driving at the time while his twin brother co-driver Corey was in the sleeper, said a vehicle had passed them at a high rate of speed and had lost control, veering off the road.
Calvin pulled over, called 911, woke up Corey, and the pair headed down into the wooded ravine. With only their cell phone flashlights to guide them they spotted the vehicle about 300 to 400 feet from the road.
"It was pitch black out there," recalled Calvin, but they could see a small fire, and could hear people screaming for help. After scrambling down the embankment and over a barbed wire fence, by the time they got to the vehicle the fire was out.
"They hit a tree so hard it knocked the headlights out and pushed the motor and transmission into the cab," said Calvin. The windows were broken out and the brothers found a male passenger, conscious, lying on the ground with a serious leg injury. The female driver was about 30 feet from the vehicle. "She was bleeding and shivering and couldn't move her legs," Calvin said, suspecting she had a broken back. "She kept saying she had fallen asleep at the wheel. She looked like she was going into shock."
Because of the cold, it was about 23 degrees that night, one of the brothers climbed back to their truck to grab blankets. "They were cold and wet and freezing. It was a bad situation," Corey said.
It took about an hour before the police arrived, and another hour for the EMTs to arrive.
"But they had no way to get down the hill and successfully bring two people back up, especially with their injuries," said Corey. Then, one of the brothers opened a tracking app on his phone and pulled up a detailed image of the area. The crash scene was actually near an old dirt road, but difficult to get to. It took the EMTs another 30 minutes before they finally reached the injured couple.
"That was a crazy night," quipped Corey. "We stayed with them for four hours until the sun came up, with no jackets on in 23 degrees. When we heard those sirens, it was the best sound I'd heard all night."
Calvin added, "I'm glad we stopped. There aren't any houses back there. No one would have seen them from the highway. All I was thinking about was saving a human life. We didn't know what type of situation was down there. We didn't care."
The brothers told TCA they had been driving together for 13 years, and had always been fascinated by semi-trucks as children. "We want to be the best drivers we can be. We do more than just drive truck, we save lives, too."
---
Dave Wickenhauser went on the road driving big rigs after retiring from 33 years in newspaper journalism. His trucking novel, "Crimson Highway" the first in the Hugh Mann series, is available as an Amazon paperback, and as an Amazon Kindle ebook.
Sources: TCA's Highway Angel program, Aaron DeSilva, Daniel Cristian Ciorba, Bruno Filipe Da Costa Raposo, Calvin and Corey Williams
Tagged Under:
Adverse Conditions
Dealing With The Weather
Driver Responsibilities
Life On The Road
Melton
Truck Driving Stories
Trucking Accidents