Authors: 'Legacy' carriers ignore autonomous technology at their peril
Last Updated: Wed, April 1, 2020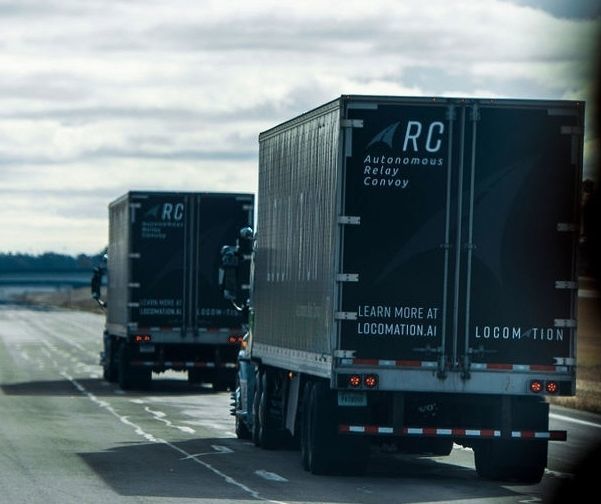 Locomation self-driving trucks in convoy
When we see the word "legacy" applied to something – like legacy software, legacy media – we know that somebody is trying to get across the idea that something is old, outdated, and badly in need of updating … or that something simply needs scrapping and replacing.
It might be disturbing to some, then, that the term is now being applied to the trucking industry, particularly to the part of the industry that won't be joining the autonomous vehicle revolution.
In an article at Automotive World the authors say that trucking industry participants ignore new autonomous vehicle technologies at their peril, predicting that within a relatively short time frame, within the next 15 years, forward-thinking larger carriers will have between 20 percent and 40 percent of their fleets as Level 4 autonomous Class 8 trucks.
It will be only the smaller fleets, and especially independent owner-operators, who resist the self-driving movement, that take on legacy status in the industry.
Those legacy carriers and independents will miss out on the wide range of benefits that will be enjoyed by those who convert to autonomous vehicles, according to authors Dr. Wilfried G. Aulbur and Oliver Dixon of Roland Berger.
The authors say that self-driving trucks can earn carriers up to 40 percent reduction in operating expenses, giving them a distinct advantage over the smaller fleets and independents.
"This segment is likely to come under greater consolidation pressure," the authors stated in the Automotive World article. "With the addressable market being mainly the large and mid-sized long-haul fleets, we estimate that over the long-term, 20-40% of the Class 8 truck population could become autonomous."
They say that this level of adoption of self-driving trucks would be "hugely disruptive" across the trucking industry," and that fleets, truck manufacturers and other suppliers need to be ready to deal with it.
Besides the obvious fact of ultimately saving the expense of a driver, companies that adopt driverless trucks will experience the benefit of seeing their freight rolling down the road 24/7 without the need for rest breaks, the authors said.
That means that trucks will evolve to not needing sleeper berths, or the myriad of safety and comfort features that must be designed into commercial vehicles that accommodate a live driver.
The authors also predict that as Level 4 autonomous trucks become more prevalent, and competitive, truck freight volumes will pick up as they siphon off capacity from the rail-based freight industry. But that advantage will accrue only to autonomous vehicle adopters and leave the legacy portion of the industry trying to maintain a business picking up scraps.
The authors see several reasons for the rapid growth of autonomous commercial vehicle development here. North America, they say, is ideally suited compared to Europe for self-driving innovations because of having longer hauls that make investments in autonomous vehicles more practical.
Also, states and other localities here have shown willingness to open their roads to autonomous testing, with notable examples of self-driving innovators regularly hauling paying freight.
In summary, the authors stated in the Automotive World article: "In the long-term, the whole industry structure is at risk of being disrupted. One of the core competencies of a fleet today is to provide a safe driver. With autonomous trucks, this capability becomes obsolete."
And, once the live driver is out of the way, adopters of self-driving vehicles can take on the role of providing capacity-as-a-service directly to shippers, by passing the large fleets, the authors speculated.
"Ultimately, a scenario is possible in which the industry splits into autonomous long-haul trucking, served by CaaS providers, and driver-based regional haul, dominated by the traditional fleets," the authors stated in the Automotive World article.
Locomation to put self-driving convoys onto the highway
One such self-driving trucking startup that will never find itself being labeled "legacy" is Pennsylvania-based Locomation. Their entry into the autonomous truck industry was highlighted recently in a Pittsburg Post-Gazette article.
Cetin Mericle, who is the co-founder and CEO of Locomation, announced that they are planning to begin real-world freight hauling in partnership with Wilson Logistics moving cargo with its autonomous trucks between Oregon and Idaho.
Locomation's approach to handling self-driving trucks on the highway is to place them in a convoy, or platooning, situation.
The lead truck will be manned by a driver who guides his vehicle and the following trucks down the road. The following trucks will have a "driver" at first, but that driver will be encouraged to spend his time in the sleeper berth. And eventually, the need for that driver will be eliminated.
"When the convoy is in action, only one driver is active, but two trucks are moving," said Mr. Mericli, in the Post-Gazette article.
He said that eventually with all but the lead truck in a platooning convoy being driverless companies can accomplish the work of two or more trucks without the cost of those other drivers.
"The point is the autonomous truck is smart enough to keep everyone safe," Cetin Mericli said. "Whatever a human driver can do, our system can do."
Mericli told the Post-Gazette that Locomation came about as an idea with his brother Tekin during their time working on autonomous car projects together at Carnegie Mellon University.
Only 10 months old, Locomation has already raised about $5.5 million in funding.
Sources: Automotive World, Pittsburg Post Gazette
Tagged Under:
Autonomous Trucks
Self-Driving Vehicles
Truckers Technology
Trucking Industry Concerns
Trucking News