Three top carriers sign up for 6,775 TuSimple self-driving trucks
Last Updated: Wed, May 12, 2021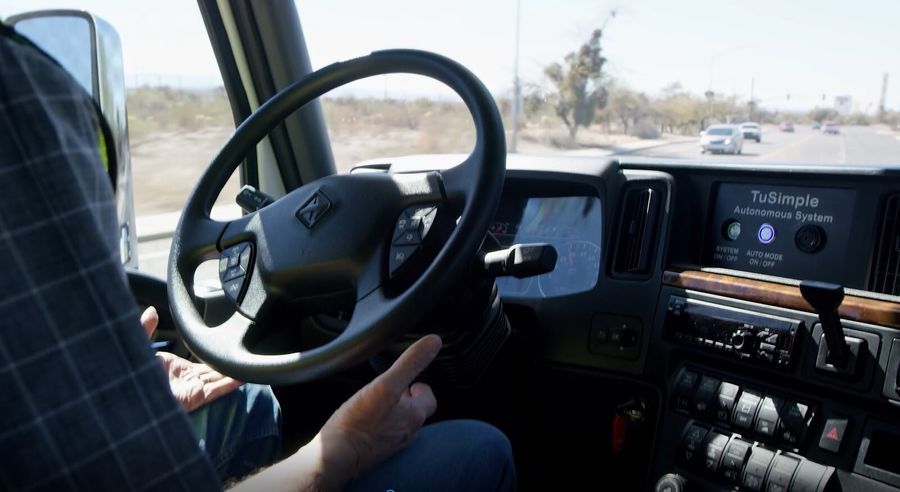 Several of the biggest names in the American trucking industry have signed up ahead of time to receive TuSimple's first rollout of its Level 4 self-driving International LT Series trucks.
Production is expected to begin in 2024, and Penske Truck Leasing, Schneider National and U.S. Xpress have placed their reservations for the first 6,775 to come off of the assembly line.
At a time when American consumers are realizing that the shortages that are coming their way this summer are due, in part, to the lack of truck drivers, self-driving truck innovators are rolling along to bring to market trucks that eventually will require no drivers – and large trucking companies are standing in line to snap up these big rigs as fast as they can be produced.
U.S. Xpress has been working closely with TuSimple, signing up early on with its interest in autonomous technology
"We have been working with TuSimple since 2019, and we see them as the clear leader in autonomous trucking technology, which is why U.S. Xpress is among the first in line for reservations," said Eric Fuller, President and CEO, U.S. Xpress. "Autonomous technology is complementary to other investments we've made to broaden our portfolio of services across the supply chain."
TuSimple's autonomous big rigs are being developed in partnership with Navistar, the company that will be manufacturing the TuSimple vehicles.
"These early reservation numbers reflect the appetite surrounding self-driving technology in long-haul applications," said Bob Walsh, Vice President, Emerging Technologies, Strategy & Planning, Navistar. "We are happy to partner with TuSimple to offer this integrated autonomous solution to our customers."
Already operating a fleet of 50 Level 4 autonomous trucks on routes spanning the Southwest from Arizona, through New Mexico and into Texas, TuSimple's innovators say these reservations are the "first wave" of customers who will be buying into their advanced technology.
"Our first wave customers recognize that a TuSimple and Navistar partnership is a winning combination, bringing together TuSimple's industry-leading autonomous technology with Navistar's world-class engineering and manufacturing capabilities," said Cheng Lu, President and CEO, TuSimple. "Autonomous trucks are poised to transform the trucking industry in powerful new ways by setting a new standard for safety, while dramatically increasing efficiency and reducing fuel consumption."
Operating under its Autonomous Freight Network, new trucks added to the fleet will expand AFN coast-to-coast by 2023, transporting freight on America's highways and surface streets for such companies as UPS, USPS, U.S. Xpress, McClane Company and the Arizona Association of Food Banks, and more.
Besides the headquarters in San Diego, TuSimple, which was founded only in 2015, has operations in Arizona, Texas, China, Japan and Europe. The company's stated goal is to transform the $4 trillion freight industry globally through its AI technology.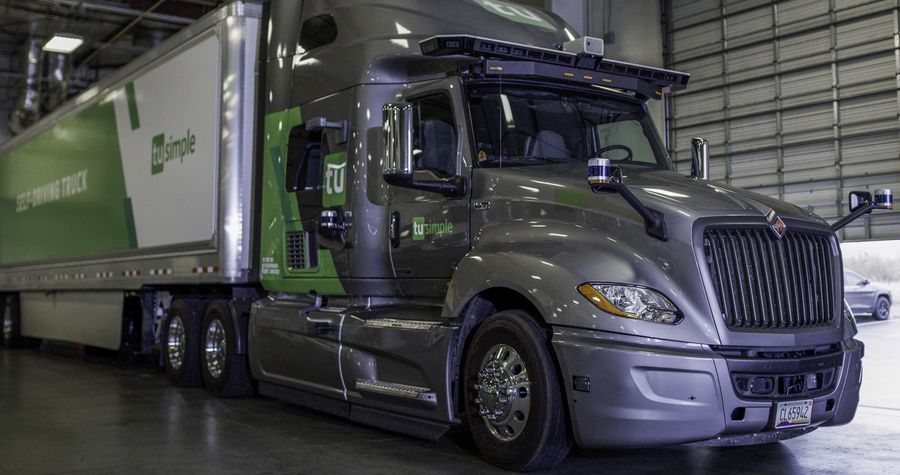 Bank of America analysts bullish on TuSimple stock
A recent Business Insider article quantified some of the claims made in the TuSimple press releases, expanding on the company's claim to bite off a chunk of that $4 trillion global freight trucking market.
According to analyst Ken Hoexter, as quoted in the Business Insider article, TuSimple is "leading the autonomous revolution in trucking," and he sees its stock jumping 36 percent in the next year.
Business Insider notes that TuSimple has received 240 patents, has mapped more than 3,000 miles of high definition routes to date, and in the first four months after announcing pre-sales has received those 6,775 reservations for their autonomous trucks.
Long term, TuSimple expects to have 100,000 self-driving trucks on the road by 2027.
The benefit to carriers, according to Hoexter in Business Insider, is that TuSimple's model "creates a structure to save 50% of operating costs (40% from driver-out and 10% better fuel efficiency) vs. a traditional truck operating model."
"Driver-out" means what it says. The greatest economic efficiency comes from removing drivers from the cab.
Another reason that Hoexter is bullish about TuSimple over other self-driving innovators is that TuSimple's vehicles reach out 1,000 meters in perception, and have a 35-second planning horizon. This allows TuSimple's trucks to operate at freeway speeds as high as 75 mph, while others, like Waymo, top out at only 55 mph.
He's also impressed that TuSimple runs more than 100 paid freight hauls per week, and has no debt on their books because of the investments they have received.
The downside to TuSimple's strategy, according to the Business Insider article, besides their "aggressive" expansion plans to have 7,500 of their trucks on the road by 2024, is that currently there are only 24 states that allow self-driving commercial trucks on their highways.
OOIDA expresses cautions for safety concerns
In a recentl Land Line article, the Owner-Operator Independent Drivers Association, tells of its reaching out to the National Highway Traffic Safety Administration and the Federal Motor Carrier Safety Administration with concerns about moving forward too fast with self-driving trucks without strengthening safety and data transparency from manufacturers.
In short, the Land Line article stated that, "Developers of automated driving systems should be required to report safety performance, and full disclosure should be mandatory."
"NHTSA must employ standards that ensure safety performance above all else," OOIDA President Todd Spencer wrote in a formal comment to the NHTSA. "Given the fact that there have already been a number of crashes involving (automated driving system) failures on our nation's roads, NHTSA must develop standards that are based on documented research and testing data. The continued reliance on voluntary safety reporting from ADS manufacturers will not effectively build trust, acceptance, and confidence in testing and deployment of these systems."
OOIDA is concerned as well about the effect self-driving trucks will have on small business truckers.
"The use of unproven automated technologies on our highways poses a significant threat to small-business truckers, and we urge you to take action to protect all road users with greater transparency and oversight of their development," OOIDA wrote.
Land Line reports that when recently asked about the push for automation in the trucking industry FMCSA's acting administrator Meera Joshi said the agency is preparing for a change.
"We can argue about scope, and we can argue about timeline, but what we can't argue about is that this is a reality," Land Line reports that Joshi said during the online forum. "There will be a major shift in workforce, and it is a commitment from the president, the secretary and me to make sure we have our hands around to best prepare the workforce for this change regardless of the timetable and the size."
OOIDA's President Todd Spencer admitted that automation is inevitable, even with trucking. But he added, "The move will be gradual and where it makes sense without compromising safety – or it should be anyway. We will need to take care not to buy into the irrational exuberance that technological possibilities might suggest. It takes dedicated and determined men and women to make our supply chain function, and those folks will be needed for a long time."
---
Dave Wickenhauser went on the road driving big rigs after retiring from 33 years in newspaper journalism. His trucking novel, "Crimson Highway" the first in the Hugh Mann series, is available as an Amazon paperback, and as an Amazon Kindle ebook.
Sources: PR Newswire TuSimple, Business Insider, LandLine
Tagged Under:
Autonomous Trucks
FMCSA
Owner Operator
Schneider National
Self-Driving Vehicles
Truckers Technology
Trucking Industry Concerns
US Xpress Transport