UPS jumps on autonomous bandwagon with TuSimple investment
Last Updated: Sun, August 18, 2019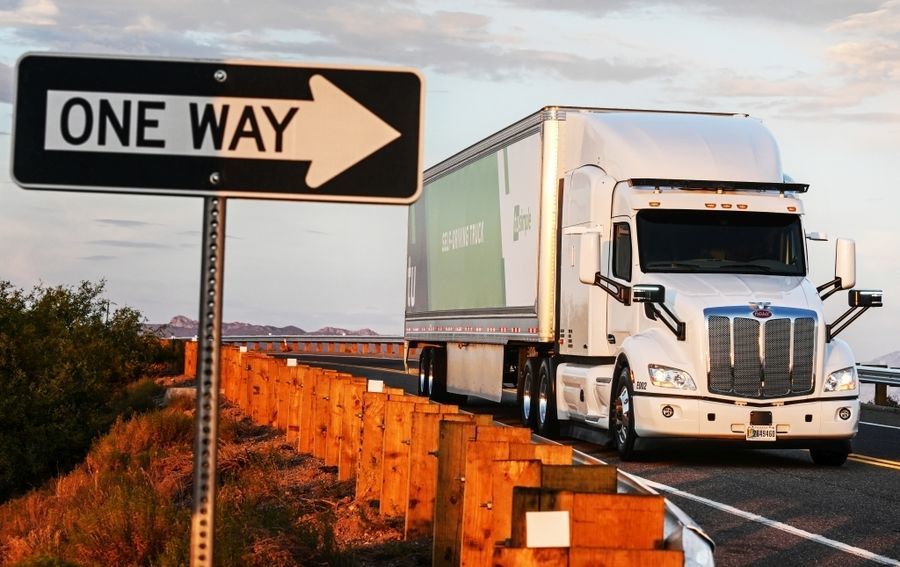 Autonomous truck innovator TuSimple made the news recently when it announced that the United States Postal Service contracted with them to make regular test runs using self-driving trucks between Phoenix and Tucson, Arizona, USPS distribution centers, and longer runs between Phoenix and Dallas hubs.
Now the San Diego-based company that also has operations in China announces that United Parcel Service has made similar arrangements with them to test the viability of using autonomously-driven tractor trailers to haul packages within its UPS network.
UPS has gone one step farther than USPS, however, in that UPS, through its venture capital arm, UPS Ventures, has made a minority investment in TuSimple.
The amount of that investment has not been revealed, but the barely 5-year-old company's valuation is now in the $1 billion range, increasing about $95 million from the first of the year.
TuSimple says this is an extension of their ongoing relationship with UPS where they have previously purchased services from TuSimple. UPS' investment allows TuSimple to expand to a 50-truck fleet based out of its engineering facility in Tucson.
Like the USPS, UPS has been contracting with TuSimple to haul packages between Phoenix and Tucson, with the self-driving service beginning in May, 2019. Both TuSimple and UPS monitor the trips for distance traveled autonomously and for safety data.
As required by law for Level 4 autonomous trucking where the onboard computer is in complete control at all times a driver is required to be in the vehicle to take over manually if needed. TuSimple also provides an engineer on board at all times, but says it hopes to be "driver-out" within two years.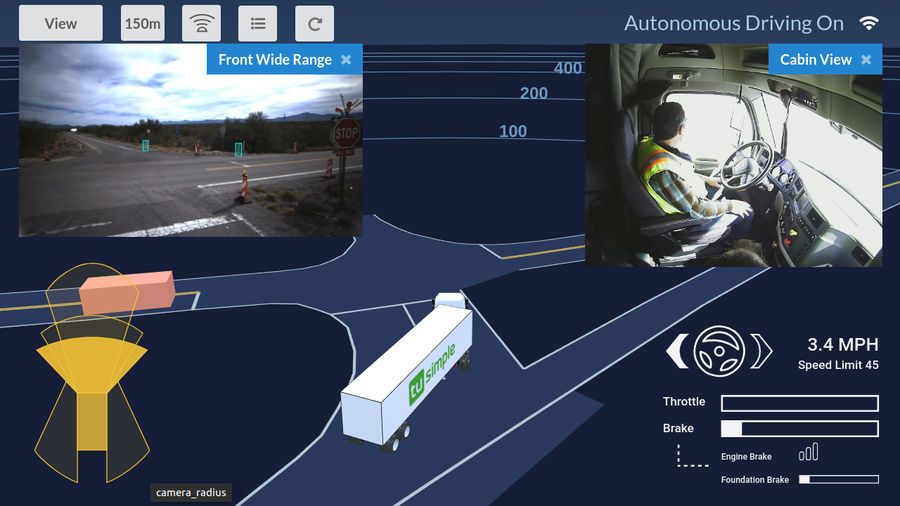 TuSimple's Software Human Machine Interface
"UPS is committed to developing and deploying technologies that enable us to operate our global logistics network more efficiently," said Chief Strategy and Transformation Officer, Chuck Price. "While fully autonomous, driverless vehicles still have development and regulatory work ahead, we are excited by the advances in braking and other technologies that companies like TuSimple are mastering. All of these technologies offer significant safety and other benefits that will be realized long before the full vision of autonomous vehicles is brought to fruition – and UPS will be there, as a leader implementing these new technologies in our fleet."
During peak shipping seasons UPS regularly contracts with third-party trucking companies, and believes that its arrangement with TuSimple could cut average costs by up to 30 percent.
Some of that savings comes from reduced wear and tear on tires and brakes and other components which the company says will come about because of more efficient computer-controlled acceleration and braking.
"We are honored by UPS's strategic investment and their vote of confidence in TuSimple, this proves their commitment to staying at the forefront of innovation," says TuSimple's Founder, President and CTO, Xiaodi Hou. "TuSimple is confident that it can accelerate bringing the first self-driving truck to market to increase road safety."
UPS's expansion into a self-driving technology to save costs comes as it sees some of its biggest customers looking into alternative delivery options themselves. Besides the aforementioned US Postal Service, there are large shippers like Amazon, that has reported to have an arrangement with Embark driverless trucks.
And UPS is feeling pressure from competitors like FedEx; which unveiled its "Same Day Bot" in February offering same-day delivery within a three-mile distance from its delivery customers' stores. So far, Autozone, Pizza Hut, Target and Walmart have signed up for this service. FedEx has partnered with Peloton Technology in its semi-autonomous trucks venture.
There is especially a lot of competition for "last mile" delivery using autonomous vehicles, remotely-controlled vehicles or even drone delivery methods; all of which could eat into UPS' bottom line.
The move to autonomous delivery comes as a natural extension to UPS' overall plan to modernize delivery. UPS COO Jim Barber told Supply Chain Dive that by the end of 2019 UPS' goal is to have 80 percent of its network using "touch automation."
Sources: TuSimple Press Release, Forbes, ABC News, Supply Chain Dive
Tagged Under:
Autonomous Trucks
Driver Solutions
Self-Driving Vehicles
Truckers Technology
Trucking News