Mechanics shortage equals driver shortage in intensity
Last Updated: Wed, July 31, 2019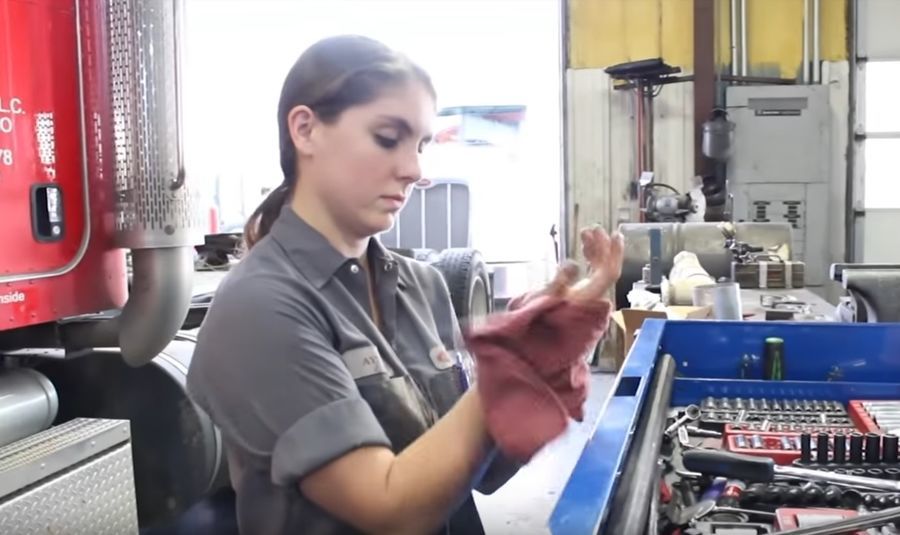 With females in her family having been around trucks their entire lives, Aymee Cunningham wanted to follow their footsteps. Landing a Diesel Mechanic position at Peterbilt of Joplin, Aymee has earned a lot of respect because of her talents and passion for trucks. --See video below.
While the big rig driver shortage has been getting all the press these days, there's another truck industry-related labor shortage that has been flying under the radar – diesel mechanics and technicians.
The U.S. Bureau of Labor Statistics reports that 67,000 new diesel service technicians and 75,000 new mechanics must be added to the labor pool by 2022 to replace retiring Baby Boomer workers. And not enough new technicians and mechanics are coming out of the vocational programs to fill that need.
Industry insiders say that this particular shortage in the labor pool has the same potential to "dramatically alter" the economic situation as the lack of drivers has.
They say that with more than 33 million trucks on the road that move almost three-quarters of the nation's freight, the lack of technicians and mechanics could have a chilling effect on the industry.
Supply Chain Dive interviewed one of those industry leaders: "We have all felt the consequences of the skilled labor shortages in the over-the-road transportation industry," Andy Dishner, COO of Tennessee-based Konexial, said. "Not only does this affect the fleet owners and managers, but it has the potential to dramatically alter the economic equation."
"It's not just behind the wheel, it's under the hood as well—the adverse effect of a shortage of mechanics and support roles," he said. "Not having a driver to man the truck is a priority issue for sure, but a driver simply can't do his job if his rig is down without someone to fix it."
Adding to the dialogue, one former diesel mechanic who is now an industry leader, Homer Hogg, TA/Petro's director of technical service, told CCJ that when he began in the field in the early 1980s most of his fellow workers were his age, and he and they have advanced together and are now close to aging out.
In the meantime, there is a different mindset among the age group of men and women who should be replacing them.
"It's time to understand the challenges facing [our] organizations and look into what is driving those challenges," Hogg told CCJ. "Our labor pool is shrinking. We have to start looking beyond our normal hunting ground."
He said he believes that today's potential diesel mechanic replacement workers respond to the notion that there is a degrading "grease monkey" stigma attached to the profession.
John Devany, general manager of Betts Truck Parts & Service in Fresno, California, agrees that has something to do with the low interest by today's younger working population.
"Being a diesel technician is not a sexy job, I get that," Devany told CCJ. "But that doesn't mean it isn't a good job. The perception that what we do is big and scary is wrong."
He said that diesel technology is rapidly evolving into more technologically advanced diagnostics, with computer-based service tools to maintain the diesel vehicles.
"A lot of kids today are growing up on tablets and computers, and that's our future," says Devany in his CCJ interview. "What used to be about tribal knowledge is now becoming more of a white-glove environment."
And unlike many of the reasons that drivers claim for leaving the profession, pay doesn't seem to be the issue with the diesel technician and mechanic shortage.
CCJ reported that a 2018 survey found that nearly 40 percent of heavy-duty truck technicians were earning at least $60,000 per year, with almost half of them claiming to be making more than $70,000 per year.
Charlie Nichols, general manager of Calvert City, Kentucky-based TAG Truck Center, told CCJ, "There are so many kids today who graduate from college and can't get a job. You see them working in retail for not much money at all. They could be working for us making $50,000 to $70,000 a year plus benefits, but they have no idea we pay like that."
The survey did indeed reveal that 92 percent of truck technicians receive health insurance, 83 percent get paid holiday leave, and 83 percent get benefits such as 401(k) and IRAs.
"There is a very big misconception in our country that every kid needs to go to a four-year college," Nichols told CCJ. "I don't believe that's the case. A four-year school is not the holy grail for everybody."
Penske Truck Leasing told Supply Chain Dive that it is needing to become proactive in order to find new technicians to service the 323,000 vehicles in its North American fleet.
In addition to marketing materials, Penske has collaborated with TechForce Foundation to make younger people aware of the opportunities in the vehicle technician profession.
Gregg Mangione, senior vice president of maintenance for Penske Truck Leasing, told Supply Chain Dive, that employees want more training and career development. And by implementing and upsizing their training programs, and using these programs as recruiting tools they are seeing a change in attitude of the younger populations.
"Students get discouraged," Jennifer Maher, CEO at TechForce told Supply Chain Dive. "The stigma that it's a dead-end, dirty job that doesn't pay well keeps too many parents and counselors dissuading students from pursuing the pathway. Yet this outdated stigma couldn't be further from the truth. The skills required to be a professional technician are highly technical and advanced. Technicians can go from entry level to master technician, and have the opportunity to shift from hands-on work to become advisors, managers and corporate leaders."
Sources: Supply Chain Dive, CCJ
Tagged Under:
Changing Careers
Truck Maintenance
Trucking Industry Concerns