Friday Short Haul - Hurricane Dorian, Speed limiter bill, Thank a Driver campaign
Last Updated: Thu, August 29, 2019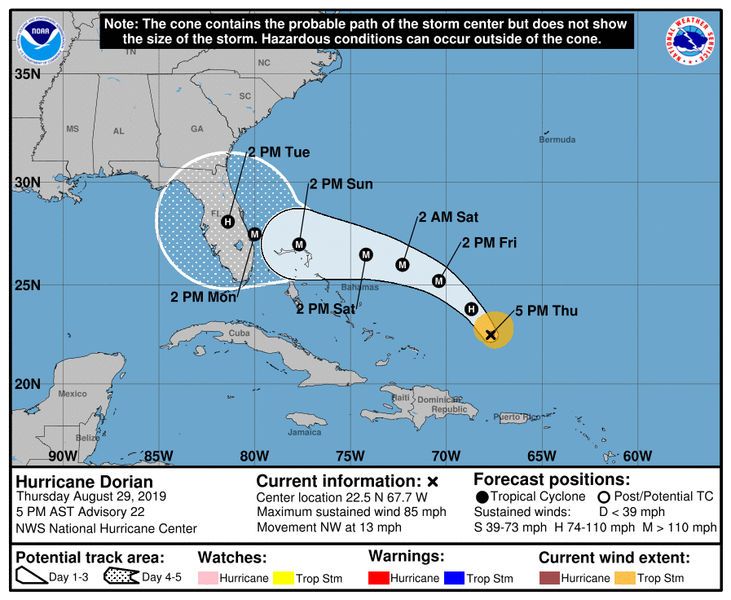 Hurricane Dorian threat prompts ALAN mobilization
Birthing in the northern Caribbean and rapidly growing as it rolls over warm Bahamas waters Hurricane Dorian is expected to hit Florida's Atlantic coast by Monday as a Category 4 storm.
Residents and visitors of the Florida coast over the Labor Day weekend can expect to be greeted by the storm's wrath of 130 mph to 156 mph winds.
But one truck industry aid organization that mobilizes during each major storm says that party time is over and recommends residents and visitors in the Southeast area around Florida begin preparing – and especially for the logistics community to get ready to jump in and help.
"The strength and path projections for Dorian are still very uncertain, but do suggest that it could be a destructive and dangerous event for Florida and potentially all of the Southeast and Gulf Coast," said Kathy Fulton, ALAN's Executive Director. "As a result, ALAN is officially mobilizing and gearing up to provide donated space, trucking, services and equipment as needed."
ALAN stands for American Logistics Aid Network. It was founded in 2005 during Hurricane Katrina. It mobilizes free logistics support to disaster relief organizations before, during and after major catastrophic events.
It does this by acting as a philanthropic middle man connecting the logistics industry with the humanitarian organizations aiding those suffering from disasters such as hurricanes, tornadoes, wildfires and floods.
"During our 14 years of operation, we've seen some potentially catastrophic hurricanes that have turned into relatively minor events while others have morphed into far more major events than originally anticipated," fulton said.
"Obviously, we hope Dorian will turn out to be the former. However if it isn't, we want people to remember that we are here to assist – and that when it comes to these storms, there's no such thing as too ready." ALAN offers advice built around a STORM acronym in order to be prepared logistically for the Dorian threat:
Stay safe. If you and your business facilities are located anywhere near Dorian's projected path, be sure to monitor your local National Weather Service forecast for real-time details. Just as important, please heed any warnings or advisories that pertain to you or your personnel – and allow plenty of time for your employees to evacuate or make preparations to shelter in place. Dorian is expected to turn into a major hurricane that could produce everything from strong winds and heavy rains to a damaging storm surge, and it is not to be taken lightly.
Treat every storm (including this one) like it might be the big one – even if previous storms have seemed to be "much ado about nothing." Each time an area successfully dodges a major tropical storm or hurricane, it increases the risk that local residents won't take future warnings about hurricanes quite as seriously. Please don't buy into this attitude. Each storm truly is unique, and just because you haven't been impacted in a big way yet, there's no guarantee that you'll continue to be that fortunate moving forward. Always heed the warnings for your area – and don't ever assume those warnings are exaggerated. Your life and safety could depend on it.
Offer any logistics space, equipment or services you might be willing to donate at https://www.alanaid.org/how-to-help/. Although logistics professionals may not have the medical skills of first responders, they have many skills and assets that can be equally applicable after disasters hit – because when bad things happen, one of the hardest parts of humanitarian organizations' jobs is getting items like food and hydration to disaster sites as quickly as possible. In fact, logistics accounts for up to 80% of their disaster budgets – and as much as 40% of that is wasted. That's a lot of cost – and considerable opportunity for the logistics community to be of use. (It's also what ALAN is all about.)
Resist the urge to self-deploy or to participate in product collection drives. Although the intention behind these drives is good, they often create more challenges than they solve, including adding more products to a supply chain that is already under tremendous strain. The same holds true for just packing up a truck and heading down to a disaster-impacted area, because that could get in the way of first responders who are working to save lives. If you're looking for a tangible way to engage your employees in hurricane relief, pick a humanitarian organization like ALAN or one of the many humanitarian groups ALAN supports and collect money for it instead. Such donations will be much more useful and efficient. And unlike many post-disaster product donations (which often end up in landfills), they will not go to waste.
Make frequent visits to ALAN's Micro-Site at https://www.alanaid.org/operations/. During disasters, it serves as the centerpiece of our active relief efforts. Among other things, it includes a wide variety of links and resources to keep you in the loop. Just as important, it provides the latest details about what ALAN is doing, and how members of the logistics community can help.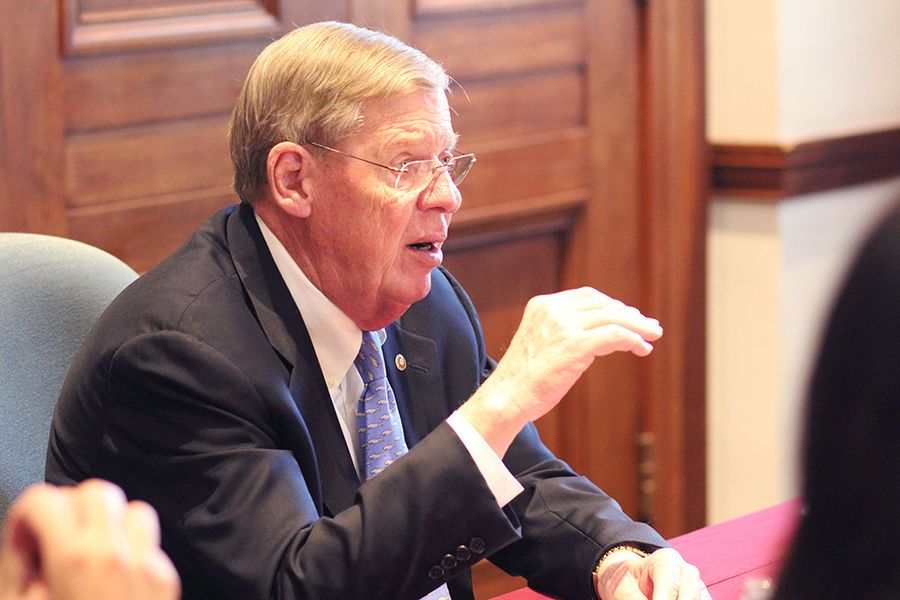 U.S. Senator Johnny Isakson, author of speed limiter bill
Speed limiter bill likely will "retire" with legislator who introduced it
A bill mandating 65-mph speed limiters on all commercial vehicles that has been received with mixed reviews within the trucking industry may be fading into non-existence with the retirement of the U.S. Senator who originally introduced it.
Johnny Isakson, a Republican Senator from Georgia, announced this week that he planned to retire at the end of 2019 for health reasons, including Parkinson's disease.
The bill, labeled S. 2033, and named the Cullum Owings Large Truck Safe Operating Speed Act of 2019, was introduced in June of this year. Organizations and stakeholders within the industry were divided about the need for the legislation.
Most notably, the Owner-Operator Independent Drivers Association, came down against the proposed law because they believe limiting the upper speed for trucks would interfere with a truck's ability to maneuver in traffic among other vehicles allowed to drive the 70 mph or higher speeds.
The bill would require all new commercial trucks over 26,001 pounds gross weight to be equipped with a 65-mph speed limiters, and all existing trucks having speed limiter capabilities would be required to engage the limiters and set them to 65 mph.
The bill would not require existing trucks with no speed-limiter capabilities to retroactively install them.
The bill also would order the U.S. Department of Transportation to establish rules for checking speed limiters for accuracy and effectiveness within six months of the effective date of the bill.
In any event, no action has been taken on the bill since its introduction, so it's unlikely it will survive the retirement of the Senator who introduced it.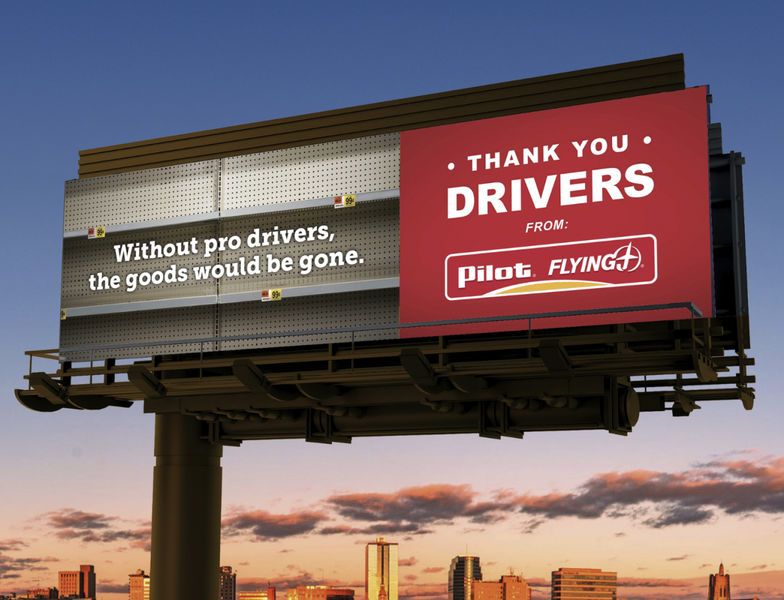 Pilot Flying J mounts 'Thank a Driver' campaign
Coordinated with National Truck Driver Appreciation Week, which runs from September 8 through September 14, Pilot Flying J launches a new "Thank a Driver" campaign to call attention to the hard work that drivers go through on America's roads to provide all of the goods that American's depend on.
The ad campaign will deploy 25 billboards across 10 states, but the highlight of the campaign will be a series of clever videos visually illustrating what America would be like without the hard work of the 3.5 million professional truck drivers making food deliveries and bringing other goods for retailers to sell.
Pilot and Flying J, together operating the largest number of travel centers across the nation, also want to show their appreciation for drivers by offering pro drivers free drinks throughout September, free showers with any commercial diesel fill, free mid-trip inspections at Truck Care service centers, and 100 points on 50 gallons or more fills during the week of September 9.
Pilot Flying J also encourages the public to show their appreciation and thank the driver community for all they do by using #thankyoudrivers on social media.
Sources: American Logistics Aid Network, CDL Life, The Drum
Tagged Under:
Adverse Conditions
Dealing With The Weather
DOT
Truck Stops
Truckers Technology
Trucking Industry Concerns