Emissions standards battle heats up between the EPA and California
Last Updated: Tue, September 24, 2019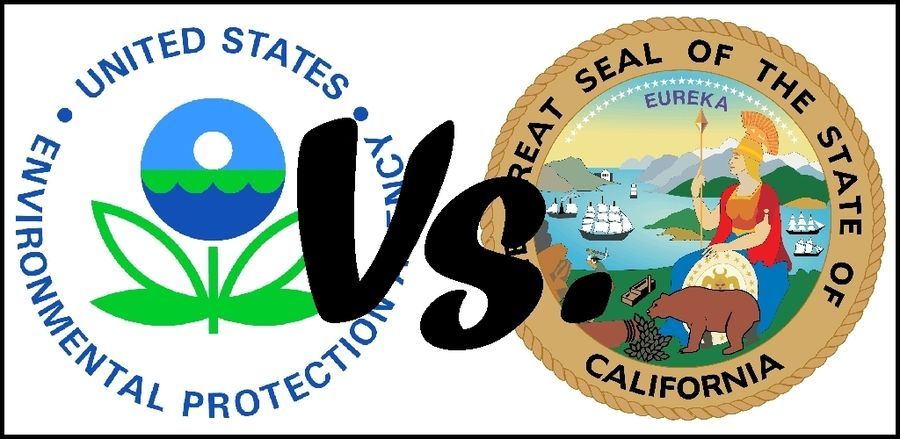 In a looming battle between Federal preemption and States' rights reminiscent of the Obama administration campaign against the State of Arizona a few years ago, but on opposite ends of the ideological political spectrum, the Trump administration has all but declared war on the State of California.
A Land Line headline says it all: "Trump to California vehicle emissions regulators: 'You're fired!'"
While the Arizona battle was fought over that state's enforcement of long-standing Federal immigration laws for illegals, against the wishes of the Obama administration, the new battle is over California's emissions regulations that go beyond what is required by Federal Environmental Protection Agency rules.
The gist of what's causing the fight between California and the Federal government to heat up is California's reaction to an announcement on September 19 that the Federal government is revoking a waiver that allows that state to set its own emissions standards.
And, like Arizona officials, California emission regulators have indicated a strong willingness to engage the Federal government in battle.
In a statement last week commenting on the latest Federal action California Attorney General Xavier Becerra is demanding the Federal emission change be declared unlawful and repealed.
"Two courts have already upheld California's emissions standards, rejecting the argument the Trump administration resurrects to justify its misguided preemption rule," Becerra said in a statement Friday. "Yet, the administration insists on attacking the authority of California and other states to tackle air pollution and protect public health."
In a personal dig at President Trump, Becerra added later that the Oval Office "is really not a place for on-the-job training. President Trump should have at least read the instruction manual he inherited when he assumed the presidency, in particular the chapter on respecting the rule of law. Mr. President, we'll see you in court."
This waiver revocation announcement follows implementation by the United States Department of Transportation National Highway Traffic Safety Administration and the U.S. Environmental Protection Agency of a new rule called "One National Program Rule."
That rule arises from the recently passed Safer, Affordable, Fuel-Efficient Vehicles Rule; which, among other provisions, will work to ensure that there is one standard among states for fuel economy and greenhouse gas emissions for vehicles.
California emissions regulators do not want to see that happen. On September 20 the state has joined 22 other state and local governments, including the District of Columbia, by filing a lawsuit in Federal court against the NHTSA to block the proposed change.
According to the complaint, the Federal government "exceeds NHTSA's authority, contravenes Congressional intent, and is arbitrary and capricious, and because NHTSA has failed to conduct the analysis required under the National Environmental Policy Act."
California alone among the 50 states has enjoyed a privileged status since the Nixon administration in being granted permission to enforce emissions rules that are stricter than Federal EPA standards. That waiver was extended in 2013 by the Obama administration with the 2013 Clean Air Act.
But the current administration sees this as forcing an unfair "de facto" standard on the rest of the nation, as manufacturers do not build their equipment for numerous specific states. But California has long been the gorilla in the room, and having to design for California's standards creates an undue burden on all manufacturers.
The waiver does not address California's new truck emission standards, placed into law just last week requiring smog checks on all large diesel trucks. But California's latest crackdown on big rig trucks plying state highways is unlikely to escape notice by the Feds.
Secretary of Transportation Elaine Chao explained in an EPA news release: "Today's action meets President Trump's commitment to establish uniform fuel economy standards for vehicles across the United States, ensuring that no state has the authority to opt out of the nation's rules, and no state has the right to impose its policies on the rest of the country."
The Trump administration says that there will be little difference between Federal standards and California's, but relaxing excessive emission restrictions imposed by California on the rest of the nation will result in more production of less-expensive and safer vehicles.
In a Tweet, President Trump encourages automakers to "… seize this opportunity, because without this alternative to California you will be out of business."
EPA threatens California for failing to meet air quality standards
EPA Administrator Andrew Wheeler has escalated the fight between the Federal government and the State of California by issuing a letter to the California Air Resources Board on September 23 threatening to withdraw billions of dollars in Federal highway money unless the state clears a backlog of emission control plans.
"California has the worst air quality in the United States, with 82 nonattainment areas and 34 million people living in areas that do not meet National Ambient Air Quality Standards," Wheeler wrote.
States are monitored by the Federal government for their compliance with the Clean Air Act. States submit "State Implementation Plans," addressing their plans for compliance. But California has a backlog of such plans disproportionately greater than other states, going back to the 1970s, Wheeler said.
A state's failure to move forward with its SIPs triggers sanctions such as withdrawing of Federal highway funds.
Rather than being merely punitive as California's ideological opponents to the Trump Administration are accusing, the EPA's action is allowing California to avoid losing highway funds by withdrawing its backlogged State Implementation Plans and to create new ones. The EPA has offered to work with California to formulate workable new SIPs.
"We recommend that California withdraw its backlogged and unapprovable SIPs and work with the EPA to develop complete approvable SIPs. In the event California fails to withdraw them, the EPA will begin the disapproval process consistent with applicable statutory and regulatory requirements," The EPA letter stated.
"We certainly want to avoid these statutory triggers but our foremost concern must be ensuring clean air for all Americans. That is our goal."
The State of California's CARB has until October 10 to respond as to whether it intends to withdraw its backlogged SIPs.
Sources: Land Line, NPR, NPR, ScribD
Tagged Under:
DOT
Trucking Industry Concerns
Trucking News