Friday Short Haul - Break-away fifth wheel, HP partners with Embark, Texas lawsuit bill proceeds
Last Updated: Thu, May 13, 2021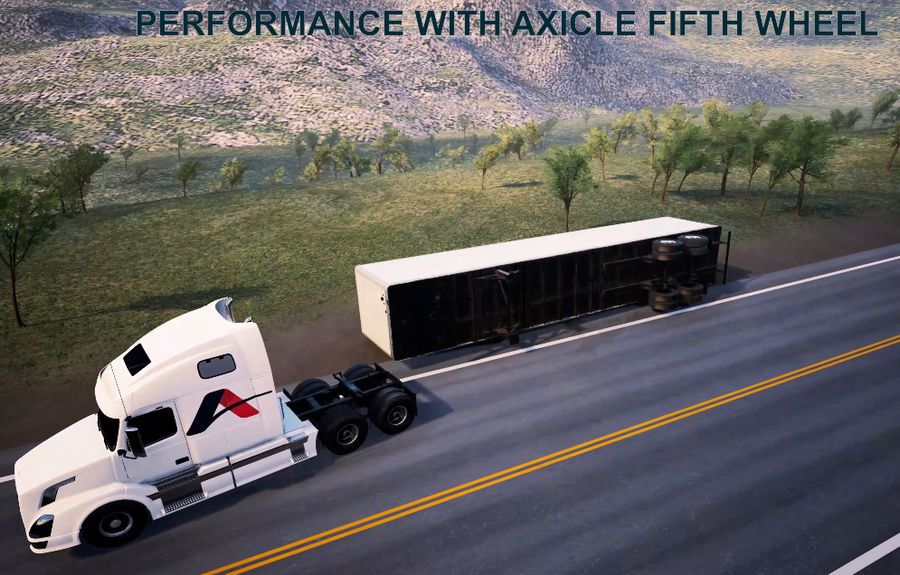 Axicle develops break-away fifth wheel hitch, says it will save lives
According to the Insurance Institute for Highway Safety, nearly half of the 885 commercial large truck drivers who died in crashes in 2018 did so as the result of rollovers.
Now comes a California startup, Axicle, that has invented a fifth-wheel hitch that allows a trailer to break away from a Class 8 truck during a rollover, thus not pulling the tractor over with it.
Dubbed the Tractor Anti-Roll System, the device attaches to any semi-truck tractor and, through sensors monitoring for inertia, load and vibration, etc., will forcefully extend a piston that pushes the trailer off of the fifth-wheel hitch if certain parameters, like roll angle, are exceeded.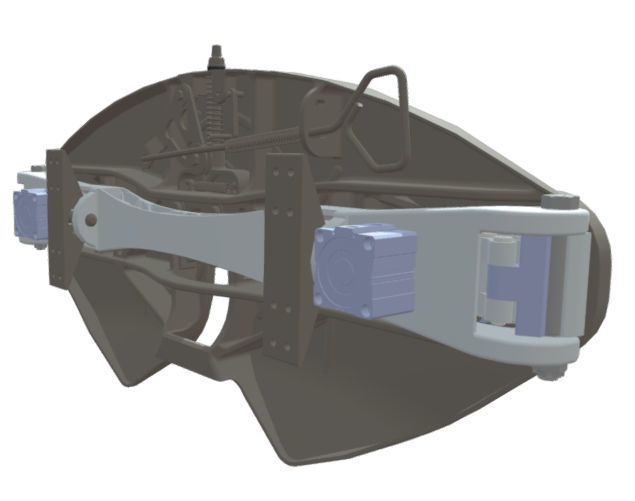 Axicle put its rollover-protection effort into the fifth-wheel hitch because it's the trailer that always initiates the rollover since its center of gravity and height of the trailer is always higher than that of the tractor.
Axicle says that trailers will always be susceptible to rollovers, such as during high winds, and that even driver assist systems can't mitigate against that.
Axicle's website states that the TARS design eliminates every cause of tractor rollovers - including driver error, over correction, and wind.
In a Jalopnik online article reporting on an interview with Axicle CEO and engineer Steve Krug, the CEO said, "there will never be any premature trailer jettisons," because of Axicle's "physics-based control algorithm."
In conjunction with its break-away function, the device also deploys what Axicle calls a "best-in-class fifth-wheel locking mechanisms to ensure quick coupling for drivers and safe hauling at high speeds." False coupling will be prevented because the system can relay instant feedback from the coupling mechanism to drivers and to carriers.
So far, the system has been tested on small-scale models and through simulations. The company expects to put its TARS through real-world testing using full-size tractors and loaded trailers by the end of this year.
Once the test proves the system is viable, Axicle will seek funding to begin rolling out the first units. It estimates it could begin mass production and produce about 100,000 a year.
Besides the lives saved by preventing tractors from rolling over with trailers, the company touts its product as a having a financial advantage.
Jalopnik reported that Krug says a savings of $2,000 to $3,000 in insurance premiums per year, per tractor, could be expected for carriers that employ the TARS unit.
Krug told Jalopnik the savings could come from insurance premium discounts on auto physical damage, auto liability and eliminating the deductible for tractor loss.
"After less than two years with insurance incentives, it makes you money ($2K-3K each year) even if a rollover hasn't occurred," Krug told Jalopnik. "due to savings in insurance premiums for the aforementioned auto damage liabilities/deductibles."
Krug told Jalopnik that the telematics captured by the TARS unit sensors on the fifth wheel can be collected and used by carriers for their logistics planning.
Electronics giant HP partners with autonomous semi-truck innovator Embark
Embark Trucks, Inc., another autonomous semi-truck innovator nipping at the heels of TuSimple, has pulled a giant of the electronics industry on board with its Partner Development Program to test and deploy freight autonomously within its carrier network.
HP will begin its first autonomous freight deliveries with Embark, shipping printers between Los Angeles, California, and Phoenix, Arizona.
HP is particularly suitable for the partnership because it runs relatively long hauls between a select set of distribution and manufacturing facilities. According to the Embark news release, Embark says "these long hauls have the ability to benefit greatly from the increased speed, sustainability, and operational efficiency unlocked by 24/7 on-highway operations."
Alex Rodrigues, CEO of Embark, said, "As our Partner Development Program grows, we're thrilled to bring storied high-tech companies like HP on board. Embark is excited to work with HP to prepare their carrier network to operate Embark self-driving trucks. The upfront time invested in PDP will provide HP a meaningful head-start when it comes time to scale self-driving technology throughout their logistics operations. Self-driving freight will inevitably help large shippers like HP bring additional speed and efficiency into their supply chains."
HP hopes to pair autonomous freight delivery with a move to electric and alternative vehicles.
"HP is driving toward net-zero carbon emissions across our entire value chain by 2040," said Jessica Kipp, Global Head of WW Logistics, HP. "Transportation and logistics have an important role to play, and we're excited to pilot new technologies with Embark that, when combined with electric and alternative fuel vehicles, have the potential to create a far more sustainable fleet and logistics networks than ever before."
Others joining Embark's partnership program include AB Inbev and national carriers Werner, Bison Transport, and Mesilla Valley Transportation.
Texas lawsuit bill advances through State Senate committee
A bill protecting trucking companies from excess monetary awards that is surely being carefully watched across the nation has made its way out of the State Senate Transportation Committee.
House Bill 19 would limit the severity of lawsuits against trucking companies, however specifically leaving drivers vulnerable, by imposing a two-part process to any litigation effort against a trucking firm.
In each lawsuit, the first part of the trial would be to determine if the trucking company could be found negligent in the crash. Failing proving that, there would be no basis for plaintiffs to proceed to a second phase, the one where punitive damages are decided.
The company's safety record, often a major focus of attorneys representing truck crash victims, and one that incites juries to award those "nuclear" verdicts, would not be allowed in the first-phase of the trial.
The bill did not make it out of the State Senate committee unscathed, however. Committee members voted to change some portions of House Bill 19. Once those changes are ironed out, the bill will face final votes in both chambers.
If the bill passes and is signed by the governor it will apply to lawsuits filed against commercial trucking companies after September 1.
---
Dave Wickenhauser went on the road driving big rigs after retiring from 33 years in newspaper journalism. His trucking novel, "Crimson Highway" the first in the Hugh Mann series, is available as an Amazon paperback, and as an Amazon Kindle ebook.
Sources: Jalopnik, PRNewswire, CDl Life
Tagged Under:
Adverse Conditions
Autonomous Trucks
Dealing With The Weather
Electric Semi
Self-Driving Vehicles
Trailers
Truck Driver Safety
Truckers Technology
Trucking Accidents
Werner Enterprises