Too many drivers still don't know to "Move Over"
Last Updated: Wed, October 23, 2019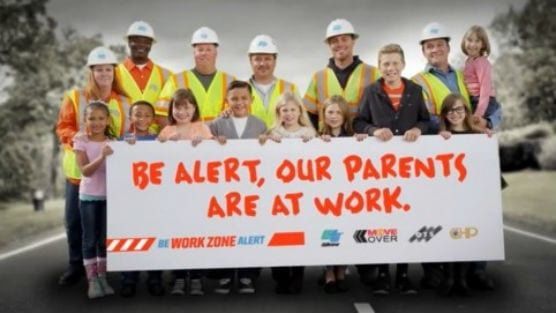 It's probably safe to say that all truck drivers are aware that each of the 50 states has a "Move Over" law. And even without a law mandating moving over, truck drivers instinctively know to move out of the right lane if possible when there is activity on the shoulder.
However, according to the National Highway Traffic Safety Administration, it seems that 71 percent of other drivers haven't got the memo, and whoosh by dangerously close to law enforcement personnel, emergency vehicles and tow trucks.
This, despite that 86 percent of respondents polled support move over laws, and 90 percent believe that it is dangerous for law enforcement personnel and emergency responders to do their work on the side of the highway.

Driver ignorance of the move over law is deadly. According to the National Law Enforcement Officers Memorial Fund, 213 law enforcement personnel have lost their lives from 1999 to 2014 by being struck by vehicles while doing their jobs.
But highway roadside workers have also been imperiled by drivers whizzing by dangerously close. That's why 10 years ago Caltrans, California's highway maintenance department, enacted a law including their workers under the umbrella of move over protection.
California drivers must not only move over when they see the flashing red and blue lights of law enforcement, but when they see the flashing amber lights of Caltrans vehicles.
Last Saturday, October 19, Caltrans joined in the celebration of National Move Over Day to commemorate their inclusion in California's move over law.
"Every year, highway workers, law enforcement officers, emergency personnel, and tow truck drivers are killed or injured along California's roadways," said Acting Caltrans Director Bob Franzoia in a news release. "Californians can help keep workers safe by slowing down in work zones, complying with the 'Move Over' law and always being work zone alert."
Among the strictest in the nation, California's law states that failure of California drivers to move over could subject them to fines as high as $1,000.
Caltrans, the California Highway Patrol, and the Office of Traffic Safety have partnered to bring more awareness to this life-saving law in a current campaign called "Be Work Zone Alert." They are using social media as well as public service announcements, billboards and radio and television to advertise the campaign.
"It only takes a split second of inattention to destroy lives at a work zone," CHP Commissioner Warren Stanley said. "Motorists must give all workers a safe place along the side of California's roads."
"From maintaining roads to helping crash victims to fixing a flat, highway workers go above and beyond to make sure the rest of us get where we want to go safely," OTS Director Barbara Rooney said. "They also have families they go home to, so please look out for workers and keep a safe distance when you see them."
"Tow operators are some of the hardest working people on the planet. They are out on the roads every hour of every day, protecting the motoring public. Raising awareness of Move Over laws is the least we can do for our fallen brothers and sisters, and hopefully our message will make an impact," said California Tow Truck Association President Quinn Piening.
California move over law specifics
Although these details are specific to California, they could be considered as guidelines for drivers throughout all of America's highways.
Drivers should move over for any vehicle displaying emergency or warning lights, including stationary Department of transportation vehicles displaying flashing amber warning lights, emergency vehicles displaying their lights, and tow trucks displaying their flashing amber lights.
Moving over for emergency vehicles approaching from behind is not covered under the move over law provisions, but in any event drivers are required to pull over to let these emergency vehicles pass.
The move over law requires a vehicle's driver to move out of the lane next to law enforcement personnel or other emergency vehicles if safe to do so, or slow down and approach with caution.
The move over law does not apply to vehicles stopped alongside the road that are separated by a protective physical barrier.
Tagged Under:
Distracted Driving
Driver Responsibilities
Truck Driver Safety
Trucking Accidents
Understanding The Laws