Friday Short Haul - Lab-grown meat, fraudulent freight brokering, FMCSA HOS committee, FMCSA Clearinghouse
Last Updated: Thu, October 3, 2019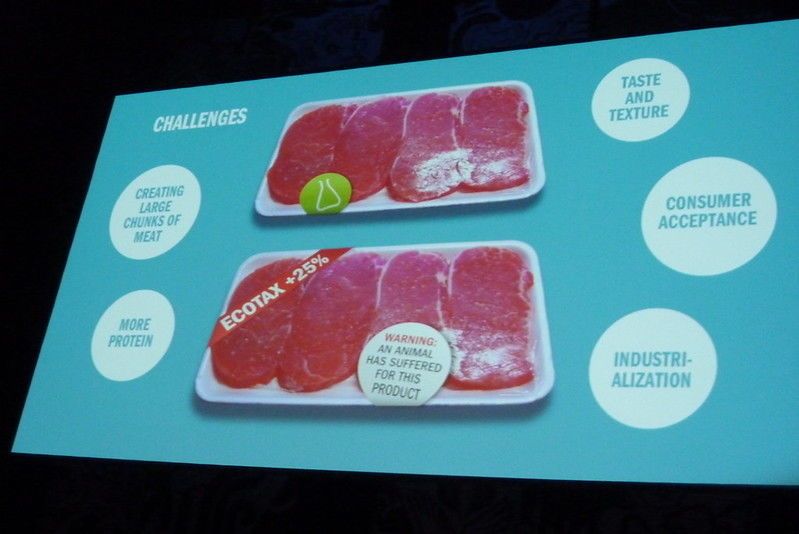 Should the trucking industry be worried about lab-grown meat?
"Bull haulers aint gonna haul no bull no more." That's an extreme paraphrase of the message being communicated by a think tank that specializes in analyzing and forecasting technology trends and their impact on industries.
RethinkX published a food and agriculture report that has some alarming predictions about the future of the agricultural freight-hauling industry – all due to the growing interest in lab-grown meat.
Here are the bullet points from their report to review while considering that the agricultural sector currently accounts for 31 percent of the total freight moved on America's roads, and supports the trucking industry by providing 18 percent of its total revenue:
By the year 2030 the agricultural farming industry will be half of what it is now.
There will be only half the number of cows in feedlots in 2030, and the cattle-farming industry will be all but bankrupt.
By 2030 animal proteins will cost 20 percent of what they do now, and by 2035 they will be costing consumers only 10 percent of what they do now.
The need for animal feed producers and haulers will be severely reduced.
Lab-grown meat producers can locate much closer to the ultimate consumers, thus reducing the need for hauling livestock across long distances from producers to slaughterhouses.
As the need for ag-related logistics decreases by half by 2030, so will the demand for oil to power the decreased agriculture and trucking sector. The study reported that up to 150 million barrels of oil can be saved, resulting in a windfall of annual disposable income for consumers of $1 trillion as cost savings are passed down to them.
FreightWaves CEO Craig Fuller, in commenting on this study in a FreightWaves article online, had this to say: "While autos are incredibly important, no sector outside of retail is as important to the trucking freight markets as agriculture. Agriculture is about to get completely disrupted by technology. Indoor and vertical agriculture will have an e-commerce level impact on farming."
Anyone thinking that this is like the fake human-caused-climate-change crisis needs to consider that one artificial meat startup called Beyond Meat enjoyed a 200 percent increase in its stock price in just the first week of it initial public offering in May.
"Broker" faces 20 years for double-brokering scheme
Drivers and legitimate brokers were conned out of more than $1 million in earnings by a Maryland man over an almost three-year span when he took payments from freight brokers, but who had no intention of picking up and delivering freight.
William Francis Hickey III, of Elkton, Maryland, would then subcontract out the freight hauling jobs to real brokers and drivers, leaving them to deliver the freight with no chance of being paid.
Hickey pleaded guilty last week to federal charges of conspiracy to commit wire fraud and wire fraud to the tune of $1,171,314.11, and faces a possible sentence of 20 years in Federal prison. Sentencing is scheduled in United States District Court for December 29.
The conspiracy charges arise from the fact that Hickey conspired with others to carry out his scheme, including a co-conspirator in Pakistan. He was the managing member of Hickey Consulting LLC, and president of Latino Consulting, LLC, headquartered in Baltimore; and he had bank accounts in the name of both companies from which he conducted his fraudulent business.
The way it worked is that beginning in May 2016 Hickey and his co-conspirators would pose as legitimate trucking companies and accept loads from brokers to transport their shippers' loads, although they had no rolling stock and had no intention of picking up or delivering those loads.
They would then double-broker those loads to legitimate brokers and shippers, in the meanwhile taking fuel-advance checks from the original brokers. In some cases, Hickey et al would also manage to extract the final delivery check from the original brokers.
The truckers who actually drove the miles and made the deliveries would find themselves with no payment at the end of the haul.
Hickey pleaded guilty last week to federal charges of conspiracy to commit wire fraud and wire fraud to the tune of $1,171,314.11, and faces a possible sentence of 20 years in Federal prison. Sentencing is scheduled in United States District Court for December 29.
Advisory Committee discusses proposed new HOS rules
The comment period for the Federal Motor Carrier Safety Administration's proposed hours of service rules changes continues to be open, running through October 21.

In the meantime, the FMCSA hosted a Motor Carrier Safety Advisory Committee meeting last week where the agency heard comments and fielded questions from 25 of its members, whose occupations ranged from police officers to safety groups to union officials to representatives from the trucking industry.
The topic was the FMCSA's proposed new rules that the agency hoped would give drivers more flexibility in how they budget their time on the road.
FMCSA is hoping that the public will continue to add their comments, with supporting data, particularly to answer specific questions that came up during the meeting:
Would the proposal to allow drivers to add two hours of driving time to their day when they need to stop due to adverse weather or extreme traffic congestion be susceptible to abuse?
Would extending the distance and time for shorthaul carriers cause more accidents?
Why doesn't the proposal permit drivers to take three 10-minute breaks rather than one 30-minute break?
Why does the proposed rule not allow drivers to split their sleeper berth time six-and-four hours or five-and-five hours, rather than limiting the split to eight-and-two hours or seven-and-three hours?
Will shippers disregard some of the hours-of-service changes, making it difficult for drivers to get the proper rest?
To submit a comment online, FMCSA says to go to http://www.regulations.gov, put the docket number, FMCSA-2018-0248, in the keyword box, and click "Search."
When the new screen appears, click on the "Comment Now!" button and type your comment into the text box on the following screen. Choose whether you are submitting your comment as an individual or on behalf of a third party and then submit.
To view comments online FMCSA suggests going to http://www.regulations.gov. Then insert the docket number, FMCSA-2018-0248, in the keyword box, and click "Search." Next, click the "Open Docket Folder" button and choose the document to review.
Registration now open for FMCSA Drug and Alcohol Clearinghouse
Although the Congressionally-mandated Commercial Driver's License Drug and Alcohol Clearinghouse will not be officially in effect until January 1, 2020, the FMCSA has opened up the Clearinghouse to pre-registration.
Anyone wishing to register can do so by going to the Clearinghouse website and creating a secure online user account.
CDL holders, employers, medical review officers and substance abuse professionals are eligible to register. Registration is free, and is not required until the program is fully implemented next year. But drivers will need to register if they wish to respond to an employer's request for consent prior to a pre-employment query or other full query being conducted.
FMCSA says the Clearinghouse is secure and can only be accessed by FMCSA, legitimate employers, state driver licensing agencies and law-enforcement officials wishing to identify drivers who are in violation of federal drug and alcohol rules.
Sources: FreightWaves, Justice.gov, Transport Topics, The Trucker
Tagged Under:
Drug and Alcohol Testing
Employment Verification
FMCSA
Hours Of Service
Trucking Industry Concerns