Idaho eases hemp transport prohibition; too late to help arrested drivers
Last Updated: Sun, February 16, 2020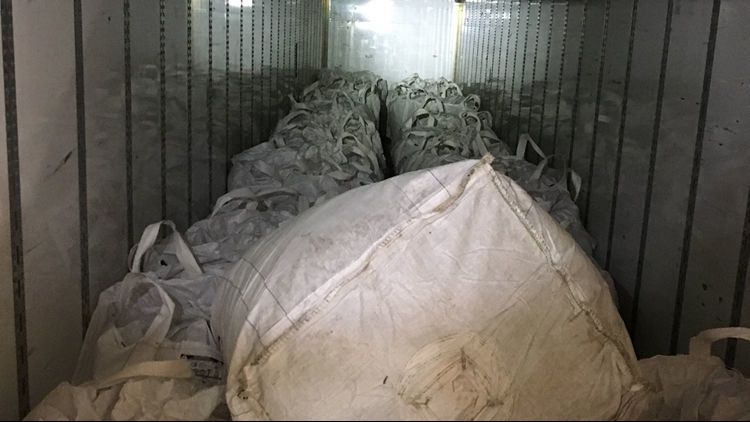 Confiscated hemp load held by Idaho State Police - State Police Photo
Despite a November 2019 executive order by Idaho Governor Brad Little temporarily allowing transportation of industrial hemp through the state of Idaho, actions taken against three truckers discovered transporting hemp earlier in 2019 still stand.
In one case, driver Dennis Palamarchuk had a load of 6,701 pounds of industrial hemp, with a stated value of about $1.3 million, confiscated by Idaho law enforcement officials. He was arrested and released on $100,000 a bond, and has since pled guilty to a misdemeanor charge of failure to provide supporting documents as a driver, based on him having a faulty bill of lading.
In the meantime, the buyer of the hemp that was being hauled by Palamarchuk from an Oregon hemp farm to the Colorado business, Big Sky Scientific, is unable to persuade Idaho officials to release the confiscated shipment of hemp, and faces forfeiture and possibly destruction of the product.
Big Sky Scientific has filed suit against the Idaho State Police, but Fourth District Judge Johathan Medema has sided with the police in refusing to release the hemp to its owners, claiming that despite the hemp being tested well-below the threshold to be considered marijuana it is still a controlled substance under Idaho law.
So, $1.3 million worth of industrial hemp that is legally not marijuana, and that is now legal to transport through Idaho, is being held by Idaho State Police until it is determined it will be destroyed.
In the other hemp transportation case in 2019 two out-of-state truckers, Andrew D'Addario and Erich Eisenhard, received jail sentences for trafficking marijuana through Idaho. The men claimed, however, that the 915 cannibis plants that made up their load was industrial hemp, not marijuana.
"You can't smoke hemp. The best you're going to get out of that is a horrible headache," their attorney said during the trial.
Idaho's skittishness about enacting into state law the Federal 2014 Farm Bill and then the revised 2018 Farm Bill making it legal to transport hemp across all state lines stems from its own provisions that any cannibis plant is still a controlled substance in that state.
Their chief concern is that truckloads of marijuana masquerading as hemp will begin convoying across Idaho, confusing law enforcement officers who won't know the difference between the two.
In his January 21 ruling denying Big Sky's request to finally receive their confiscated hemp, Judge Medema said the 2018 Farm Bill was a "defacto legalization of marijuana at the federal level." And that only scientific tests can determine if a plant is legally hemp or is marijuana.
"It is now simply impractical for law enforcement agencies to tell 'hemp' from 'marijuana' as those terms are defined in the federal statutes," he wrote.
Governor Little, in announcing his November 2019 executive order allowing the transport of industrial hemp, said the same thing.
In declaring that the lines between hemp and marijuana can "be fuzzy," the governor pointed out that "transporting industrial hemp could become a ruse to smuggle marijuana across the state."
The governor, however, recognizes that Idaho State laws are not consistent with Federal law regulating production and interstate transportation of hemp.
Governor Little's temporary executive order is hoped to buy some time to allow the Idaho State Legislature to enact legislation putting the state in compliance with Federal Law as a permanent solution, as a way to "protect the health, safety, and welfare of Idaho residents from the illicit drug trade," the press release stated.
The order directs the Idaho State Department of Agriculture, Idaho State Police, and Idaho Transportation Department to formulate temporary rules and work cooperatively that carry out the executive order.
"From the start, I have stated I am not opposed to a new crop such as hemp, but that we need to be sure the production and shipping of industrial hemp is not a front to smuggle illicit drugs into and around Idaho," the governor stated.
"We expected new federal rules would eventually result in hemp lawfully traveling across state lines. My administration has prepared for this development, working with partners in law enforcement and other interested parties.
"As it turns out, the rules were published at a time when the Idaho Legislature could not quickly respond. My executive order is a stopgap measure to address the narrow issue of interstate transportation of hemp until the Idaho Legislature develops a permanent regulatory framework around hemp," Governor Little said.
The executive order temporarily allowing transportation of industrial hemp does not allow carriers to treat that product as just any freight. The executive order does come with some caveats.
According to the text of the executive order:
Any transporter or vehicle hauling hemp shall have the affirmative duty to stop at the first port of entry encountered in the State of Idaho to declare the presence of any hemp. No transporter or vehicle hauling hemp shall proceed past or travel through an established or temporary port of entry during its hours of operation while transporting hemp without presenting the hemp for inspection. Should the first established or temporary port of entry be closed for operations, the transporter or vehicle must stop at the first available port of entry.

Any transporter or vehicle hauling hemp shall carry and provide upon initial declaration at a port of entry, and upon request during any contact with a peace officer in the State of Idaho, the following documents: The Driver Affirmation, the Lawful-Hemp Verification, the Laboratory Report; and the Bill of Lading.

Authorized ITD personnel at ports of entry and any peace officer may detain any vehicle transporting hemp, and said detention shall be as long as reasonably necessary to effectuate inspection, sampling, and weighing of any hemp.

Any transporter of hemp shall consent to inspection of the shipment to ensure that the hemp complies with the 2014 Farm Bill or the 2018 Farm Bill and 7 C.F.R. §990.1 et seq., and to randomly-selected, reasonably-sized samples, retained by the inspecting peace officer for further off-sight testing. Transporters shall not be entitled to compensation for these de minimis samples.

Samples shall be subjected to analysis in a manner consistent with the 2018 Farm Bill and 7 C.F.R. §990.1 et seq., to determine total delta-9 tetrahydrocannabinol (THC) including all tetrahydrocannabinolic acid (THCA). Hemp samples not in compliance with the 2018 Farm Bill and 7 C.F.R. §990.1 et seq., may subject the transporter to criminal penalties for marijuana under Chapter 27, Title 37, Idaho Code.

Weight for purposes of enforcement is deemed to be the declared weight on the transporter's bill of lading or the actual weight at time of inspection, whichever is greater.

Once the hemp inspection is complete at the port of entry or roadside, hemp transporters will be given an inspection report, which must be presented upon request during any contact with a peace officer in the State of Idaho subsequent to the initial declaration at the port of entry or roadside.

Within the State of Idaho, hemp shall only be transported on interstate highways and in the immediate vicinity of an interstate highway. No hemp shall be transported on any other roadway or highway other than an interstate highway or in the immediate vicinity of an interstate highway except in the case of a detour authorized by ITD, as the transporter is directed by any peace officer, or to facilitate transport to or from Indian Country located wholly or partially within the State of Idaho to or from the closest interstate highway.

Any transporter hauling hemp shall proceed through the State of Idaho with all due speed and avoid any unnecessary delay.
Sources: Idaho State Police, Idaho Press Release, KTVB7
Tagged Under:
Hard Lessons Learned
Trucking News
Understanding The Laws