Court says interstate drivers are not held to California's meal and rest break rules
Last Updated: Sun, January 17, 2021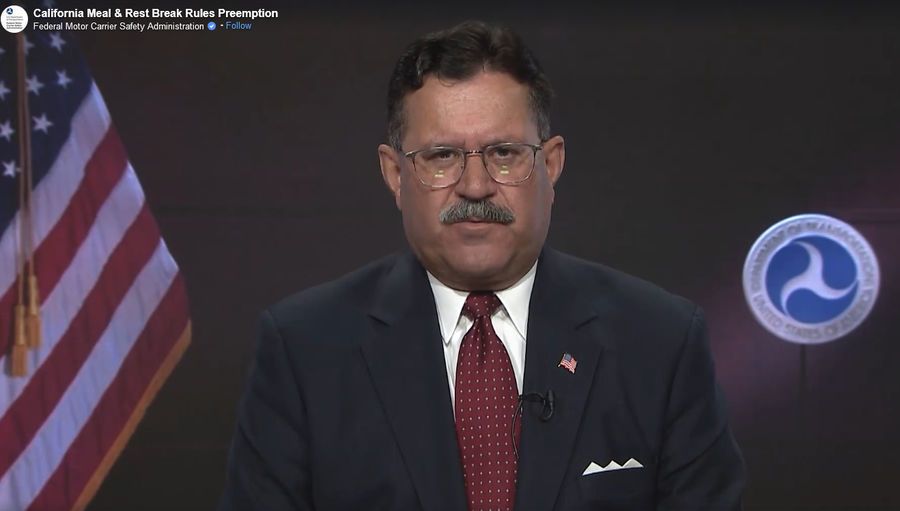 In a breakthrough decision by the U.S. District Court of Appeals for the Ninth Circuit, commercial motor carriers need not impose California's meal and rest break regulations on their drivers operating within the state.
The Ninth Circuit Court ruled on January 15 on the lawsuit brought against the Federal Motor Carrier Safety Administration by the International Brotherhood of Teamsters. The court upheld an earlier determination by the FMCSA claiming that Federal hours of service rules preempt California's stricter regulations.
The order came with the Ninth Circuit Court denying California Labor Department's petition to review that earlier FMCSA determination.
California's meal and rest break law holds commercial truck drivers to the same requirements as all other employees in the state.
The law specifies that truck drivers, like office workers, must take a 10-minute rest break after four hours of driving and a 30-minute meal break after five hours; which is considerably stricter than the Federal HOS regulations concerning breaks stipulating a 30-minute break after eight hours of driving.
There was the potential for mandating that truck drivers take two 30-minute breaks within their 11-hour driving day.
This has caused confusion among drivers entering California hauling loads interstate, and even prompted some class action lawsuits.
But FMCSA clarified in a December 2018 decision granting petitions by American Trucking Associations and the Specialized Carriers and Rigging Association that drivers engaged in interstate transport are not under California meal and rest break law.
Teamsters appealed FMCSA decision
That decision was appealed by the Teamsters. They, representing Teamsters Local 848 and "truck drivers for global companies," filed suit in the Ninth Circuit Court of Appeals challenging FMCSA decision to preempt California's "meal and rest break guarantees for workers."
Teamsters Local 848 represents some 7,200 members in Southern California, many of whom are commercial truck drivers who fall under California's meal and rest break regulations.
In a February 2019 news release, Teamsters stated that they requested the court "reverse the Department of Transportation (DOT)'s decision in its entirety due to the adverse impact it would have on thousands of workers and highway safety in California."
Joining Teamsters in the lawsuit were truck drivers for Sysco Corporation, NFI Industries, XPO Logistics and Pac 9 Transportation.
In a statement supporting California's stricter meal and rest break law, Teamsters General President Jim Hoffa, said, "We are standing united in opposition to this decision. Highway safety for Teamster members and the public must never be put at risk just so that transportation corporations can eke out a little more profit."
Eric Tate, Secretary Treasurer of Local 848, said that getting something to eat during a long day and taking a 10-minute break every four hours makes for a safe driver.
"The industry would rather see drivers never take a break or attempt to eat while driving; this will cause accidents major and minor. California has held a higher standard for years and it shouldn't be taken away," he said.
A Teamster member driver for Sysco named Charles "Lucky" Lepins, stated in the Teamsters news release that, "Truck drivers keep our economy running. I deliver food to hospitals and schools, loading and unloading up to 40,000 pounds in a single run.
"California's meal and rest break laws protect drivers like me from drowsy driving and injury, and keep our roads safe. That's why I am joining other drivers as a petitioner and asking the court to reverse the DOT's decision."
Speaking of safety, however, then FMCSA Administrator Ray Martinez released a video statement saying that safety is a top priority and that having uniform rules is a key component of safety for truck drivers.
"During the public comment period, FMCSA heard directly from drivers, small business owners, and industry stakeholders that California's meal and rest rules not only pose a safety risk, but also lead to a loss in productivity and ultimately hurt American consumers," Martinez said in the video.
ATA applauds Ninth Circuit ruling
Following Friday's Ninth Circuit decision ATA President and CEO Chris Spear said that the ruling is a "victory for common sense over bureaucracy and the plaintiffs bar," as quoted in an TMS Tickets article.
"When the Department of Transportation preempted California's rules, it was a victory for highway safety, ensuring that there is one uniform standard for trucking regulations. By upholding DOT's authority to be the sole regulator of interstate trucking, the 9th Circuit is preventing states and trial lawyers from creating a costly and inefficient patchwork of competing rules."
Spear concluded, "We hope this ruling sends a strong message to other states that they are not allowed to impose additional regulatory burdens on interstate commerce. We thank DOT and the court for upholding the principle that federal regulatory primacy is critical for maintaining safe and efficient transportation."
Teamsters have yet to appeal a similar determination made last November by the FMCSA in favor of Washington State truck drivers being held to stricter state meal and rest break rules than Federal HOS regulations required. That determination was made following a petition by the Washington Trucking Associations.
In the decision published by the FMCSA the agency declared that:
Washington's MRB rules are state laws or regulations "on commercial motor vehicle safety," to the extent they apply to drivers of property-carrying CMVs subject to FMCSA's HOS rules
Washington's MRB rules are additional to or more stringent than FMCSA's HOS rules
Washington's MRB rules have no safety benefit
Washington's MRB rules are incompatible with FMCSA's HOS rules
Enforcement of Washington's MRB rules would cause an unreasonable burden on interstate commerce
Sources: Teamsters, TMS Tickets, FreightWaves
Tagged Under:
Adverse Conditions
DOT
FMCSA
Hours Of Service
Time Management
Truck Driver Safety
Trucking News
Understanding The Laws
Unions In Trucking