Friday Short Haul - DOT agenda, pay increases, Workforce Heroes, and TuSimple
Last Updated: Fri, June 18, 2021
Automatic emergency breaking demonstrated in this IIHS video
Safer roads, climate justice and building the economy back better is on DOT agenda
The United States Department of Transportation has released its agenda for regulatory considerations for the next year and beyond.
The DOT says in its Spring Regulatory Agenda document that it will use regulatory tools to "protect and serve the American people" by creating "safety for transportation workers and the traveling public, fighting climate change, advancing equity, and building our economy back better."
"Regulations are a critical tool to protect our citizens and workers, and ensure the safe and timely delivery of public goods and services," DOT said in the announcement.
Key agenda items affecting the trucking industry proposed for the next year include:
Safer and More Equitable Roadways & Vehicles – Safety technologies like automatic emergency braking as a national standard for heavy and light commercial vehicles will be getting a serious look. The DOT will also seek to enforce better data collection for autonomous vehicle technology deployments, and update roadway design and operational practices.
Climate and Environmental Justice – The regulatory agenda proposes revising fuel economy standards for cleaner air and to "save drivers money at the pump," and intends to meet the current administration's goal of reducing emissions by at least 50 percent by 2030. Consideration will be given to re-establishing greenhouse gas performance measures, tracking climate impacts from the trucking industry, and enhancing pipeline safety and environmental impact through better leak detection.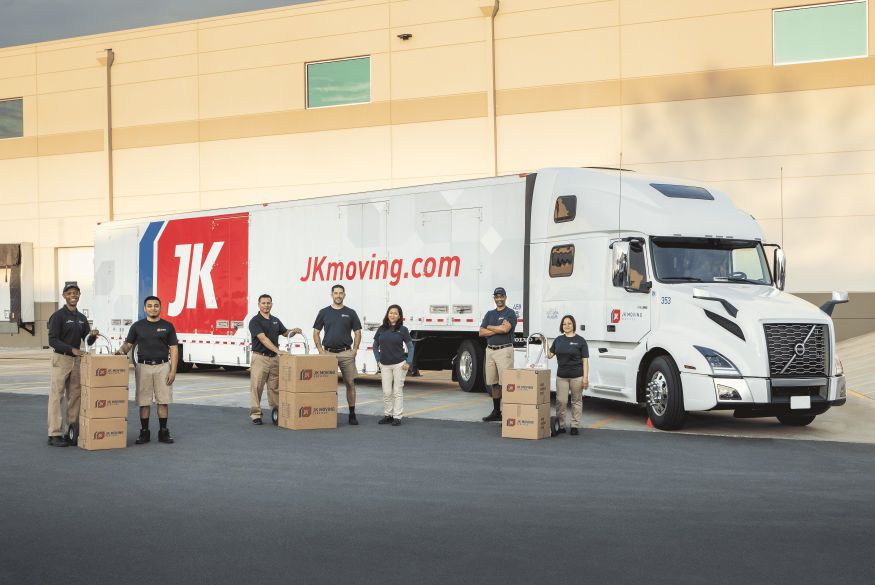 More carriers upping pay to keep and attract drivers
Competition from other types of jobs luring drivers away, the aging driver workforce with more planning on retiring, and a changing employment dynamic continue to force carriers to look to increasing pay and benefits in order to keep drivers behind the wheel.
Here are some recent announcements of pay increases as compiled in a recent Transport Topics online article:
JK Moving Services – CEO Chuck Kuhn of JK Moving Services just announced that their experienced, over-the-road drivers will earn a minimum of $100,000, making that salary and benefits package nearly twice the national average for Class A CDL holders.

"We have a driver shortage in our country that has been exacerbated by growth in online retailing," Kuhn told Transport Topics. "Despite the difficulty in attracting drivers, we remain committed to providing a best-in-class experience for our customers and that starts with investing in having a great team."

Paper Transport – Ben Schill, vice president of Paper Transport, announced increases of from 8 percent to 25 percent for their Midwest and Southeast drivers, giving the majority of drivers in the 60 cents per mile range.

"We've always done these incremental increases," Schill told Transport Topics. "Last November we did a 7% increase and that was a big one. All these carriers will come up with 5% to 10% increases. When we got together we recognized that's not going to do it. The industry has changed that much. So our intention was truly to be a market leader."

Schill added, "I believe the mindset of American workers just significantly changed in that 15-month period as a result of the alternatives that were presented and just the change in people's outlook. I think all of this was coming, but it was just accelerated recently."

Averitt Express – Regional truckload dry van drivers at Averitt Express will now start at 52 cents per mile, with a 3 cents kicker for a hazmat endorsement. Flatbed drivers will start at 57 cents.

"We are proud to continue providing a strong pay and benefits package for our regional drivers," Danny Crooks, vice president of corporate transportation at Averitt, told Transport Topics. "For 50 years, we have worked to create a culture that is people-focused."

Groendyke Transport – Drivers of tanks hauling chemical and liquid petroleum gas for Groendyke Transport got a boost in pay, amounting to a $2.6 million investment in driver compensation.

"Groendyke is a tank truck carrier and bulk logistics solutions provider that hauls everything from chemicals, acids and fuels," CEO Greg Hodgen told Transport Topics. "Because of that, its drivers have to be highly skilled. That makes recruitment particularly challenging."

He added, "We've got to stay at the top in pay and we're hopeful that it will help us attract people to the industry. There just aren't enough. And it'll help us keep the ones that we've got."

ATA sent team to teach Iowa high-schoolers about the trucking industry
The American Trucking Associations just concluded a week-long tour of seven Iowa high schools with its Workforce Heroes program to teach students safe driving skills and to raise their awareness about job opportunities in the trucking industry.
Students were given a copy of ATA's Workforce Heroes pamphlet that gives them insight into the life of a trucker, and information about starting salaries, CDL requirement, and more.
"Through the pandemic, we found different ways to get out and educate our communities. The technology we have today allowed us to keep sharing our message and continue representing the best this industry has to offer," Workforce Heroes professional truck driver Randall Luschen of Weinrich Truck Line, Inc., said in the ATA press release.
"The goal of our demonstration is to educate current and future drivers on how to safely drive alongside trucks. At the end of the day, we want everyone to get home safe."
A Mack Anthem high rise sleeper was used to give students safety demonstrations, and experienced drivers with Workforce demonstrated blind spots and discussed distracted driving.
Students were able to sit in the driver's seat of the truck, so they could visualize things they were being told about stopping distance, visibility and maintaining safe distances.
The Workforce Heroes program is sponsored by Mack Trucks and Utility Trailers and supported by OmniTracs and TA-Petro.
"More and more of our professional drivers are heading into retirement, which is why we are here to explain the career opportunities in the trucking industry," said Workforce Heroes professional truck driver Bill McNamee of Carbon Express, Inc. "A career as a professional truck driver is extremely rewarding as it allows you to travel all over the country and meet so many different people. We need the younger generation to join our industry so that we can keep moving America forward."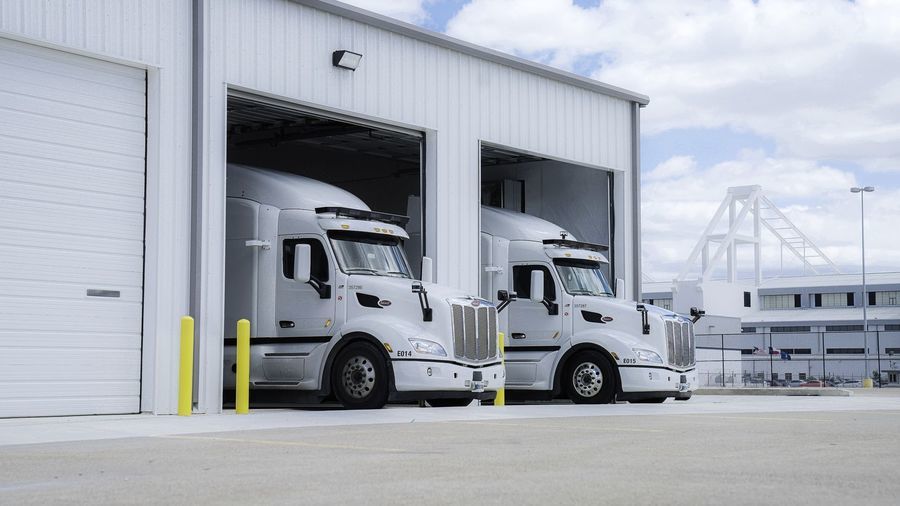 TuSimple says it will be in Florida within six months
TuSimple, already having a large presence in the "Texas Triangle," a logistics area with highways connecting Austin, San Antonio, Dallas and Houston, has just opened a new facility at the Fort Worth Alliance Airport.
The autonomous trucking innovator has already mapped some 3,000 miles of roadway in Texas for its self-driving trucks to navigate.
TuSimple vice president of strategy Lee White told the Dallas Morning News that the expansion with the new facility will anchor TuSimple's planned expansion to the east to cover United State's eastern markets. "We'll be in the Carolinas and in Florida within the next six months," White told the Dallas Morning News. The company said they are six months ahead of schedule with their goal of building an autonomous freight network across the whole United States by 2024.
TuSimple has snagged a big chunk of the billions of dollars in investments that are being poured into autonomous commercial vehicle startups. The company is reportedly valued at $8.5 billion, getting a large boost of $1 billion in capital from a recent initial public offering.
Its future appears assured with the recent announcement of 6,775 reserved sales from such customers as Penske, Schneider and U.S. Xpress. Construction of the first units to meet those sales are expected to start rolling out in 2024.
---
Dave Wickenhauser went on the road driving big rigs after retiring from 33 years in newspaper journalism. His trucking novels, Crimson Highway, the first in the Hugh Mann series, and the sequel, Road Test, are available at Amazon as paperbacks, and as Kindle ebooks.
Sources: U.S. DOT Press Release, Transport Topics, ATA Press Release, Dallas Morning News
Tagged Under:
Autonomous Trucks
Averitt Express
Distracted Driving
DOT
Dry van
Flatbed
HAZMAT
Older truck drivers
Schneider National
Self-Driving Vehicles
Tanker
US Xpress Transport