Spotted lanternfly sightings on the increase
Last Updated: Sun, August 9, 2020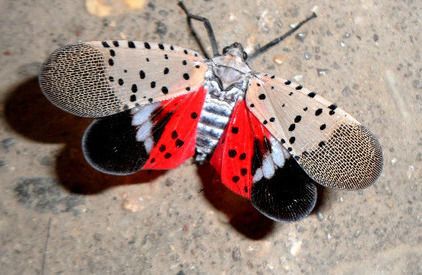 As if we haven't heard enough about quarantining lately, and as if the trucking industry doesn't already have enough on its plate dealing with the latest pestilence, there is apparently a new resurgence of an older recurring pest getting attention in several Northeastern states these days.
The state of Pennsylvania reports nearly a 500 percent increase in spotted lanternfly sightings, and has announced it has added two new counties to its quarantine list.
Delaware and New Jersey have followed suit with stepped up lanternfly mitigation efforts.
Eastern Pennsylvania has been the hardest hit by the destructive bug, with areas of adjacent western New Jersey experiencing the same difficulty.
Now, since March of this year despite mitigation efforts the pest has managed to migrate to western Pennsylvania's Beaver and Alleghany counties. Delaware reports that all of New Castle County has been added to the quarantine list, while fully half of New Jersey is under quarantine.
What this means for truckers in lanternfly infected areas, picking up or delivering loads into or out of Pennsylvania's quarantine area for example, is they must carry with them a certificate that they or at least one representative from their carrier has completed a lanternfly inspection course.
Drivers who are caught picking up or dropping off freight without the permit are subject to a criminal citation of $300 and civil penalties of up to $20,000 per violation.
The spotted lanternfly does its damage by swooping onto a tree or crop in large numbers and sucking its sap. It leaves behind a sticky substance that coats the plant; which then leaves the plant susceptible to mold and attracts further pests.
It is a poor flier, but spreads by hitchhiking and laying masses of eggs that look like a smear of mud on any flat surface, for example, the roof of a tractor's trailer.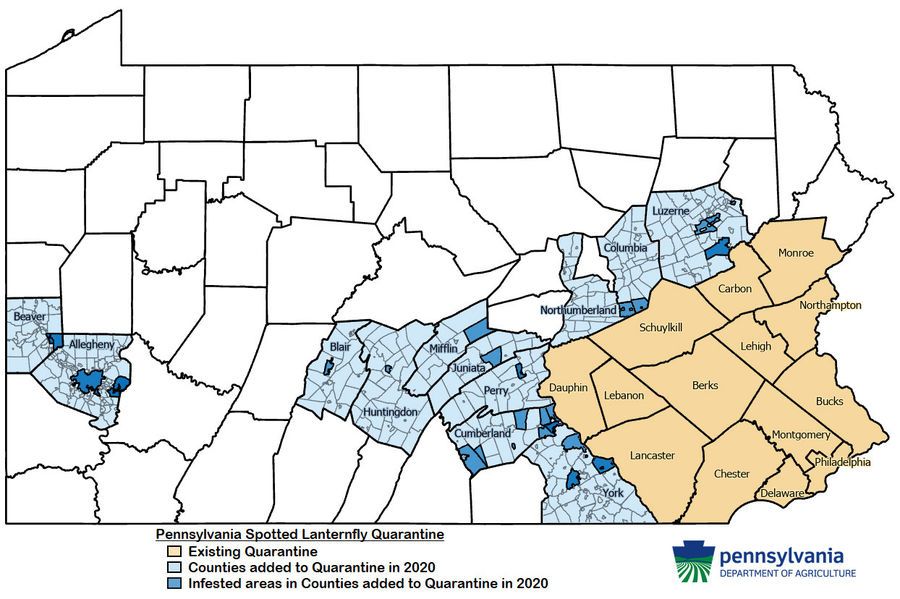 Pennsylvania agricultural authorities won't know until after surveying the fall hatch if the dramatic increase in lanternfly sightings represents a resurgence of the pest.
There's no question that sightings have increased, as sightings for the first 7 months of this year increased to more than 33,000 compared to about 5,600 the same period in 2019.
According to a BillyPenn website article, authorities don't know if these increased sighting represent a more severe season, or if people spending more time outdoors because of the COVID restrictions about indoor social distancing has led to higher awareness.
Shannon Powers, a spokesperson for the Pennsylvania Department of Agriculture, told BillyPenn, "It's a tremendous challenge to figure out whether it's an increase in population or just an increase in awareness of the insect. We know for a fact that awareness has increased."
And because researchers based their reporting of the lanternfly numbers on data collected in prime adult season, and the reports coming in right now are for larva sightings, they won't have the full picture on the severity of this season until next year.
Pennsylvania carrier describes dealing with the lanternfly
A recent Pittsburg Post-Dispatch article related how a local carrier, Kirk Trucking Services, has had to deal with the spotted lanternfly since the pest first became known in 2014.
David Domer, Kirk Trucking's safety director, besides enforcing health and safety protocols during the COVID crisis, also has been fighting this other bug, telling the Post-Dispatch that the bug has been attaching itself to the company's trucks for years now.
Drivers must take the time to inspect their trucks and the freight they haul, and to crush this invasive species from East Asia, and smash their egg masses.
"One gentleman sent me a picture of the rims on his trailer," Mr. Domer told the Post-Dispatch. "Looking back from a distance, it was so covered [with spotted lanternflies] you couldn't even see the wheels."
Kirk's truckers must fill out a daily report proving they have done their due diligence in checking for the pest.
Delaware adds New Castle County to quarantine list
The Delaware Department of Agriculture reports that a new population of spotted lanterfly found in Odessa has prompted the expansion of lanternfly quarantine to the entire county of New Castle.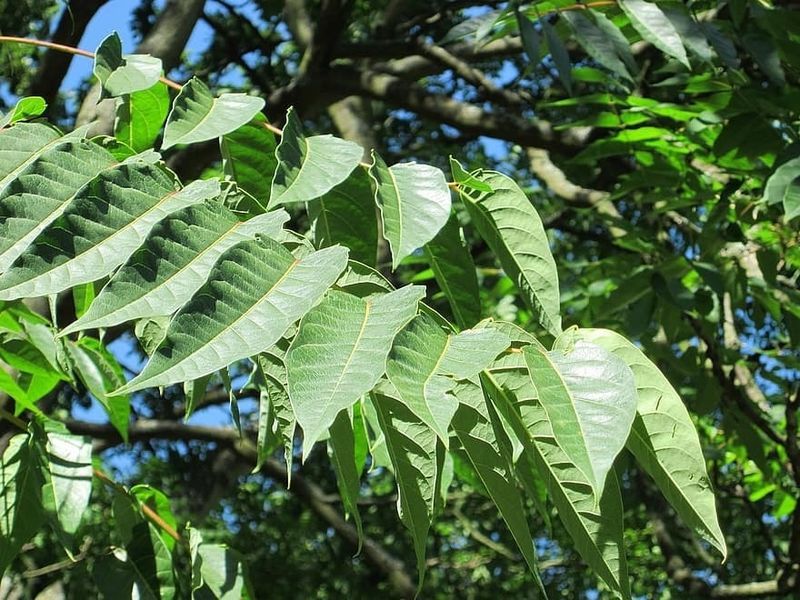 Delaware has been actively working to eradicate one particular species of plant that the lanternfly requires in order to reproduce. According to Delaware's Department of Agriculture website, the plant, tree of heaven, is necessary for the spotted lanternfly to reproduce, and lanternfly populations can be reduced by eliminating this invasive plant species.
The tree is seen in industrial parks, along highways and railways, and in unmanaged areas or vacant lots. "Due to the mild winter, we have experienced a high hatch rate of spotted lanternfly nymphs. This is consistent with the reports we are receiving from New Castle County residents who are asking how to get rid of this pest," said DDA Plant Industries Administrator Jessica Inhof at Delaware.gov.
"The treatment program is focused on properties that have tree of heaven trees present, but we know from surveying that many homeowners are finding the nymphs on other plants in their landscapes as well. We are encouraging homeowners experiencing outbreaks of this pest to use insecticides labeled for planthoppers or leafhoppers to kill nymphs and adult spotted lanternfly."
Like Pennsylvania, Delaware requires commercial carriers moving freight from within or from a quarantine area to have a permit proving they have received training and can demonstrate they have a working knowledge of how to spot and kill the pest.
Only one carrier representative must take the course, but he or she is responsible for passing that training on to other employees involved in freight hauling.
Sources: Pittsburg Post-Gazette, Delaware.gov, New Jersey.gov, Billy Penn
Tagged Under:
Adverse Conditions
Driver Responsibilities
Pre-trip inspection (PTI)
Trucking Industry Concerns