Feds come out with their own definition of independent contractor status
Last Updated: Tue, September 22, 2020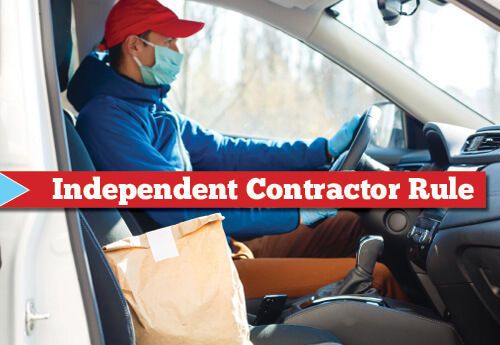 A major new player has joined the independent contractor fray that was created when California legislators passed Assembly Bill 5 last year mandating a strict definition of employee-contractor status that virtually eliminated independent contractor work for huge segments of the economy.
And this player, like the proverbial gorilla in the room, could change the whole course of AB5's enactment and give a boost to its challengers – assuming that Federal pre-emption of state laws still holds some authority.
This new player, the U. S. Department of Labor, made its entrance with a September 22 announcement of a proposed rule declaring its own guidelines of whether an independent contractor worker should be classified as an employee.
In a first-ever move by the Federal Government to clarify and define contractor-employee status, the DOL proposes a new set of guidelines, a test, that is based more on the economic reality of independent workers, rather than on the A-B-C three-prong test in AB5 that came out of the California Supreme Court's Dynamex decision.
The DOL's proposal simplifies how to determine independent contractor status using a test based more on economic reality and the relationship of the independent contractor worker to the company that uses his or her services.
"The Department's proposal aims to bring clarity and consistency to the determination of who's an independent contractor under the Fair Labor Standards Act," said Secretary of Labor Eugene Scalia, in its September 22 announcement.
"Once finalized, it will make it easier to identify employees covered by the Act, while respecting the decision other workers make to pursue the freedom and entrepreneurialism associated with being an independent contractor."
Without stating that the DOL's proposed rule comes as a result of California's adversarial new law, Federal Wage and Hour Division Administrator Cheryl Stanton says that, "The Department believes that streamlining and clarifying the test to identify independent contractors will reduce worker misclassification, reduce litigation, increase efficiency, and increase job satisfaction and flexibility," which are all issues that have arisen from implementation of AB5.
Independent contractor test proposed by the DOL
Basically, the DOL's proposed rule would guide contractor-employee decision on whether the worker is economically dependent on the company for work.
Specifically, the proposed rule:
Adopts an "economic reality" test to determine a worker's status as an FLSA employee or an independent contractor. The test considers whether a worker is in business for himself or herself (independent contractor) or is economically dependent on a putative employer for work (employee);
Identifies and explains two "core factors," specifically the nature and degree of the worker's control over the work, and the worker's opportunity for profit or loss based on initiative and/or investment. These factors help determine if a worker is economically dependent on someone else's business or is in business for himself or herself;
Identifies three other factors that may serve as additional guideposts in the analysis: the amount of skill required for the work; the degree of permanence of the working relationship between the worker and the potential employer; and whether the work is part of an integrated unit of production;
Advises that the actual practice is more relevant than what may be contractually or theoretically possible in determining whether a worker is an employee or an independent contractor.
These factors determining independent contractor status are in stark contrast to those used by California legislators in arriving at their AB5 law. The three-prong test, especially the middle prong, for example, essentially eliminates all owner-operator independent contractor drivers who haul as subcontractors for carriers.
The middle prong of AB5 states that if independent contractors perform a service that is also in the usual course of business of their hiring company then they must become an employee of that company.
Currently, the trucking industry has benefited from an injunction against California enforcing AB5 on truck drivers, but other transportation gig workers like those who drive for Uber and Lyft have no such reprieve and have become embattled with the state since even before the law was passed.
Uber and Postmates suffer court setback
The announcement of DOL's proposed rule has come very shortly after a recent development in the ride-sharing and delivery industry's challenge to AB5 where a U.S. District Court ruled to dismiss an Uber-Postmates challenge that was based on Constitutional grounds.
Uber contends that AB5 prevents equal protection and due process because of the many exemptions that California has granted to many other categories of independent workers.
The U.S. District Court judge presiding over this case in Los Angeles, Dolly Gee, gave a due date of October 9 for Uber and Postmates to come back with an amended lawsuit.
According to the San Francisco Chronicle article, one company official is quoted as saying they will do so. "The enactment of even newer bills granting several additional exemptions to AB5 makes it crystal clear — now more than ever — that this law is irrational and unconstitutional, and we look forward to presenting those arguments to the court."
At the same time that Uber and others are challenging AB5 the state of California and city attorneys in three major California cities are suing Uber and Postmates for violations of the new independent contractor law, claiming they are harming drivers by misclassifying them as independents rather than employees.
It remains to be seen if the DOL's proposed rule will have an impact on the battle playing out in California, but it's highly likely AB5 will be mentioned in comments to the rule when the DOL proposal is posted on the Federal Register and becomes open for comments.
Currently the DOL proposed rule has not received a docket number at the Federal Register. Once published, there will be a 30-day comment period.
Sources: U.S. Dept. of Labor, FreightWaves, Yahoo News
Tagged Under:
DOL
Owner Operator
Trucking Industry Concerns
Understanding The Laws