Platooning passes real-world tests; new company emerges as leader
Last Updated: Tue, August 18, 2020
Passenger car drivers who happened to be on I-84 recently between Portland, Oregon, and Nampa, Idaho, might have found themselves griping about "those dang trucks" driving too close together – forcing them to have to pass two trucks at a time instead of just the one.
They might not have found much comfort then in discovering that the one truck following too close to the other was not the result of a "super trucker" experiencing road rage, but was part of a successful test that is leading inevitably to a wave of close-together trucks, called platooning, running around on the nation's highways.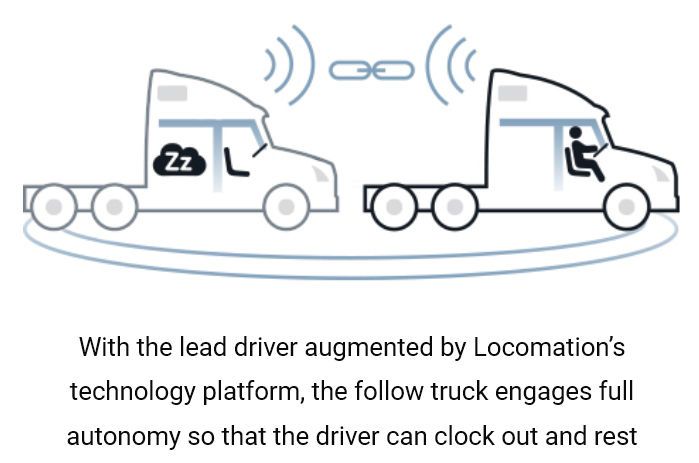 And, should we tell these car drivers who encountered those platooning trucks that in the very near future the following truck will have nobody at the wheel, with the "driver" being crashed out in the tractor's sleeper, or that the cab is completely empty – no human on board?
The trucks encountered by our mythical miffed car driver were part of a recent trial by a company headquartered in Pittsburgh, Pennsylvania, called Locomation, that has retrofitted trucks for Wilson Logistics of Missouri to run together in tandem.
Over an 8-day period the platooning innovators ran their Locomation-fitted trucks the 420-mile route back and forth between the two locations along I-84, hauling 14 commercial loads for a total of 3,400 miles.
Locomation's platooning test convoy consisted of two trucks. The autonomous feature was engaged about half the time, disengaging for construction zones, parking and challenging weather and lighting-related conditions.
At all times both vehicles were staffed with a trained driver and a safety engineer, as is required by current Level 3 autonomous-vehicle regulations.
This is similar to the platooning innovations of others, like Peloton, where each truck in the platoon has a driver, with only the lead driver needing to be in full attendance … in other words, somewhat, but not fully autonomous.
But Locomation's approach is to position the company closer to the fully autonomous level than its platooning competitors.
In the current Locomation scenario, there is a lead driver who pilots the truck while the following trucks, 50 to 80 feet behind, have an operator off-duty in the sleeper. After the lead driver's drive shift is complete the driver who was resting on his 10-hour mandated break can take over as lead driver.
The company says that a single-day 900-mile round trip is feasible.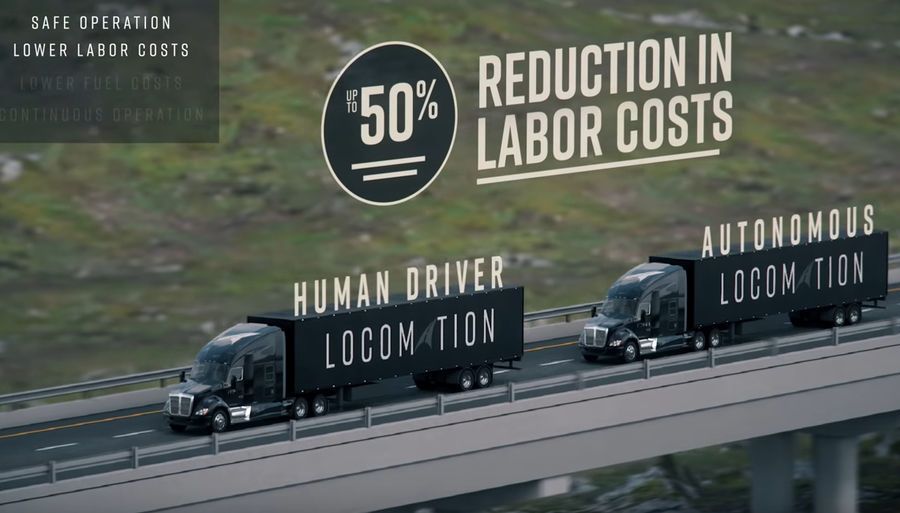 But eventually Locomation hopes to eliminate the driver in the following truck altogether, resulting in a 50 percent reduction in labor costs.
However, that fully autonomous following truck brings with it a new set of issues. Platooning has already been approved for use in 27 states – under the guidelines of having a driver in each vehicle.
For Locomation to introduce this second-generation type of platooning by running a fully autonomous following truck new guidelines will have to be drawn up and approved.
Founded only three years ago by a team of autonomy experts from the National Robotics Engineer Center at Carnegie Mellon University's Robotics Institute, Locomation plans soon to have 124 tractors running two-truck convoys across the United States, with 1,000 convoys of 2,000 tractors a near goal.
Full commercialization of the company's platooning technology could happen as soon as 2022, according to Locomation CEO Çetin Meriçli. Besides the reduction in drivers, the technology could reduce operating cost per mile by 33 percent, including an 8 percent reduction in fuel use.
Sources: Locomotion, Venture Beat, FreightWaves
Tagged Under:
Autonomous Trucks
Self-Driving Vehicles
Trucking News