Future era of cab-less trucks will be the end of HOS rules
Last Updated: Sun, May 19, 2019

A Swedish company named Einride that defines itself as, "The intelligent movement company -- part commercial enterprise, part revolutionary movement," says it is "bent on a complete transformation of the transportation industry."
And May 15 marked a milestone in that company's mission as it is the day the first cab-less electric truck was allowed to drive on a public road.
Einride's T-pod made its premiere and inaugural run at a shipping facility in Jonkoping, Sweden, where it will take up permanent duty transporting cargo on public roads between the facility's warehouse and terminal.
Einride received its permit from the Swedish Transport Agency on March 7 on the condition that it restricts travel to public roads only within an industrial area.
Sweden might be on the other side of the world from the United States, both literally and figuratively, but the company announced it has set its sights on introducing their cab-less electric trucks into the American market.
"This day represents a major milestone in Einride's history, and for our movement to create a safe, efficient and sustainable transport solution, based on autonomous, electric vehicles, that has the potential to reduce CO2 emissions from road freight transport by up to 90 percent. I can't begin to describe how proud I am of our team that made this happen in collaboration with our great partner and customer DB Schenker," said Robert Falck, CEO and founder of Einride, in a company press release.
"Autonomous trucks will become increasingly important for the logistics sector. Together with Einride, we have now introduced autonomous, fully electric trucks to a continuous flow on a public road – a milestone in the transition to the transport system of tomorrow," said Jochen Thewes, CEO of DB Schenker, the logistics company in whose facility T-pod made its inaugural run.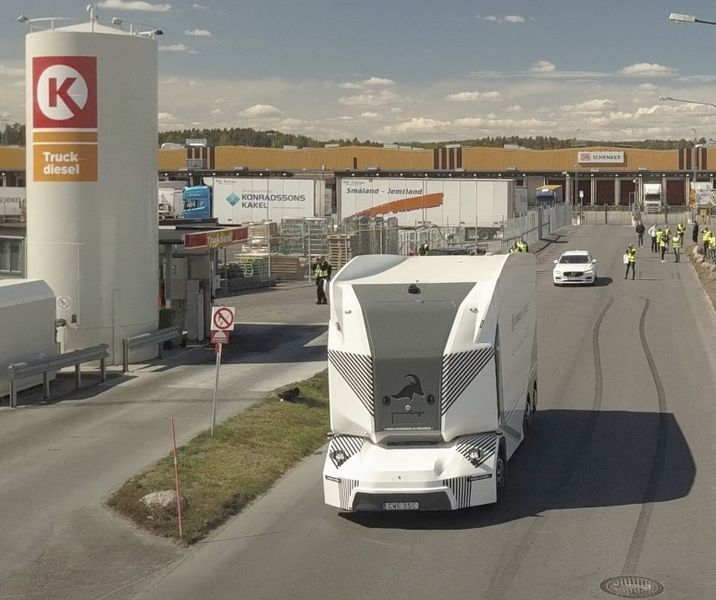 The T-pod is powered by a battery capable of 200 kWh, and can carry freight consisting of 15 pallets and 26 tons up to 124 miles at full charge. It is an SAE Level 4 autonomous vehicle, and can be controlled remotely from a station hundreds of miles away.
Einride told FreightWaves that it plans to expand into the United States market, as the U.S. is the largest freight market in the world and is also active in autonomous driving technology.
"We also see a lot of commercial interest there [the U.S.], and we have signed commercial contracts with five Fortune 500 companies. Europe will remain important to us, and we have dialogues with companies in other markets as well," said Rundbom, director of communications at Einride.
Einride does not sell its vehicles, but offers the service of freight hauling to its customers. Einride claims up to 90-percent reduction in emissions; which they say can significantly reduce the impact of truck freight transport's 5 to 7 percent CO2 emissions globally.
The company's plans include deploying up to 200 cab-less, electric trucks in commercial operations by the end of 2020, and it has raised $10 million in investments to help make that happen. Besides its partnership with DB Schenker and several Fortune 500 companies, Einride has orders from Germany's Lidl, and a Swedish delivery company.
Possible effect on HOS service regulations
While the industry is anxiously awaiting release of the Department of Transportation's new hours of service rules in June amid a flurry of complaints and protests about what many claim are egregious and even unsafe regulations, one company developing autonomous trucks says it has an even better solution.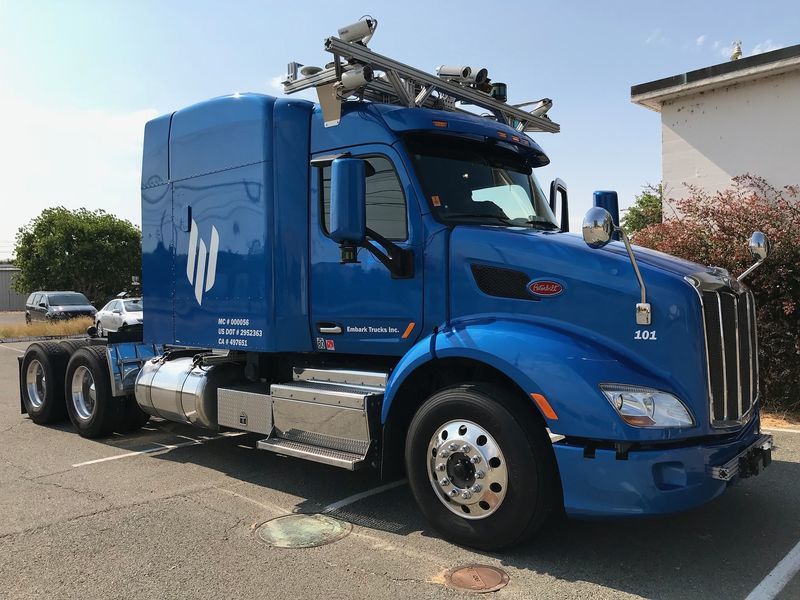 The company, Embark, says basically that eliminating the driver will also eliminate the need for any HOS rules at all.
"If you imagine a vehicle that's not limited by hours of service it will be able to make a cross country trip in a matter of two days instead of the five or six that are required by a normal human driver," Embark's head of public policy, Jonny Morris said at a supply chain event hosted by the U.S. Chamber of Commerce.
According to DOT guidelines, autonomous vehicles must only comply with commercial motor vehicle regulations and are not subject to HOS regulations.
For now, the company says that its autonomous trucks will still have to employ an experienced commercial driver in the cab. But they admit that as the technology increases to the point of cab-less trucks plying the nation's roads – as is eagerly being pushed by companies like Einride – truck driving jobs will be lost … and HOS rules will become an anachronism.
Sources: Einride, Freightwaves, Supply Chain Dive, Embark
Tagged Under:
Autonomous Trucks
Electric Semi
Hours Of Service
Self-Driving Vehicles
Truckers Technology