Truckers say they will refuse to enter cop-defunded cities
Last Updated: Mon, June 15, 2020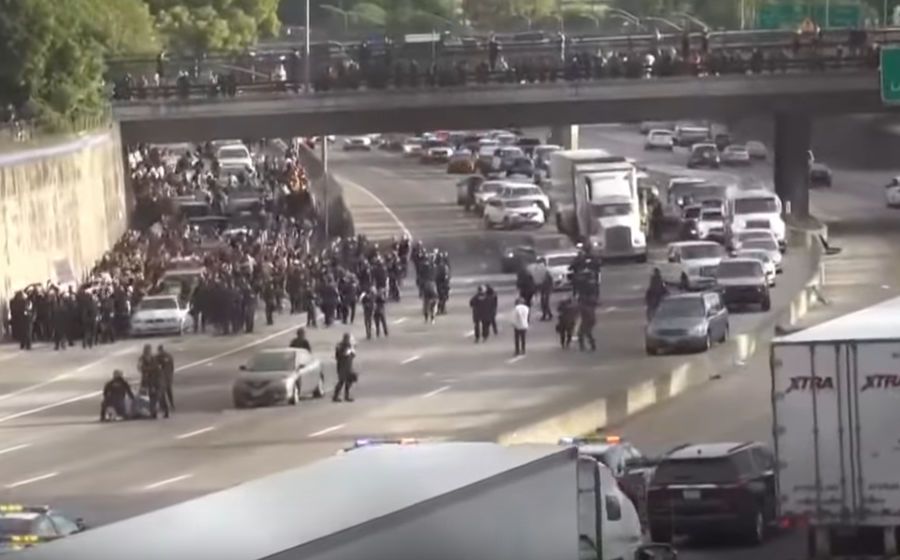 Truckers encounter protestors and police during a May 31 incident on Interstate 5 in Sacramento, California - Screen capture from ABC10 video
Truck drivers earned increasing props as heroes recently as they traveled largely unprotected to deliver essential medical supplies and food resources to combat the COVID-19 virus crisis while most Americans remained safely in their homes.
It shouldn't have been a surprise to anybody that the trucking industry would keep working as the rest of the country was hiding, since truckers as a whole are considered making up a solid core of independent, self-reliant, but patriotic, citizens.
But even these stalwart road warriors know when enough is enough, and that's why a vast majority of drivers responding to a CDL Life poll stomped down hard on the brakes and declared they will not enter cities that have defunded their police departments.
Drivers began voicing their concerns initially on CDL Life's own community app, so CDL Life posed a question in order to register their concerns as a poll: "Would you pick up/deliver to cities with defunded or disbanded police departments? Why or why not?"
As of Saturday, June 13, some 1,283 drivers responded, with 79 percent saying they will refuse loads to cities with disbanded or defunded police departments.
The concern is real
Already regarded as one of the most dangerous jobs in the nation according to 2018 U.S. Bureau of Labor Statistics reports, and with the Reginald Denny incident in the backs of their minds as they view news footage of anarchists rioting and, in at least one case so far, taking over a city center, truck drivers draw the line at subjecting themselves to situations where no help can be expected from the boys in blue.
As the news increasingly shows on a daily basis, that concern is not misplaced.
Seattle's Democrat mayor and Washington State's Democrat governor have virtually ceded over a portion of downtown Seattle to anarchist domestic terrorists who maintain a cop-free zone with border control barriers, checkpoints and roving armed "enforcers."
In Minnesota, the Minneapolis City Council is eyeing replacing their police department with a community-led public safety system. On Friday they passed a veto-proof resolution to examine disbanding the police department and authorizing looking into an alternative.
According to an Associated Press report, Lisa Bender, president of the Minneapolis City Council, said that "the city council is committed to terminating Minneapolis' relationship with the police force."
Elsewhere, in huge metropolitan areas which are hubs for trucker activity, Democrat mayors of Los Angeles and New York are introducing budget amendments that would redirect money from their police departments into social and community programs.
These blatantly cowardly retreats that cede territory and citizen safety to anarchists have not escaped attention from trucking industry spokespersons.
One such is Dan Doran, a 40-year trucking company owner who served as chairman of the Truckload Carriers Association in 2018.
He told Transportation Nation Network in a June 11 article that developing incidents of lawlessness could present dangers for truckers.
"Truckers were already getting nervous about all these protests before they even started talking about defunding the police," Doran told TNN. "Everybody has a watchful eye on all these locations and all it's going to take is just one instance for people to say, 'No we're not going there,' or 'We'll take the load, but we'll deliver to a warehouse 30 miles outside the area.'"
The solution, unless government quells the anarchist uprisings, is for shippers and receivers to offer drivers security to accompany them into danger zones.
"A good customer may tell a good carrier that they'll provide them some security to get them into the city limits … some kind of an escort," Doran said in the TNN article.
"I think any reputable carrier is going to listen to that concern and take steps to help the driver become more comfortable going in there," he said.
Beyond driver safety, there could also be far-reaching concerns for the trucking industry unless authorities get a handle on this lawlessness.
Darren Yancy, a commercial insurance consultant, says that carriers could be looking at increased insurance costs.
"It won't be positive," he told TNN. "The presumption is you're going to have higher losses from crime such as theft and fires."
Insurance premium increases, plus driver safety, could be compelling factors in carriers refusing to service areas where anarchists hold sway over cowardly elected officials.
"The real question is whether or not a motor carrier wants to take the chance of bringing their drivers into an area where they have declared 'we don't want to have police anymore.'"
So, what did CDL Life hear from its poll respondents:
"…if something was to happen and you have to take matters into your own hands, and then you risk being prosecuted for protecting yourself."

"This is not an area you need to act fearless and think you you'd look like a fool for saying no…Imagine what kind of fool you look like for driving into a hot spot and putting your life in danger."

"I will not deliver to an area with a disbanded police department. My life matter and I do this for my family. We are already at the mercy of these towns and cities with laws and hate against us for parking, getting a meal or even using a restroom."

"Simple. We may not like it all the time, but laws and order is necessary."

"Most places we go already can be dicy an about only time you see a cop is when lights is on behind you." "For my own safety and security of my customers' loads, I have already informed my dispatcher that I will refuse all loads to cities that have defunded their police departments."
Tagged Under:
Adverse Conditions
Safe Haven
Truck Driver Safety
Trucking Industry Concerns