Friday Short Haul - FMCSA's TeenZone, Safety blitz, and Knight-Swift pay increase
Last Updated: Thu, April 8, 2021
FMCSA rolls out new resource for teen awareness of trucks
The Federal Motor Carrier Safety Administration announced on its Facebook page the rollout of a new resource for teens that it hopes will encourage safe driving around large trucks and buses.
Called TeenZone, the resource is located at the FMCSA website.
In its "Welcome to the Teen Zone!" the agency says, "As a new or soon-to-be driver, there's a lot to learn about the rules of the road—that's why we launched the Teen Zone!"
FMCSA teamed up with partners Teens in the Driver Seat and the National Highway Traffic Safety Administration to produce videos covering particular aspects of driving near large buses and trucks.
Videos on YouTube in the "Respect the Rig Video" series include:
"Watch Out for Wide Turns" showing how trucks make wider turns, which can leave a wide space to the left or right of the truck. Drivers are warned to avoid an accident, and don't pull into this space.
"Know the No Zones," illustrating that all big trucks and buses have blind spots that are bigger than standard size vehicles. It emphasizes to know the No Zones, and stay safe out there!
"Passing Trucks Safely," that recommends learning the Do's and Don'ts for passing large trucks and buses, safely.
Also featured at the TeenZone is the American Trucking Associations' "Share the Road" program featuring a video about road safety.
Comments on FMCSA's Facebook page about the announcement were in favor of this resource for teens:
"This is great! Can you work on some state specific ones too? I have two new drivers and will be pushing them to look at this together."
"Hurry. There's more being born."
"Should be added to drivers Ed for all."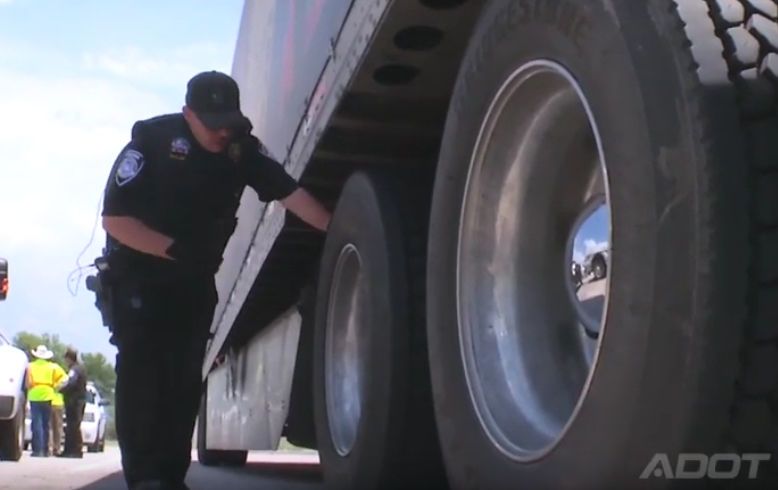 Next CVSA safety blitz less than a month away
Commercial truck drivers, particularly in regard to hours of service compliance, and vehicle maintenance, specifically lighting, will be in sharp focus during the upcoming Commercial Vehicle Safety Alliance annual 72-hour safety blitz, scheduled for May 4 through May 6.
CVSA chooses each year's inspection emphasis based on the areas with the highest number of violations discovered over the previous year. This year's choice of lighting maintenance came about because in 2020 the top violation in the United States was for having an inoperable vehicle lamp – some 12 percent of all violations.
Likewise, the top driver was for HOS, amounting to 34.7 percent of all violations requiring an out-of-service status during last year's International Roadcheck.
Even though these two categories will receive extra attention, inspectors will conduct a full 37-point Level 1 inspection during the three-day safety inspection period.
CVSA states that drivers hauling COVID vaccines will not be inspected "unless there is an obvious serious violation that is an imminent hazard."
Officials in Canada, the United States and Mexico participate in International Roadcheck, and expect to inspect around 4 million commercial motor vehicles during the three-day period.

Knight-Swift announces driver pay increase
Knight-Swift Transportation Holdings, Inc,, which became North America's largest truckload company after the merger, announces increases in company driver pay as well as rate increases for their independent contractor drivers.
Experienced over-the-road company drivers, many of whom has been receiving pay increases and incentives for the past six months, beginning in April are now getting another 2-cent-per-mile increase. This means that experienced drivers can now start higher than 50 cents per mile, and for some that rate can be as high as 60 cents per mile to start.
Students who train through Knight-Swift have received increases of 40 percent over the past few months, with many able to earn more than $60,000 per year after their first year.
Company trainers can expect to make more than $100,000 a year.
Beginning in April drivers contracted with Knight-Swift are receiving increased contract rates of from three cents to five cents per mile.
David Jackson, Chief Executive Officer, commented, "I don't know of another company in our space who has devoted more to professional drivers in recent years than Knight-Swift," said David Jackson, Knight-Swift's Chief Executive Officer in a news release.
"While others have attempted to make big splashes with overdue pay changes, the Knight-Swift brands have quietly been increasing pay at an unprecedented pace for several years.
"Company driver pay increases and Independent Contractor contract rate increases, along with enhancements to bonuses and incentives, have literally put tens of millions more well-deserved dollars into the hard-earned paychecks of our drivers and into the businesses of our Independent Contractor partners.
"Additionally, we continue to spend hundreds of millions of dollars every year refreshing and advancing our top-of-the-line fleet and in facility enhancements that make our driving jobs safer and more comfortable. These are just a few of the ways we show our appreciation and respect for our professional drivers, and we are far from being done." Jackson concluded.
---
Dave Wickenhauser went on the road driving big rigs after retiring from 33 years in newspaper journalism. His trucking novel, "Crimson Highway" the first in the Hugh Mann series, is available as an Amazon paperback, and as an Amazon Kindle ebook.
Sources: FMCSA, FreightWaves, Knight-Swift
Tagged Under:
Choosing A Trucking Company
Company Sponsored CDL Training
Company Trainers
FMCSA
Hours Of Service
Knight Transport
Swift Transport
Truck Driver Salary
Truck Equipment
Truck Maintenance