54 percent of survey respondents still not impressed with telematics technology
Last Updated: Sun, September 15, 2019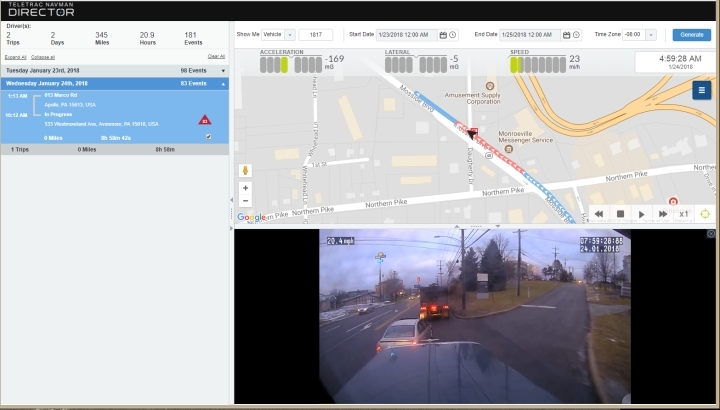 Despite its many advantages, a significant number of fleets don't intend to implement new telematics technology beyond what is required by the electronic logging device mandate – which has a final full-compliance deadline of December 16 of this year.
This news comes via a report by Teletrac Navman, a software-as-service provider to the trucking industry, following a survey of 500 respondents who said they appreciate the benefits of telematics but because of various issues with implementing it in their fleets around 54 percent said they have no plans to implement the technology any time soon.
"Our forthcoming 2019 Telematics Benchmark Report found that while telematics adoption is at an all-time high, few organizations use it to its full advantage," said Daren Lauda, vice president and general manager of North America, Teletrac Navman in a company news release.
"That's not only because there's a learning curve but managing a fleet of over-the-road vehicles or on the jobsite assets isn't one-size-fits-all, so it takes time to figure out what optimal adoption and ROI looks like for each organization."
Telematic Navman tracks and manages more than 500,000 vehicles and assets for more than 40,000 companies around the world. The company is headquartered in Glenview, Illinois, with additional offices in the United Kingdom, Australia, New Zealand and Mexico.
The company learned that more fleets are using technology than ever before – 86 percent are using telematics of some kind -- but that most trucking companies lack the ability to tie the data provided by this technology into their decision-making systems.
In fact, only 23 percent use "big data" analytics in their decision-making, and 36 percent still rely on manual process to forecast hiring needs, for example, the survey found.
Fuel savings is one of the leading benefits of using telematics, and 55 percent of companies surveyed said they experienced reduced fuel costs. The report notes that on average companies use only three of the dozen most-common telematics features.
For example, only 74 percent of companies employing telematics of some kind employ the vehicle and equipment location feature; only 66 percent track hours of service; only 61 percent keep track of a vehicle's speed; only 37 percent monitor idling, and only 30 percent track fuel usage.
The report also emphasized a statistic that is like the elephant in the room for smaller fleets: Some 24 percent indicated that they are still using paper logs, and 19 percent are using automatic on-board recording devices despite the FMCSA ELD mandate deadline that is only three months away for full compliance.
This year's report compared to last year's did find that ELD compliance as a top concern among fleets is down somewhat from the same time last year. Only 58 percent expressed concern with meeting the deadline this year compared to 74 percent in 2019.
Among those who do employ telematics to monitor driver behavior 42 percent say that they have seen fewer safety incidents.
Also:
More than a quarter cite driver monitoring (32%), speed prevention (26%) and preventing driver fatigue/exhaustion (30%) as top telematics-related safety benefits.
Twenty-eight percent implement driver warning/alerting technology to further boost driver safety.
Fifty-seven percent reward safe driving, with the biggest benefit of this practice being reduced safety incidents and violations (58%).
Almost a third of the respondents in the survey admit that finding, developing and retaining "talent" is a major business priority, and say that among their top retention strategies is higher pay (47 percent), driver appreciation programs (33 percent), and performance-based bonuses (30 percent).
"This year's survey results reveal there's a big difference between being a tech-compliant organization and a tech-driven one," said Sid Nair, senior director of transport and compliance, Teletrac Navman.
"Putting ELDs in vehicles is not a silver bullet and, ultimately, won't help fleets solve their business challenges as the transportation and logistics industry becomes ever more competitive.
"Using data effectively is the key to making your fleet work smarter, not harder, but managers can only reap these benefits if they look beyond using technology strictly for compliance and commit to using data to inform important business decisions – ones that can boost productivity and minimize expenses. That's the true meaning of digital transformation."
Teletrac Navman webinar
Teletrac Navman offers a free webinar on September 26 at 11 am PST for those interested in further details from the survey. The webinar will highlight the most-compelling data and share real-life stories about successes using telematics.
Key topics will include:
Overcoming talent shortage
How tariffs, fuel costs, and other economic challenges could affect you
The current and future landscape of ELD
Plus so much more
Heavy Duty Trucking's webinar on ELD compliance
In addition to Telematic Navman's webinar, Heavy Duty Trucking is hosting a free webinar for anyone interested in understanding the ELD mandate enforcement and best practices for compliance.
Register here for HDT's free ELD webinar.
Scheduled for September 19 at 2 pm EDT, 11 am PDT, the webinar, "ELD Enforcement: Untangling Common Misconceptions & Compliance Best Practices," will feature HDT Editor-in-Chief Deborah Lockridge leading a discussion between FMCSA's Joseph DeLorenzo and attorney Jerad Childress of Garvin, Light, Hanson & Feary, who will offer a deeper insight into the ELD rule.
Key takeaways from the discussion will include a technical analysis of ELDs, why ELD training shouldn't be overlooked by fleets, the three biggest enforcement issues, and why ELDs are not a solution for hours-of-service compliance.
Sources: Teletrac Navman, HDT, HDT
Tagged Under:
Driver Solutions
Electronic Logbooks
FMCSA
Hours Of Service
Logbook Questions
Truck Equipment
Truckers Technology
Trucking Industry Concerns
Understanding The Laws