California voters will get a chance to scrap AB 5
Last Updated: Fri, June 5, 2020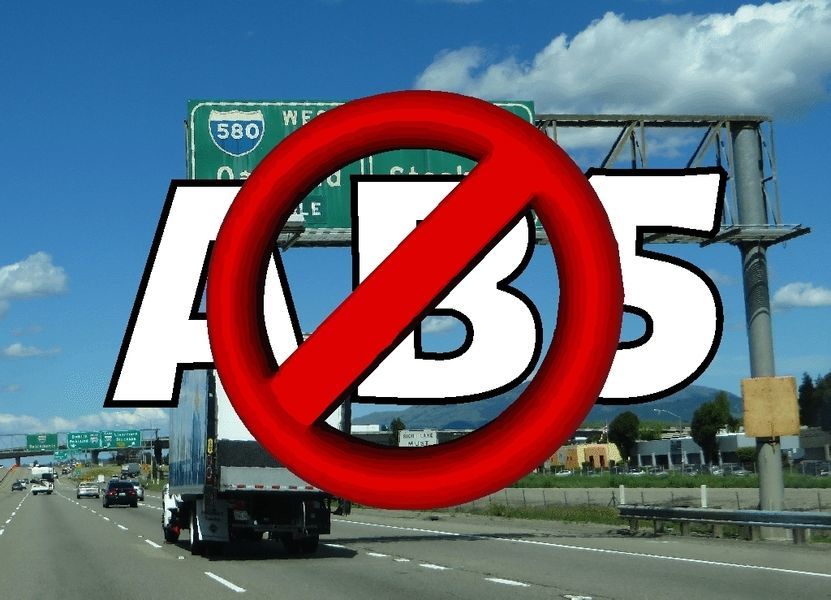 Two citizen-driven measures are working their way through legal channels that would give California voters the chance to thwart the will of state legislators in their desire to throttle California's gig and independent contractor economy by enforcing the recently enacted AB 5, the independent contractor law.
One is a ballot measure already approved for California's November 3 election officially titled, "Changes Employment Classification Rules for App-based Transportation and Delivery Drivers. Initiative Statute."
The other is a proposed amendment to the California Constitution submitted earlier this year that if approved by two-thirds of the State Legislature would appear on a future California ballot for approval by California voters. It is titled, "Assembly Constitutional Amendment 19 – Right to Earn a Living Act."
The California App-Based Drivers Regulations Initiative ballot measure
The ballot measure was initiated by three app-based driver-for-hire companies – DoorDash, Lyft and Uber – to give California voters a chance to decide if they want to allow the State of California to force app-based companies to classify their drivers as employees rather than as independent contractors.
Even before the State Legislature passed AB 5 and it was signed into law by California Governor Gavin Newsom in 2019, the three companies each put up $30 million into campaign accounts to fund a ballot initiative if AB 5 was passed without exemptions for app-based companies.
"We remain focused on reaching a deal, and are confident about bringing this issue to the voters if necessary," said Lyft spokesperson Adrian Durbin on the ballot measures page at BallotPedia,
The path to passage
The three companies got to work and filed the ballot initiative in October 2019.
Brandon Castillo, a spokesperson for the campaign supporting the initiative, stated, "We're going to spend what it takes to win. It's been widely reported that three of the companies already shifted $90 million, but we're still in the early phases. The bottom line is: We're committed to passing this."
The three companies are joined in support of the initiative by Instacart and Postmates, with each of them contributing $10 million to the campaign. All totaled, more than $110 million has been raised in support of the ballot initiative.
By February 2020, the campaign had claimed to have collected 1 million signatures toward getting the initiative approved for the November ballot. According to a State of California formula, the campaign needed only 623,212 valid signatures to qualify for the ballot.
On May 22, the California Secretary of State certified that 765,555 signatures qualified as valid, and the initiative was granted ballot measure status.
The summary that was included on the petition signature sheets summarizes the text of the ballot measure, and what will become law if approved by California voters:
Establishes different criteria for determining whether app-based transportation (rideshare) and delivery drivers are "employees" or "independent contractors." Independent contractors are not entitled to certain state-law protections afforded employees—including minimum wage, overtime, unemployment insurance, and workers' compensation. Instead, companies with independent contractor drivers will be required to provide specified alternative benefits, including: minimum compensation and healthcare subsidies based on engaged driving time, vehicle insurance, safety training, and sexual harassment policies. Restricts local regulation of app-based drivers; criminalizes impersonation of such drivers; requires background checks.
Opponents to the ballot measure
Officially listed at BallotPedia as opponents to the California App-Based Drivers Regulations Initiative are former Vice President Joe Biden and United States Senator Elizabeth Warren. The California Labor Federation, the Transport Workers Union of America, and the Coalition to Protect Riders and Drivers have also registered their objections.
Although it is widely believed that the Teamsters wrote the text of AB5, the officially listed author, Assemblywoman Lorena Gonzales, stated in opposition, "These billion-dollar corporations still refuse to offer their workers what every other employee in California is entitled to: earning the minimum wage for all hours worked, social security, normal reimbursements for their costs, overtime pay, and the right to organize."
According to BallotPedia, Art Pulaski, chief officer of the California Labor Federation, said, "This measure is another brazen attempt by some of the richest corporations in California to avoid playing by the same rules as all other law-abiding companies in our state. ... These CEOs spin this ballot measure as a benefit to workers, but their corporate Hail Mary falls short. It steals protections and pay their employees are entitled to under current law."
Assembly Constitutional Amendment 19 – Right to Earn a Living Act
While the above ballot initiative, if passed, would give dubious relief to independent contractor truck drivers since they don't operate as app-based contractors, a constitutional amendment being proposed would effectively repeal AB 5.
The proposed amendment needs bi-partisan support in the heavily weighted Democrat California State Legislature to get the two-thirds vote to make it on a future ballot.
Assemblyman James Gallagher, one of the co-authors of the proposed amendment, said in a Sun-Herald newspaper interview that the trucking industry was notable in being affected by the new independent contractor law.
"I'm in favor of a full repeal of AB 5," Gallagher told the Herald. "I think it was an ill-advised policy to begin with."
"People who are operating as independent contractors, unfortunately, will have to pay attention to how they can find ways to operate under this new law. It's tough and many people are finding that there isn't a way to do so, which is why we need to change it," Gallagher said. "Hopefully we will see some significant change and/or repeal of the law."
The proposed amendment would add a Section 33, "personal rights," to Article 1 of the California State Constitution.
The added language would, in effect, replace the three-pronged "ABC" test for classifying independent contractors as enshrined in AB 5 with language promising that, "Individuals have the right to pursue a chosen business or profession free from arbitrary or excessive government interference. Any law that limits the entry into or competition in a business or profession shall be limited to those limitations that are demonstrably necessary and narrowly tailored to fulfill legitimate public health, safety, or welfare objectives."
The provisions of AB 5 arose from a California Supreme Court decision in Dynamex Operations West, Inc. v. Superior Court (2018) that mandated a new standard for determining whether a worker should be classified as an employee or as an independent contractor.
It's the middle "prong" of AB 5 that has brought grief to the gig, app-based and independent contractor driver communities in California. It says that if a company hires an independent contractor to perform duties that the company also performs with employees, then that contractor must be classified as an employee.
The Dynamex decision supplanted an earlier opinion from S.G. Borello & Sons, Inc. v. Dept. of Industrial Relations (1989) which required a different set of tests for classification. Up until Dynamex, Borello was the authority for classification decisions.
The ACA 19 proposed amendment would scrap the Dynamex "ABC" test and return to the Borello test for determination of classification of employees or independent contractors.
Sources: Sun-Herald.com, California Legislative Information, BallotPedia
Tagged Under:
Trucking Industry Concerns
Trucking News
Understanding The Laws