Machine learning shared truck loads add efficient component to LTL shipping
Last Updated: Tue, September 29, 2020
Truck load and less than truck load (LTL) are common trucking industry terms that have been around for awhile.
But there's a fairly new "truck load" term that is beginning to find its way into the industry's compendium of jargon, and that is STL, standing for shared truck load.
The concept of sharing truck loads could be mistaken as a new name for the same ol' same ol' LTL, but it comes with a new twist that is made possible by data intensive machine-learning algorithms that pool LTL loads, making deliveries much more efficiently and safely.
Flock Freight is one of the companies staking its future on the STL concept.
The company claims that carriers using its shared freight technology can move freight faster directly from shipper to receiver, eliminating the need to transship to distribution centers. This also eliminates freight getting damaged from being handled more than once. Flock Freight backs up this claim by including up to $100,000 in insurance coverage for FlockDirect shipments.
Flock Freight also claims that by eliminating terminals, hubs, and out-of-route mileage, carriers using their load sharing service also reduce carbon emissions by up to 40 percent.
Lu Saenz, vice president of engineering and product development at Flock Freight, told Forbes recently that there's a huge benefit for the trucking industry in employing the shared truckload model.
"With the traditional LTL model, freight zigzags through the outdated hub-and-spoke system and is wasteful in its approach both in the time it takes shipments to arrive on shelves and environmentally, but also because items are constantly getting damaged by being taken on and off trucks along the route," Saenz told Forbes.
"This optimal integration of tech into the freight industry is we've seen [..] a 65% increase in its shared truckload shipping."
How shared freight works
Flock Freight's load sharing product is called FlockDirect. Using machine-learning artificial intelligence it scours the database of customers for other LTL loads and pools them by origin, destination, weight, dimensions, commodity type, scheduling, and shipping cost in order to load a few pallets or 20 pallets or more from multiple shippers onto a single truck to create a full load.
The software then optimizes the routes, giving drivers the most efficient way to drop their loads without having to resort to terminals or hubs.
The FlockDirect algorithms even take into account the wait times, dock hours and other factors that drivers encounter at shippers and receivers.
Saenz told Forbes that the sharing program not only eliminates emission-intensive visits to terminals but means that 99.9 percent of shipments arrive damage-free.
Even full truck load carriers can benefit from Flock Freight's service by taking on an STL load at times when they are hauling less than their trailer maximum.
Shippers using Flock Freight's service avoid the problem of paying for a full truck load when they aren't using the entire trailer. A Flock Freight enabled carrier will charge only for the actual deck space the shipper uses because the remaining trailer space is booked for an STL load.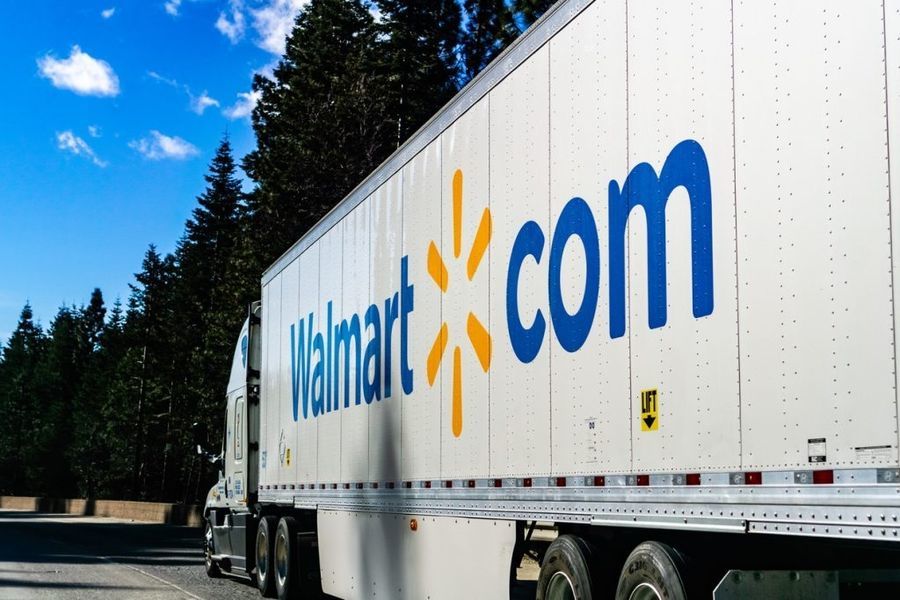 Walmart tightens delivery requirements
Perhaps the largest group of LTL shippers to benefit from use of Flock Freight's services are those who handle freight for Walmart.
In the cutthroat retail environment made much, much worse this year by the overreaction to the COVID-19 virus, and the absolute need for keeping store shelves stocked during panic buying, Walmart has tightened its requirements for carriers delivering these goods to their stores.
In September Walmart announced that all shippers and carriers must deliver all orders on time and in full by the company's must-arrive-by-date 98 percent of the time. Violators will be fined 3 percent of the cost of the goods that were late-delivered.
That's an increase from the current requirement that 95 percent of all general merchandize must be delivered to Walmart stores on time, with the number for food and consumable being 97.5 percent.
However, up until the September announcement, Walmart had a more relaxed requirement for LTL carriers, set at 70 percent compliance. Now, as holiday retail panic sets in, LTL carriers hauling for Walmart will find themselves under the same compliance crunch as the truckload carriers.
According to a FreightWaves article, Walmart has lost millions of dollars in sales from a lack of inventory available to keep store shelves stocked, and the retail giant is committed to improving "availability to help ensure that our customers can purchase the products they want, when they want, in-store and on-line. To deliver on this goal, orders need to be fulfilled accurately, on-time and in-full."
Early in the virus outbreak Walmart granted suppliers an exemption from the on-time requirements, but the virus peak has come and long gone, and the exemption expired in mid-August.
Now, Walmart is concerned about meeting the needs for what is expected to be an unprecedented peak buying season not only for e-commerce as more and more buyers are turning to shopping online, but also for the regular holiday in-store shopping frenzy.
Also contributing to Walmart's decision to tighten shipping on-time requirements could be the recent rollout of their Walmart+ program; which is the retailer's answer to Amazon's Prime program.
Walmart offers a $98 annual or a $12.95 monthly subscription for online shoppers to buy more than 160,000 items, much of it grocery and general merchandize, and get them delivered for free the same day.
Walmart is playing catch-up in tightening its MABD requirements, as Amazon and Target compliance standards for on-time-in-full deliveries are already similar to Walmart's new policy.
Sources: Forbes, FreightWaves, Flock Freight
Tagged Under:
Coronavirus
Time Management
Trip Planning
Truckers Technology
Walmart