Friday Short Haul - Best fleets to drive for in 2021, Feds' final worker status rule, yard jockeys need better training
Last Updated: Thu, January 28, 2021

The best fleets to drive for in 2021
These 20 for-hire trucking companies have met standards set by the Truckload Carriers Association and CarriersEdge and have earned their recommendation for the best fleets to drive for in 2021. See the best fleets to drive for awardees last year.
The standards these carriers had to meet to be considered for the program included operating 10 or more trucks and having received a nomination from a company driver or owner operator.
The fleets were then scored on categories that included total compensation, health benefits, performance management, professional development, and career path/advancement opportunities, among other criteria.
Drivers for these companies were surveyed to collect their input about the companies. The 20 companies named as the 2021 Best Fleets to Drive For are recognized for "providing exemplary work environments for their professional truck drivers and employees."
"We are proud to recognize the winners of the 2021 Best Fleets to Drive For contest," shared TCA President John Lyboldt.
"In a year where the essential services provided by our industry have come into public focus, it is especially important to acknowledge those carriers who are going above and beyond in setting the standards for workplace satisfaction. Each of the Top 20 winners should take pride in the dedication they have shown to our essential workforce."
CarriersEdge CEO Jane Jazrawy said that, "2020 was a year like no other, and the 2021 Best Fleets showed that they were stepping up to address those challenges."
"Even in the midst of a pandemic these fleets are focused on creating a great workplace experience for all their drivers, and with an average satisfaction rate over 90% their drivers clearly appreciate those efforts."
The following companies earned the award for 2021:
American Central Transport — Kansas City, Missouri
Bison Transport Inc. — Winnipeg, Manitoba
Boyle Transportation — Billerica, Massachusetts
Central Oregon Truck Company, Inc. — Redmond, Oregon
Challenger — Cambridge, Ontario
Chief Carriers, Inc. — Grand Island, Nebraska
Erb Transport — New Hamburg, Ontario
Fortigo Freight Services Inc. — Etobicoke, Ontario
Fremont Contract Carriers, Inc. — Fremont, Nebraska
TC Transportation, Inc. — Oklahoma City, Oklahoma
Garner Trucking, Inc. — Findlay, Ohio
Grand Island Express — Grand Island, Nebraska
Halvor Lines, Inc. — Superior, Wisconsin
Jetco Delivery — Houston, Texas
Nussbaum Transportation Services, Inc. — Hudson, Illinois
Prime Inc. — Springfield, Missouri
Thomas E. Keller Trucking Inc. — Defiance, Ohio
Transpro Freight Systems Limited — Milton, Ontario
Wellington Motor Freight — Aberfoyle, Ontario
Wilson Logistics Inc. — Springfield, Missouri
Not quite making the Top 20 list, but earning an honorable mention as Fleets to Watch this year are:
AirTime Express — Mississauga, Ontario
Boyd Bros. Transportation — Clayton, Alabama
Carbon Express, Inc. — Wharton, New Jersey
K & J Trucking — Sioux Falls, South Dakota
Western Dairy Transport — Cabool, Missouri
Milestones were earned by two of the Top 20 awardees. Grand Island Express has achieved the milestone of 10 consecutive years on the list. And Garner Trucking has reached a milestone of five consecutive years on the list.
TCA will announce two overall winners during the "Truckload 2021: Las Vegas" annual convention in April. Those overall winner awards are sponsored by EpicVue and TruckRight.
Feds to clarify employee/independent worker status
The employee versus independent worker status controversy is expected to be settled soon by a final rule issued by the U.S. Department of Labor and published in the Federal Register this week.
According to the 261-page final rule document, "The final rule explains that independent contractors are workers who, as a matter of economic reality, are in business for themselves as opposed to being economically dependent on the potential employer for work."
"The final rule also explains that the inquiry into economic dependence is conducted by applying several factors, with no one factor being dispositive, and that actual practices are entitled to greater weight than what may be contractually or theoretically possible," the statement concluded.
In other words, unlike the hard, cold, unrealistic interpretation of employee/contractor status as determined by California legislators that was enshrined in their much-hated AB 5, the Federal final rule is expected to focus on an "economic reality" test based on real-world application by drivers and carriers.
Trucking Truth News will publish a more in-depth analysis of this final rule and its potential consequences for owner-operator independent drivers in an upcoming article.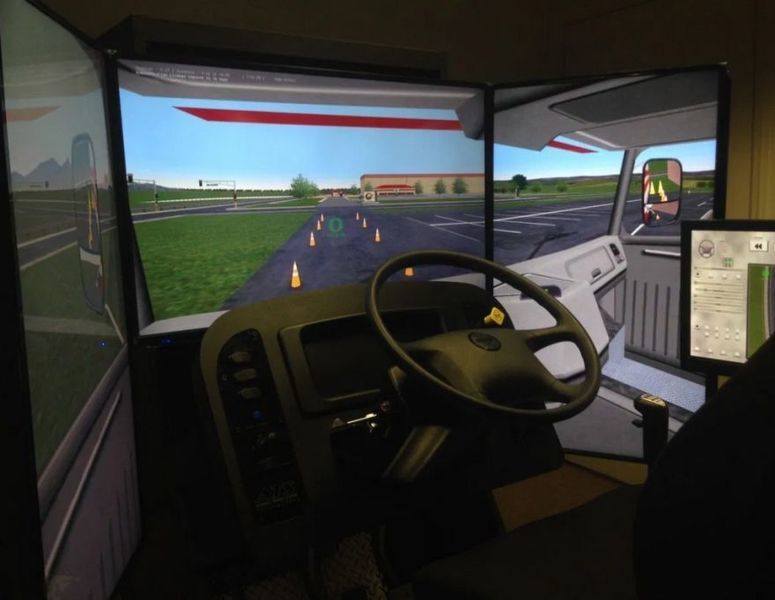 'Yard jockeys' lack training
Advanced Training Systems CEO John Kearney sees a confluence of problems affecting the supply chain right now.
"We have two major supply chain problems in this country, an exploding ecommerce boom and a looming shortage of truck drivers. Properly trained, yard jockeys and hostlers can provide part of the solution to both."
What he's talking about is the vast increase in ecommerce, which is driving an equally vast increase in the number of warehouse facilities and distribution centers being built, coinciding with an increase in the accident rate among yard jockeys and hostlers.
He says the problems are related because a yard jockey job is often a gateway to becoming a "trucker of tomorrow," and they need to be better trained in those gateway jobs.
He said that yard jockey jobs rely on a fairly low level of on-the-job training even though a typical yard jockey's day might involve moving as many as 100 trailers.
"In a 10-hour shift," says Kearney, "a hostler might have to back, turn, and move 50 to 100 trailers, working in a confined space full of people and other vehicles. To do that well and safely, a few hours of informal training is not enough. These employees need to be given a well-educated understanding of the space they're operating in."
And, he says, the problem is made worse by the increasing need for yard movers because, for example, Amazon has recently built 33 new fulfillment centers in the United States, making more than 100 currently in use.
Walmart has more than 150 distribution centers. And Home Depot, for example, is adding three DCs in Atlanta alone, and plans to spend $1.2 billion on new facilities in the next five years.
ATS, of course, has a solution for this problem by providing a "virtual-reality simulator training, which enables workers to learn to operate heavy equipment in a confined space without endangering themselves or anyone else."
The benefit, Kearney says, is that better trained yard workers who are in "off-road" positions, usually without a commercial drivers license, can more easily make the transition to a traditional higher-paying profession in long-haul trucking. So, that training benefits not only the company employing the yard jockey, but also the future carrier who might hire him or her.
Sources: TCA, LandLine, PR Newswire
Tagged Under:
Changing Careers
Choosing A Trucking Company
Dock-To-Driver Jobs
Owner Operator
Truck Driver Training
Walmart