Congress committee looks at state of America's highways
Last Updated: Tue, February 19, 2019
That America's roadways are a deteriorating mess is no surprise to anybody who has sat behind a wheel any time recently. But the problems of our nation's crumbling infrastructure go far beyond just the discomfort of a jarring ride. Simply put, many believe our country's economic health demands that our roads get an upgrade.
Toward that end, the United States Senate Committee on Commerce, Science and Transportation recently invited transportation industry principals to meet with the committee for a hearing titled, "America's Infrastructure Needs: Keeping Pace with a Growing Economy."
One of the key witnesses during the hearing, American Trucking Associations President and CEO Chris Spear, gave the committee his blunt assessment.
"We are no longer facing a future highway maintenance crisis – we're living it – and every day we fail to invest, we're putting more lives at risk," he said, noting that earlier this month California and Massachusetts drivers traveling under bridges were struck by chunks of falling concrete.
Spear was there to tell the committee that the solution is to find new revenue for infrastructure upgrades, and that he recommends a fuel price increase at the terminal fuel rack.
He was not alone in supporting a fuel tax increase. All of the witnesses were in favor of a federal gas tax to fund infrastructure repairs.
Testifying before the committee during the February 13 hearing were:
William Friedman, Chairman of the American Association of Port Authorities (AAPA), President and CEO of the Cleveland-Cuyahoga County Port Authority;
Ian Jefferies, President and CEO of the Association of American Railroads (AAR);
Matthew Polka, President and CEO of the American Cable Association (ACA);
Chris Spear, President and CEO of the American Trucking Association (ATA); and
Larry Willis, President of Transportation Trades Department at AFL-CIO.
Sen. Mike Lee, R-Utah, was unique on the committee in objecting to a fuel tax increase, citing its impact on lower-income families and rural residents. "We ought to look for ways that don't involve raising taxes on poor families," Lee said.
Accordingly, a VMT tax – vehicle miles traveled tax – is being looked into.
In opening the hearing, Committee Chairman Roger Wicker (R-MS) laid out the situation. He stated that the American Society of Civil Engineers has given America's infrastructure a grade of D+. Ports are congested, and Americans spend some 8 billion hours a year stuck in traffic. Just in his state, Mississippi, thousands of bridges are in need of repair, he said.
He then expressed his challenge to the committee for a solution:
"Fortunately, improving our infrastructure is an area where bipartisan agreement and cooperation can be found," and "Given its jurisdiction, this committee is in a unique position to examine how technology, including advances in automation, artificial intelligence, and connectivity, can revolutionize transportation and mobility for the 21st Century."
ATA's Spear brought some numbers to the committee to explain just how badly the crumbling infrastructure is affecting the economy … hurting American's in their pocketbooks, and significantly impacting the trucking industry.
"Trucking now loses $74.5 billion sitting in gridlock. That equates to 1.2 billion lost hours or 425,000 truck drivers sitting idle for an entire year," he said. "These are the regressive costs of doing nothing. And they are reflected in the prices we all pay. These costs to consumers and economy are measurable … and they can and should serve as offsets for new spending on our nation's infrastructure. The road system is rapidly deteriorating and costs the average motorist nearly $1,600 a year in higher maintenance and congestion expenses."
He emphasized that most of the total truck congestion is concentrated in a small percentage of highway miles, and that the bottlenecks are easily identified. In fact, the American Transportation Research Institute releases an annual report on where these bottlenecks are.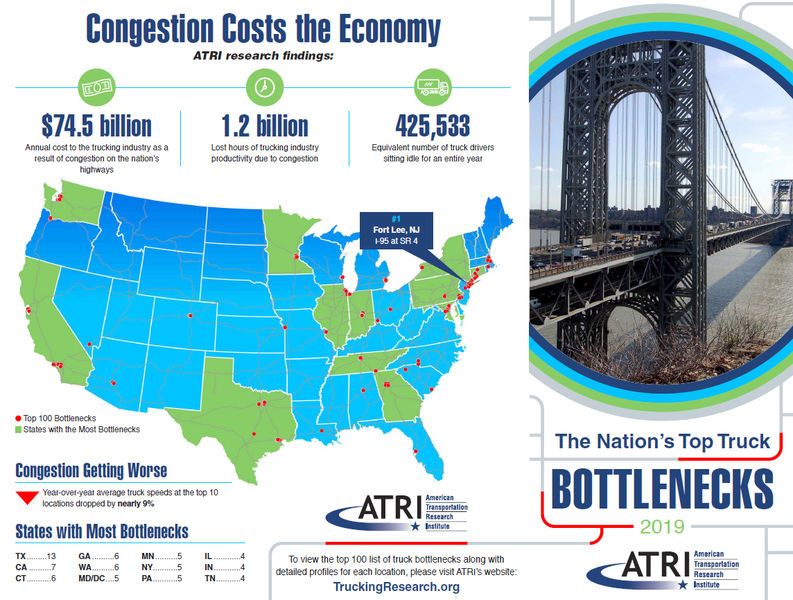 In 2018 New Jersey had the honor of having the worst bottleneck in the nation – Interstate 95 and Route 4 in Fort Lee.
The others, making up the top 10 major bottlenecks are:
2. Atlanta: I-285 at I-85 (North)
3. Atlanta: I-75 at I-285 (North)
4. Los Angeles: SR 60 at SR 57
5. Houston: I-45 at I-69/US 59
6. Cincinnati: I-71 at I-75
7. Chicago: I-290 at I-90/I-94
8. Nashville: I-24/I-40 at I-440 (East)
9. Atlanta: I-20 at I-285 (West)
10. Los Angeles: I-710 at I-105
View the PDF for a comprehensive list of major bottleneck cities.
Spear warned the committee that although rapidly changing technological advances are allowing trucks to operated safer and more efficiently, with the bonus of having less impact on the environment, the lack of improvements and maintenance of the nation's highways will "cancel out entirely the benefits of innovation."
As a solution, Spear touted the Build America Fund; which is a 20-cent-per-gallon fee at the terminal fuel rack. He said this would create billions in revenue as it is phased in over four years.
"Trucking pays for nearly half the Highway Trust Fund, and we're willing to pay more," he said. "The Build America Fund would increase the price of fuel 20 cents per gallon at the fuel rack – just a nickel a year over four years – generating $340 billion over 10 years. This new revenue is real, not fake funding like P3's and asset recycling.
"The Build America Fund is the most conservative proposal… costing less than .01 cent on the dollar to administer, versus up to .35 cents a dollar for tolling schemes," Spear added.
In closing, Spear emphasized that the ATA supports efforts to develop policies benefiting Americans and the trucking industry.
"We are at a critical point in our country's history, and the decisions made by this committee over the next few months will impact the safety and efficiency of freight transportation for generations," Spear said.
Other concerns
In addition to the critical infrastructure concerns, there were other issues brought up during the committee hearing.
Among them was the truck parking shortage, and the ongoing discussions about lowering the minimum age for acquiring a CDL to drive interstate in order to reduce the driver shortage problem. Both were addressed by representatives of the Owner-Operator Independent Drivers Association.
"We appreciate some of the witnesses highlighting the truck parking crisis," said Todd Spencer, OOIDA president. "For too long, Congress and federal transportation agencies have done very little to address this issue. Truckers need more safe places to park, not more studies that do nothing to increase or preserve capacity. This is a critical highway safety issue that deserves dedicated federal funding."
ATA's Spear echoed those thoughts, supporting funding especially for solving the truck parking shortage.
"Therefore, we support the creation of a new discretionary grant program with dedicated funding from the federal-aid highway program for truck parking capital projects," Spear said.
OOIDA's Spencer then objected to suggestions by other transportation industry leaders to lower the minimum interstate driving age from 21 to 18, and even went so far as to disagree that there is really a driver shortage.
"If safety is the top priority when considering a change to a regulation, when it comes to age, the number should be raised, not lowered," said Spencer. "We also disagree that there is a driver shortage. There is very high turnover, or churn, but no shortage." He said that claims of a driver shortage are "mythical."
"Most carriers with high turnover do so by design," said Spencer. "They could deal with driver turnover by offering better wages and benefits and improved working conditions. But putting younger drivers behind the wheel of a truck isn't the solution because it does nothing to address the underlying issues that push drivers out of the industry. It merely exacerbates the churn."
Whatever the outcome of this recent hearing it's clear that transportation industry leaders and government officials are eager to get together to talk about lasting improvements to the infrastructure and to create new ways for the funding to pay for them.
Sources: Infrastructure Report Card, The Trucker, ATRI, Bulk Transporter, Land Line Mag
Tagged Under:
Adverse Conditions
Owner Operator
The Economy And Politics
Truck Stops
Trucking Industry Concerns