Policy brief makes a strong case for commercializing rest areas
Last Updated: Sun, April 11, 2021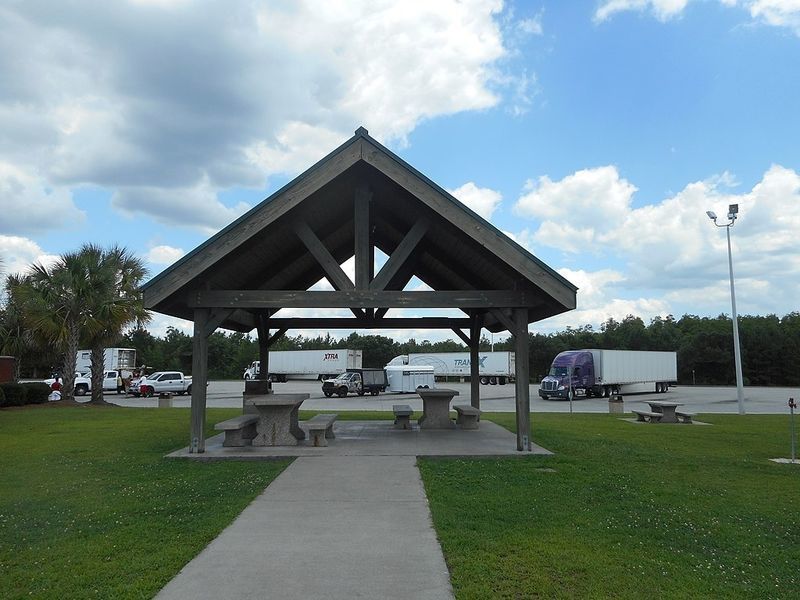 It's a surprise to nobody that the truck parking crisis occurred concurrently with implementation of the electronic logging devices mandate.
While the ELD mandate's efficacy in improving safety by preventing commercial drivers from fudging the entries in their paper log books is still a controversial subject, what is dead certain is that the law of unintended consequences went into effect forcing more drivers than ever before to seek parking, often in unsafe locations without services.
In a a 2020 report from the American Transportation Research Institute it was found that up to 50 percent of drivers parked in unauthorized or undesignated locations at least three times a week.
The solution should be obvious, build more truck stops and rest areas, but even the obvious is rife with problems, among them is opposition from commercial services providers and even from representatives of the trucking industry itself.
Further compounding the problem of the lack of rest area parking was a decrease in funding to maintain rest areas, which resulted in many being closed, and then in 2020 the overreaction to the virus, prompting jurisdictions to shut down rest areas.
An analysis of the truck parking problem, with an emphasis on having commercial services available at Interstate rest areas, was provided in a 34-page policy brief titled, "Rethinking Interstate Rest Areas," authored by Robert Poole, director of transportation policy and Searle Freedom Trust Transportation Fellow at Reason Foundation.
The policy brief begins by noting that of the 49,000 miles of Federal Interstates there is a big difference between the 95 percent that were built almost exclusively with federal highway use taxes, and the 5 percent that are tolled corridors like the New York Thruway, the Ohio Turnpike, and the Indiana Toll Road.
Motorists driving along on the toll ways will find commercial plazas evenly spaced right on the roadway offering car and truck parking, refueling, restaurants and other shopping.
Motorists on the 95 percent of non-toll Interstates, however, must choose to either get off of the freeway to find such commercial services, or must be satisfied with rest areas that provide limited parking, vending machines if available at all, and restrooms.
Many have recently floated the idea of building up freeway rest areas with commercial services, but a provision of the federal law creating the Interstate system in the late 1950s and 1960s specifically prohibited commercial interests from providing services within the freeway rights of way and from having direct on and off ramp access.
Lawmakers gave in to lobbying from businesses that would suffer economic hardship as the new freeways would bypass the many smaller towns and cities. These businesses, like gas stations and restaurants, depended on long-distance travelers, and could see that business evaporate as travelers sped by on the high-speed freeway.
This gave rise to the proliferation of businesses setting up shop nearby to the freeway, but not all the businesses accept truck parking. Travel centers allowing truck parking are dispersed, often some distance from freeway off ramps, and are insufficient to meet today's parking needs.
This setup from the '60s, as flawed as it is today, is supported by such organizations as the National Association of Truck Stop Operators, an organization representing virtually all of the major travel centers and restaurants that serve motorists. NATSO lobbies vehemently against attempts to change the law allowing commercial services at rest areas.
According to the Reason Foundation policy brief, "The major obstacle to adding such services is the federal ban on any "commercial services" at the rest areas of non-tolled Interstates. This ban is strongly supported by NATSO—the National Association of Truck Stop Operators. It is also supported by the American Trucking Associations, which has viewed repeal of this ban as a potential threat to the truck stops its members rely on."
The policy brief cites a 2018 study that was authorized by Congress that concluded that most of the Interstate system is nearing the end of its useful life and needs to be rebuilt and modernized.
In order to do that, and to alleviate the truck parking shortage, more rest areas need to be built, and must include commercial services.
"Three factors may lead to support for reconsideration of the no-commercial-services rule for Interstate rest areas," the author stated:
One is the large and growing shortage of safe overnight parking for long-distance trucking.
A second factor is the trend of state transportation departments to close some of their rest areas, due to budget cuts.
And the third is the coming need to charge electric passenger vehicles and trucks and to refuel those powered by non-traditional fuels such as liquified natural gas (LNG) and hydrogen.
"The decades-old ban on commercial services at Interstate rest areas was dubious at the outset, but in the post-petroleum-fueled era that is ahead of us, it is clearly past its expiration date," the report concluded.
"As part of either the 2021 reauthorization of the FAST Act or an overall infrastructure bill, repeal of this anachronistic law should be a priority. Commercialized rest areas will expand much-needed truck parking capacity and will provide ideal locations for EV charging stations as part of the expanding national network. They will also offer motorists additional refueling and meal options on their highway trips, as is appropriate in a free-market economy."
"For most of the 60 years since the commercial services ban was enacted, there was not a critical mass of support for its repeal. As of 2021, that critical mass may finally emerge to support this long-overdue change."
President Donald Trump, ever an administration friendly to truckers, raised the issue in a 2018 infrastructure proposal.
The proposal stated, in part, "The Administration also supports allowing the private sector to construct, operate, and maintain Interstate rest areas, which are often overburdened and inadequately maintained."
Another advocate of commercializing rest areas, Arizona Governor Doug Ducey, wrote in a letter following President Trump's proposal, referred to the 1956 law as "an archaic and nonsensical federal prohibition that punishes younger states, especially in the West."
The policy brief states that Ducey noted that Arizona's 28 bare-bones highway rest areas cost the state $4 million a year to operate, without any dedicated revenue source.
OOIDA supports repealing the rest area commercial services ban
Taking an opposite position to that of NATSO and the American Trucking Associations, the Owner-Operator Independent Drivers Association agrees that solving the truck parking crisis should include repealing the ban on commercial services in rest areas.
"As we witnessed during the pandemic, opening up rest areas to commercial entities such as food trucks allowed truckers in some states to access fresh food options when on-site facilities had shut down or limited their hours," Jay Grimes, OOIDA's director of federal affairs, is quoted in Land Line, the online magazine of OOIDA.
During the virus crisis when many travel centers were closing down, the Federal Highway Administration allowed states to allow food trucks to set up at rest areas. But many states bowed to lobbying from travel centers and eateries and chose not to allow that.
"Unfortunately, many states, just like here in Missouri, wouldn't allow food trucks in rest areas," Pugh said in the Land Line article. "Think about that. Truckers couldn't buy food at a truck stop. They couldn't buy food at a restaurant, yet states had the nerve to deny them a hot meal even at a rest area. Here at OOIDA, we weren't even allowed to give free food at a rest area. To me, that's a real shame."
And, therein lies the necessity for a federal law repealing the ban on commercial services in freeway rest areas. States would no longer be closing rest areas because of budget considerations if commercial interests subsidized rest area funding, and motorists and commercial drivers would not be held hostage to the whims of travel centers that might or might not chose to stay open for services at any particular time.
---
Dave Wickenhauser went on the road driving big rigs after retiring from 33 years in newspaper journalism. His trucking novel, "Crimson Highway" the first in the Hugh Mann series, is available as an Amazon paperback, and as an Amazon Kindle ebook.
Sources: The Reason Foundation, Full Policy Brief, LandLine
Tagged Under:
Adverse Conditions
Safe Haven
Truck Stops
Trucking Industry Concerns