Friday Short Haul - AV test tracking tool, split-duty proposal comments, and mandatory hair testing
Last Updated: Thu, September 3, 2020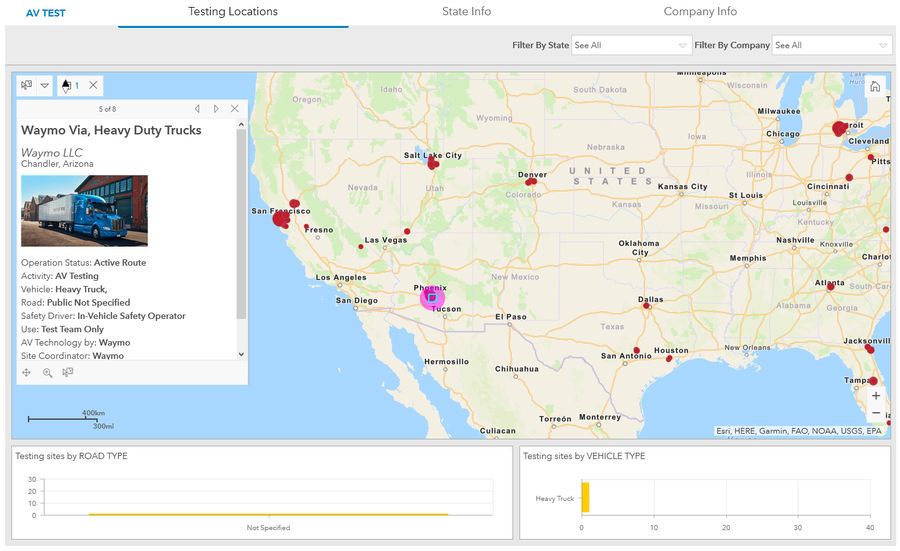 Screen cap of a Waymo autonomous truck as it is being tested recently in Chandler, Arizona.
DOT creates website allowing the public to monitor AV testing
The U.S. Department of Transportation announced Wednesday the debut of an online tool that tracks automated and autonomous driving systems as they are being tested on America's streets.
The tool, which is a production of the Automated Vehicle Transparency and Engagement for Safe Testing initiative, under the National Highway Traffic Safety Administration, has been in the works since June of this year. It is online now and open to the public for viewing in near real time the vehicles that are being test in 17 cities in nine states across the country.
"This tool gives the public online access to data about the on-road testing of automated driving systems so the public can understand more about this new technology," U.S. Department of Transportation Secretary Elaine L. Chao, announced in a DOT video.
Autonomous vehicle developers can sign on to share their testing activities of automated driving systems; which appear in an interactive map at the tool website drilling down to street-level locations of the test vehicle.
Right now 10 companies have signed onto the program as they conduct tests in such cities as Austin, Columbus (Ohio), Dallas, Denver, Jacksonville, Orlando, Phoenix, Pittsburgh, Salt Lake City, San Francisco, and Washington, D.C.
The Automated Vehicle Transparency and Engagement for Safe Testing Initiative tracking tool is divided into three tabs at the top: Testing Locations, State Info, and Company Info. Each clickable tab contains separate and specific information regarding automated driving systems across the nation.
A FAQ on the website points out that the tool does not represent every autonomous vehicle being tested in the United States at any given time.
The program right now includes only a limited number of governmental and private stakeholders who have volunteered to provide information. But, program administrators expect the tool to grow in time as more participants sign on.
The tool administrators said that not all AV developers will choose to report their testing, so asks the public to contact the NHTSA if they become aware of any AV testing issues.
Comment period now open for FMCSA's split-duty pilot program
The docket link to the FMCSA's "Hours of Service of Drivers: Pilot Program To Allow Commercial Drivers To Pause Their 14-Hour Driving Window" is now live and accepting comments.
Persons wishing to comment on the proposed HOS change, or wanting to view others' comments can do so by going to the notice's webpages at Regulations.gov.
As reported recently at Trucking Truth, the Federal Motor Carrier Safety Administration announced it was starting a pilot program to test whether it would be feasible to offer drivers relief from the agency's hours of service regulation restricting driving to 14 hours from when they first came on duty.
The pilot program is known as the Split Duty Period Pilot Program. It will run for a maximum period of three years as it follows 200 to 400 drivers who will be allowed to go off-duty for one period of no less than 30 minutes and no more than 3 hours without affecting the 14-hour clock.
The FMCSA has been in favor of the split-duty scenario since it began exploring HOS changes beginning in 2018, but didn't add the new rule to its recent HOS overhaul that goes into effect on September 29.
But, in view of negative comments received during the HOS review period concerning extending the 14-hour duty day by up to three additional hours, notably that carriers and shippers would take advantage of the extra three hours that could be allotted to drivers, the FMCSA held back the split-duty proposal for a separate review of its own.
Currently, the notice has received only three relevant comments.
"I sincerely believe this pausing of the 14 hour driving window will be greatly helpful to the CDL driver. I'm a owner operator I know this will greatly help me stay safe on the road. Please consider making this option available to us CDL holders," stated Ajay Gandhi.
"Extensive sleep studies were conducted and researched to come up with the 14-hour clock in the first place. Adding a potential 3 additional hours to the 14-hour clock would go directly against the sleep research and studies already done to create it in the first place. Strongly Not advised," Barb Conley commented.
And, Buzz Run Transport Inc. said, "Suggestion to use the Split Sleeper in lieu of a pause rule is not helpful and inequitable bc some drivers run under carriers who do not allow drivers to use this, providing drivers with ability to pause the 14 is a very simple solution to the common problem of running out of hours due to things out of driver's control—literally everyone else involved in the load from booking to delivery has the power to disrupt the driver's clock and this tool would Grr turn some autonomy to the driver—the person who deserves the control bc s/he is the one actually doing the hauling—and alleviate that issue. Abuse of the rule would emerge with any inspection as it will with any other violation and giving the driver more flexibility will allow safer travel for all."
Mandatory hair testing soon on the Federal docket for approval
Another proposal that could affect truckers will be popping up on the Federal Register any day now for leaving and viewing comments.
This one, by the U.S. Department of Health and Human Services, is a proposal to make hair testing mandatory as part of truckers' alcohol and drug testing procedures. It has already been approved by the White House Office of Management and Budget, so the next step is publication in the Federal Register and review by the public.
The Substance Abuse and Mental Health Services Administration's Center for Substance Abuse Prevention's Drug Testing Advisory Board met via web conference on September 1 to discuss the mandatory guidelines for Federal workplace drug testing.
Many carriers now voluntarily conduct hair testing during their drug and alcohol testing regimens, although those tests are not required to be part of the FMCSA's Drug and Alcohol Clearinghouse.
Proponents of the hair testing mandate state that some 300,000 drivers would be relieved of their driving duties; which would be a good thing … keeping unsafe drivers off the road.
However, not all who are involved in the transportation industry are in favor of including hair in the testing samples.
Earlier this summer the Alliance for Driver Safety and Security, commonly known as the Trucking Alliance, released the results of a survey they commissioned to expose the negatives of mandatory hair testing.
Opponents to hair testing object to hair testing on the grounds that the test is biased against ethnic minority groups.
Trucking Truth News will announce the comment period for this mandatory hair testing proposal as soon as it is available.
Sources: NHTSA testing tool, FMCSA Split-Duty Comments, Trucking Truth
Tagged Under:
Autonomous Trucks
DOT
Drug and Alcohol Testing
FMCSA
Hair Follicle Drug Testing
Hours Of Service
Medical Certification
Pre-Employment Screening Program