Inspectors on the road for International Roadcheck this week
Last Updated: Mon, May 3, 2021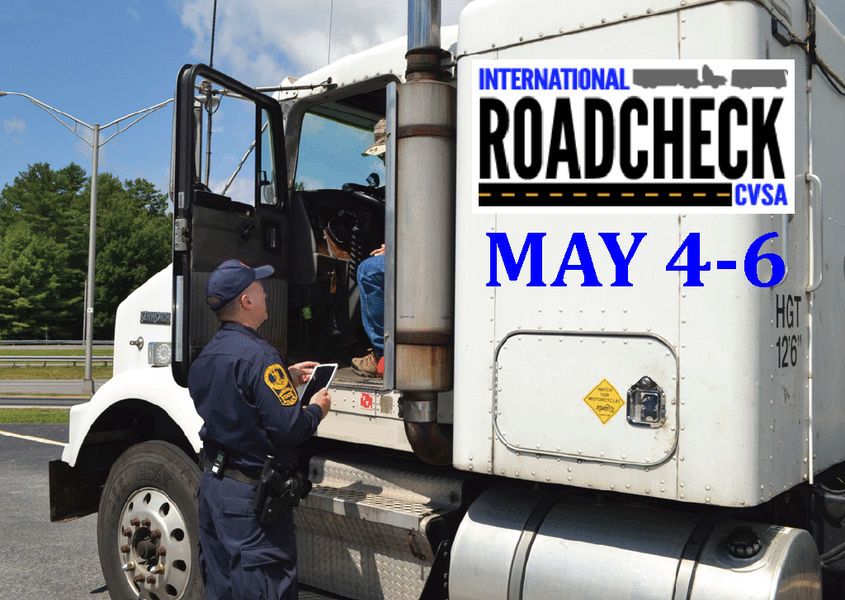 The CVSA 2021 International Roadcheck inspection blitz begins tomorrow, May 4, and finishes on Thursday, May 6.
The inspection blitz is an annual program of the Commercial Vehicle Safety Alliance where inspectors in the United States, Canada and Mexico will be looking for critical commercial vehicle violations.
Last year, inspectors in the three countries performed more than 50,000 Level I, II, III and V inspections, slightly fewer than the 67,000 inspections performed in 2019 and 2018.
In 2020 nearly 21 percent of commercial vehicles inspected received out-of-service orders for all levels of inspection combined. That number was up from the nearly 18 percent of OOS violations in 2019, but slightly lower than the 21.6 percent of OOS violations recorded during the 2018 International Roadcheck.
CVSA points out that there is no "gotcha" purpose intended for the three-day inspection period. Instead, the agency will use data from the inspections to formulate the focus of future inspections, and they also hope to encourage carriers to be proactive in vehicle maintenance.
"It's important to remember that International Roadcheck is a data collection effort," said CVSA President Sgt. John Samis with the Delaware State Police. "The inspections conducted during the three days of International Roadcheck are no different from the inspections conducted any other day of the year. Other than data collection, the inspection process is the same."
Samis went on to say that, "CVSA shares the dates of International Roadcheck in advance to remind motor carriers and drivers of the importance of proactive vehicle maintenance and driver readiness. International Roadcheck also aims to raise awareness of the North American Standard Inspection Program and the essential highway safety rules and regulations in place to keep our roadways safe."
Each year, Roadcheck inspectors focus on particular areas of violations. During this upcoming International Roadcheck, the focus will be on two categories – driver operating requirements and vehicle mechanical fitness. Inspectors will be taking a close look at a driver's hours of service compliance, and will be paying special attention to commercial vehicle lighting.
Virtually everything else with the driver and on the vehicle will be subject to inspection as well, including the normal 37-point inspection of the vehicle's brake systems, cargo securement, coupling devices, driveline/driveshaft components, driver's seat, exhaust systems, frames, fuel systems, lighting devices, steering mechanisms, suspensions, tires, van and open-top trailer bodies, wheels, rims, hubs and windshield wipers are compliant with regulations.
Items that could have a driver placed out of service include violations for hours-of-service documentation, seat belt usage, and for alcohol and/or drug impairment.
Lighting became the focus this year because last year "lamps inoperable" violations were the top vehicle violation, accounting for 12 percent of all violations that year. Driver hours of service compliance is coming under the spotlight this year because HOS violations were responsible for more than a third of all driver out of service conditions.
CVSA notes that inspectors, like last year, will be observing COVID-19 health and safety protocols as they conduct their inspections. Also, unless a commercial vehicle hauling COVID shot shipments has an obvious serious violation that is an imminent hazard, those vehicles will not be help up for inspection.
A CVSA decal will be given to a commercial vehicle that passes the Roadcheck inspection without any critical violations, which means they will not be re-inspected during the three-month period the decal is valid.
Agencies participating in CVSA's International Roadcheck program include the Federal Motor Carrier Safety Administration, the Canadian Council of Motor Transport Administrators, Transport Canada, and Mexico's Ministry of Communications and Transportation and its National Guard.
CVSA has resources for helping drivers and carriers prepare for the inspection blitz
CVSA has resources available on its website to help drivers and carriers learn more about the various elements that will come under focus during the Roadcheck inspection process.
Of particular usefulness is what the CVSA calls their "North American Standard Roadside Inspection Vehicle Cheat Sheet," which has detailed information about the individual elements that inspectors will be looking at.
The "cheat sheet" (linked below) highlights these categories:
Brakes
Coupling devices
Fuel and exhaust systems
Frame, van and open-top trailers
Lighting
Securement of cargo
Steering
Suspension
Tires, wheels, rims and hubs
CVSA also provides a flier with more details about the two categories that will be the focus of this year's International Roadcheck – driver hours of service, and vehicle lighting.
The flier (linked below) points out that in addition to checking that lighting fixtures are operable, inspectors will be checking the condition and location of reflectors and retroreflective sheeting.
"These violations can be largely avoided by checking the condition and location of reflectors and retroreflective sheeting, and by checking all required lamps/turn signals mentioned above and ensuring they are operative, properly mounted and not obscured in any way," CVSA states in the flier.
Below, is an historical chart showing the number of vehicles inspected during International Roadchecks going back to 1991, and the out-of-service rate for each year's inspection period.
According to the chart, the number of inspections peaked in 2012 with around 75,000 vehicles inspected. The highest number of vehicle OOS violations peaked at the very beginning with around 35 percent of the vehicles failing the Level I inspection. That number has gradually declined to the level in current years around 18 to 21 percent.
Drivers' Level I OOS violations throughout the entirety of the program have remained steady at around the 5 percent line.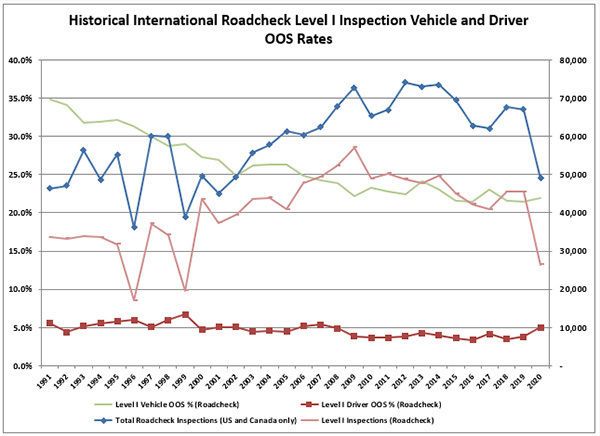 ---
Dave Wickenhauser went on the road driving big rigs after retiring from 33 years in newspaper journalism. His trucking novel, "Crimson Highway" the first in the Hugh Mann series, is available as an Amazon paperback, and as an Amazon Kindle ebook.
Sources: CVSA Roadcheck news release, Roadcheck focus areas, Roadcheck cheat sheet, Roadcheck 2020 results
Tagged Under:
CMVSA
Driver Responsibilities
Electronic Logbooks
FMCSA
Hours Of Service
Load Securement
Pre-trip inspection (PTI)
Truck Equipment
Truck Maintenance
Trucking News