COVID-19 scare: State gun laws come under scrutiny
Last Updated: Sun, March 29, 2020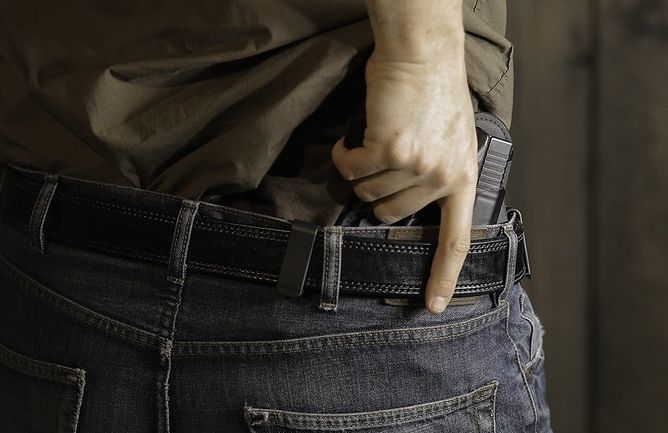 Fear of COVID-19 panickers and of jails being emptied of prisoners has prompted the Small Business in Transportation Coalition to petition the U.S. Department of Transportation to enforce preemption of Federal gun regulations over state laws.
In a March 20 letter to Secretary of Transportation Elaine Chao the trucking trade group cited "life-threatening dangers on the road" because of peoples' reaction to the COVID-19 virus, with the need for truckers to be able to protect themselves with firearms.
SBTC President James Lamb calls for "immediate Federal preemption of state/local gun restrictions on truckers."
The reason for SBTC's request is that there is no Federal law preventing drivers of commercial vehicles from having a firearm within their vehicles. However, drivers can potentially endanger themselves legally each time they cross a state line, as there is a wide range of state and local laws governing gun possession.
Truckers, according to SBTC, are finding themselves alone on highways as traffic is reduced considerably by "stay at home" edicts in multiple states and metropolitan areas. And, the possibility of being highjacked for their essential cargos of medical supplies and food has got those truckers worried.
In the SBTC letter to Secretary Chao, Lamb stated:
"[I]n accordance with the Second Amendment to the United States Constitution, we hereby request the U.S. Department of Transportation please issue a preemption order nullifying any and all state and local laws that restrict truck drivers protect themselves and their cargo as they engage in interstate commerce. "As this is now a matter of life and death, please issue same forthwith.
"We know you have your hands full right now. But with the crisis worsening by the hour... with two states now having issued stay at home orders affecting 20% of Americans, causing metropolitan areas to now be desolate, and with cities like New York and Los Angeles releasing criminals from jails, now more than ever are there significant life threatening dangers to the men and women who drive trucks as America's supply chain first responders."
In the CDL Life article, Lamb expanded on his letter: "Truckers have one of the most dangerous jobs in America. We are now at a 30-year high on large truck occupant fatalities according to USDOT. If the highways don't get you, Driver, some punk in the Bronx will," he said.
So far, there has been no response from U.S. DOT to the SBTC's letter.
From the SBTC website, the Florida-based advocacy organization says it represents a network of 15,000 transportation professionals, associations and industry suppliers, and is "on the front lines when it comes to issues that affect transportation professionals operating small businesses."
Notable projects taken on by SBTC include the "Safe Truck Parking & Jason's Law" program named after driver Jason Rivenburg who was murdered while his truck was parked in an abandoned gas station in South Carolina in 2009.
What is now known as Jason's Law, was included in the Moving Ahead for Progress in the 21st Century Act (MAP-21), which was signed into law on July 6, 2012. The law is to allow funding to be provided for the states, which are in most need of truck parking areas.
Another who has come to SBTC attention and sparked action by the organization includes driver Michael Boeglin who was gunned down in Detroit in 2014.
In addition to lobbying for safe truck parking, SBTC has an emphasis on changing laws allowing truck drivers to carry firearms when they are engaged in interstate commerce.
On their website SBTC says: "Once an American citizen leaves his state and engages in interstate commerce, his ability to carry a firearm and guard the shipment should be protected under Federal Law pursuant to the Commerce Clause of the Constitution and in the spirit of the 2nd Amendment.
"The Reserved Powers clause, which gives the states the right to regulate guns carried within their state, should not apply because the firearm is carried through a state not solely within a state. The states should not be allowed to interfere with interstate commerce in this manner.
"We believe such restrictions are un-Constitutional."
Federal and State laws are only one obstacle for gun-toting drivers
Even if SBTC succeeds in its bid to encourage federal preemption of state gun laws for those engaged in interstate commerce, drivers still find themselves subject to the gun policies of the carriers that they drive for.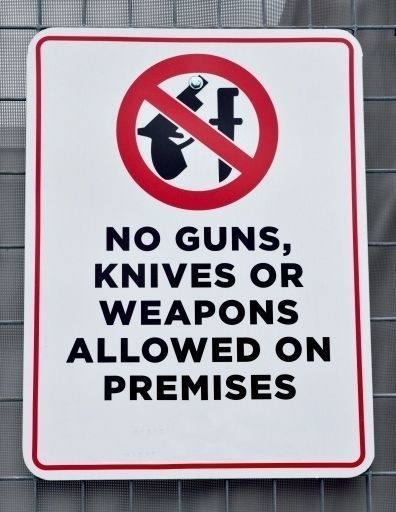 A search for a list of carriers that do allow their drivers to possess firearms in their vehicles was conducted in vain. A few references were found similar to "some smaller carriers permit it," but no carriers were named.
Even so, another obstacle to be overcome by a gun-toting driver is that virtually all shippers and receivers these days have prominent signs at their entrances prohibiting anyone from coming onto the premises with a firearm.
So, all arguments about the need for a driver to carry a firearm aside, even if the SBTC does succeed in getting Federal preemption of state laws granted, the problem is that without a massive overhaul of public sentiment about firearms from the ground up there will still be no way for drivers to legally protect themselves from COVID-19 panickers or highjackers.
Tagged Under:
Adverse Conditions
DOT
Firearms
Guns In Trucking
Safe Haven
Truck Driver Safety
Understanding The Laws