FMCSA to implement under-21 interstate driver program for former military
Last Updated: Sun, February 24, 2019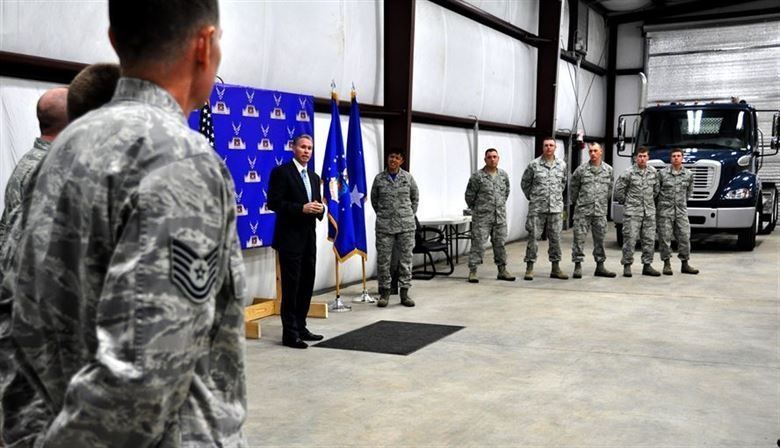 Brad Bentley, Truckload Carriers Association and Professional Truck Driver Institute president, speaks to the first Department of Defense class to graduate with PTDI certification at a ceremony held at Dobbins Air Reserve Base, Georgia, on January 23, 2015. The program gives airmen professional training so they can transition into the civilian workforce as commercial truck drivers.
The Federal Motor Carrier Safety Administration has long been friendly to the idea of making it easier for trucking companies to recruit and hire former military members as drivers.
They allow states the opportunity to offer qualified military members and veterans a quicker trip through the CDL acquiring process by granting testing waivers; thus getting them behind the wheel faster. This benefits the service men and women, but also helps trucking companies seeking qualified drivers to ease the driver shortage.
FMCSA has now upped the ante in the military recruitment and hiring process. Late last year they announced their Under 21 Military CDL Pilot Program, allowing carriers to put drivers under 21 to work driving outside of their home states.
Currently, federal law requires drivers to be 21 years old to drive interstate. Anyone under 21 cannot even drive a load within a state that has originated out of state or that is eventually headed out of state. Congress has bills proposed that will lower the interstate driver age to 18.
But, in the meantime FMCSA is close to implementing a 3-year pilot study that will partner with carriers, allowing them to hire 18 to 20-year-olds for interstate driving. The program comes with some caveats.
According to a U.S. Department of Transportation news release, the program derives from the Fixing America's Surface Transportation (FAST) Act. And it will allow a limited number of individuals between the ages of 18 and 20 to operate large trucks in interstate commerce – provided they possess the military equivalent of a CDL and are sponsored by a participating trucking company.
"This program will allow our veterans and reservists to translate their extensive training into good-paying jobs operating commercial vehicles safely across the country, while also addressing the nationwide driver shortage," said U.S. Secretary of Transportation Elaine L. Chao.
During the three-year duration of the pilot program, participant drivers will have their safety records compared to the safety records of a control group of drivers who are 21 to 24 years old and who have comparable training and experience driving large commercial trucks.
The idea is for DOT to collect data from the experiment; which will allow the Secretary of Transportation to formulate recommendations to Congress to legislate future licensing regulations. The study should help determine if age is, indeed, a contributing factor in truck driver safety.
As participants turn 21 they will no longer be in the program, and will be replaced by a new under-21 driver. However, they will be eligible to continue driving interstate for their current motor carrier or another company.
How the program will work
There are a limited number of spots open for drivers in this pilot program. They must be 18 to 20 years old, and:
Have received heavy-vehicle driver training and experience while in military service, and
Are sponsored (hired) by a participating motor carrier.
As the pilot program begins to be implemented FMCSA will provide a list of qualified carriers. Drivers wishing to participate must apply directly to one of those carriers. The carrier will then submit the driver's information to FMCSA for review of his or her safety record, and allow or disallow the driver to be in the study.
To be eligible drivers must have held within the past year one of the military occupational specialty ratings below: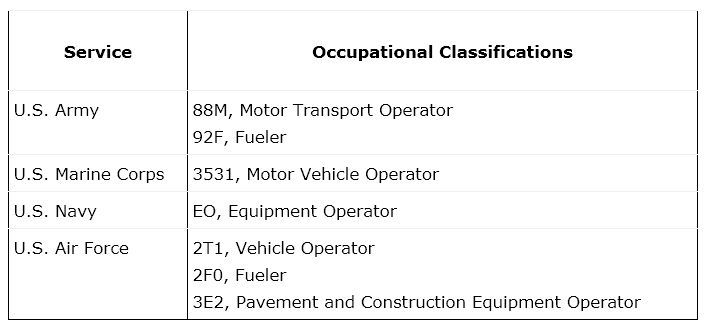 Participants must also meet the following eligibility requirements:
Be 18, 19, or 20 years old as of the date they are approved for participation;
Have certification from a military service of relevant training and experience driving heavy vehicles while in military service;
Agree to the release of specific information to FMCSA for purposes of the pilot;
Meet all Federal Motor Carrier Safety Regulation (FMCSR) requirements (except age) for operating a CMV in interstate commerce (FMCSR part 383, subparts G and J, require that drivers be tested for knowledge and skills, and part 391 includes additional qualifications, including driver medical examinations); and
Understand that participating drivers are not allowed to transport passengers or hazardous materials, nor operate special configuration vehicles (double or triple-trailer combinations or cargo tank vehicles) while participating, regardless of any license endorsements held.
How carriers qualify for the program
At the launch of the program FMCSA plans to have at least 200 under-21 drivers and 200 control drivers. They also plan to collect data on a further 200 current under-21-year-old drivers who are driving intrastate.
FMCSA says it will need about 70 motor carriers to hire drivers for the program. Carrier applicants will be given priority if they can provide their own control group of drivers of the same number as its participating under-21 drivers. However, if necessary to meet its goals for the numbers of drivers FMCSA may accept carriers that can provide drivers from only one of the categories.
Qualifying motor carriers must be a trucking company already engaged in interstate commerce and must meet other requirements. An application will be posted on the FMCSA website when the program is ready to launch.
Here are details of what must be met for carriers to participate in the program:
Complete and submit an application;
Agree to supply control group drivers in numbers equal to participating drivers under 21;
Train covered drivers on the Federal Motor Carrier Safety Regulations;
Install and operate electronic logging devices on all vehicles operated by study and control group drivers;
Agree to comply with all pilot program procedures;
Agree to submit required pilot program data reports monthly;
Monitor and report safety records of participant and control group drivers as FMCSA requires; and
Maintain a good safety record in accordance with the prescribed program criteria.
Control Group Driver Requirements
Carriers participating in the pilot program must provide the same number of drivers to serve in the control group as the number of drivers under 21 they are sponsoring. Carriers must inform control drivers they are being monitored during the pilot. To be part of the control group, drivers must:
Possess a valid CDL;
Be 21–24 at the time of acceptance into the pilot for control drivers;
Have comparable training and years of experience to study group drivers, regardless of the source;
Be a full-time driver for the participating motor carrier;
Have no disqualifications, suspensions, or license revocations within the past three years, nor be under any out-of-service order;
Agree to the release of specified information for the pilot program; and
• Sign release forms indicating understanding that FMCSA will collect data on their driving histories as a part of the study.
The program is due to launch some time this year. Interested persons can monitor FMCSA's Under 21 Military CDL Pilot Program website.
Sources: Military Drivers Program, USDOT Pilot Program, Under 21 Military, U.S. Air Force
Tagged Under:
Becoming A Truck Driver
CDL Qualifications
Changing Careers
FMCSA
Military Veterans In Trucking
The Economy And Politics
Truck Driver Training