Trucker Buddy program matches drivers with a classroom; everyone wins
Last Updated: Sun, May 12, 2019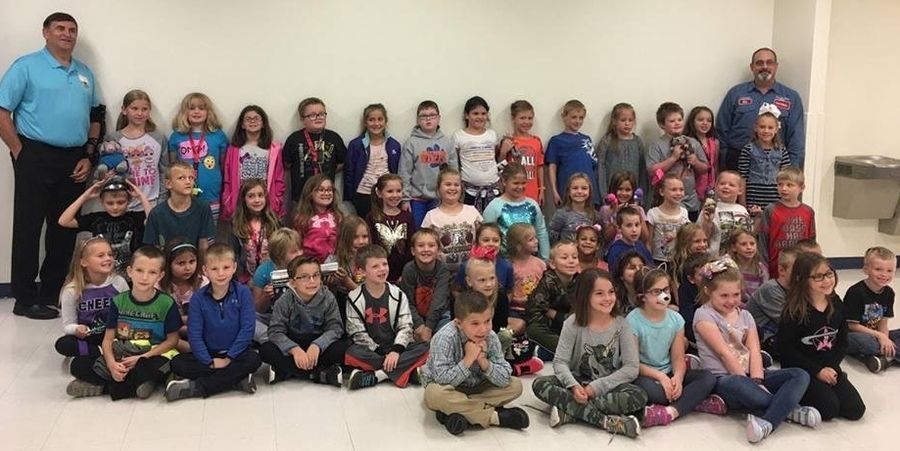 Pictured while visiting his Trucker Buddy class in Illinois is Bill McNamee, back row, right. (Trucker Buddy Newsletter)
Five of the professional commercial drivers who were announced earlier this year as American Trucking Associations' American Road Team for 2019-2020 have something unique in common.
They are all active members of the Trucking Buddy International organization.
America's Road Team is sponsored by Volvo Trucks and was created in 1986. "Captains" named to the team each year spend a few days each month as ambassadors to industry events, speaking at schools and meeting policymakers on behalf of the trucking industry.
Candidates earn this status because of their exemplary safety records and because of their ability to communicate their "commitment to safety and passion for the industry. Nominees should also portray a positive image of the professional truck driver in all that they do," according to the American Trucking Associations.
It's no surprise, then, that five of the current Road Team members have also committed time and energy toward interacting with school children as part of the Trucker Buddy program; which turns out to be a win-win for everyone.
"Drivers are helping the teachers and the teachers are helping these drivers," Trucker Buddy Executive Director Alan Welborn told Transport Topics recently.
For example, Walmart driver Duane Donner of Litchfield Park, Arizona, is a Trucker Buddy for a class of learning disabled pupils at Douglas Middle School in Box Elder, South Dakota.
Teacher Angela Green told Transport Topics, "My kids talk about seeing Walmart trucks out in the community, and we have had conversations about what they think is on that truck and where do you think they are going. They look up to him so much."
Donna and his wife send Walmart gift cards to the pupils, and the children made a class project of writing thank you cards.
Donner said he feels the value of the relationship with the students is worth more than the clothes and gift cards that he sends. "It's been an incredible opportunity for me, I truly feel that those kids have given me by far, more than I have given them," Donner told Transport Topics.
"What they have taught me and the things that they do and how they do them, especially when they are dealt a hand that doesn't seem fair, I have gotten just as much if not more out of the program as these students," Donner said.
The five America's Road Team members who are also Trucker Buddies are:
William C. Bennett III, UPS Freight, Maytown, Pennsylvania
William Goins, Old Dominion Freight Lines, Cloverdale, Indiana
William McNamee, Carbon Express, Christopher, Illinois
Ronald Vandermark, UPS Freight, Delran, New Jersey
Todd Wilemon, ABF Freight, Fulton, Mississippi

Another Trucking Buddy earning kudos recently is Steen Gronlund, a veteran driver of 49 years currently driving for Mile-Hi Foods, Denver, Colorado. In April of this year he was awarded by TA/Petro as one of three Citizen Drivers during the Mid-America Trucking Show in Louisville, Kentucky.

He will have a TA/Petro center named after him.

So, what is being a Trucker Buddy all about?

Basically, the Trucker Buddy organization matches drivers with classrooms of pupils ranging from 1st grade through high school.

Teachers notify Trucker Buddy of their desire to be in the program. Currently, there are 23 teachers in 11 states, Canada and Uganda awaiting drivers to be Trucker Buddies to their students.

In total, there are about 2,000 drivers who are currently Trucker Buddies to about 60,000 students in the United States and other countries.

Drivers commit to communicating with the classroom while on the road by sending post cards, emails, letters, pictures and even Skyping or FaceTiming from their smartphones. Teachers incorporate those communications into lesson plans, and students write letters back to the driver about what they have learned.

Drivers will work closely with teachers in order to arrive at the best way to communicate. Many teachers prefer post cards, as they create a natural geography lesson. Trucker Buddy provides a smart phone app which allows drivers to send photos with map location information included.

Some drivers let the class follow their progress in real time with the app. Other drivers collect regional samples from their travels, like rocks or cotton, for example, and send them to the class. Yet other drivers have a class "mascot" like a stuffed bear that rides with them that they incorporate into photos.

Then, once or twice a year the driver can visit the school with his or her truck to meet the teacher and the class. Students are prohibited from riding in the trucks. Drop-ins are heavily discouraged, and Trucker Buddy recommends drivers shave and bathe before making scheduled visits.

Trucker Buddy is very diligent about screening with background checks each new and renewing driver. All communications between the driver and class go through the teacher.

According to Trucker Buddy Executive Director Randy Schwartzenburg:

"Trucker Buddy's grass roots efforts benefit everyone in the trucking industry. Fleets, OEMs, suppliers and drivers benefit from the efforts of our volunteers by daily providing the public with what is good and great about our industry.

"I had a parent call me and ask about Trucker Buddy and he said when he heard his child was part of a program with a truck driver he had reservations. He agreed those reservations are unfounded but the perception is that when you deal with truck drivers there is an automatic bias that comes up," he said.

"Once he understood the program and the enhanced lessons that the teacher was using he became a fan.

"No other program does this every day, every week, every month and every year like Trucker Buddy and everyone in the industry benefits from the program and the effort of professional drivers across the country."

Trucker Buddy got its genesis in 1992 when one truck driver, Gary King, contacted a grade school in Williams Bay, Wisconsin, and asked the principal if he could write to a class and become pen-pals.

As other drivers noticed King writing his post cards and letters each week during truck stop stays, they asked about how to get their own pen-pals.

The organization was created and incorporated shortly after.

Sources: Akron Beacon Journal, Trucker Buddy, Transport Topics, Overdrive

Tagged Under:

Life On The Road Truck Driving Lifestyle Trucker's Family Matters