Tesla announces new electric Semi model
Last Updated: Tue, November 12, 2019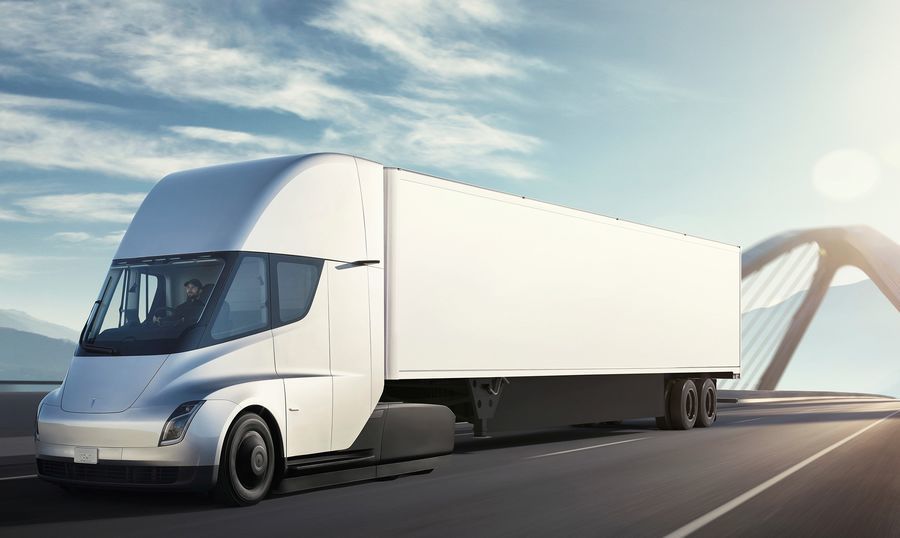 Two years after rolling out a prototype Class 8 electric semi truck, appropriately named "Tesla Semi," Tesla will unveil this week a new version that incorporates autonomous features. While some Tesla Semis have been spotted on America's roads, full production will not begin for another year or so.
Critics worry that a fully electric big rig will not fit into the medium to long-haul market for which it is intended because of the limited mileage per charge compared to the range one gets from diesel-engine-driven Class 8s.
But Tesla Chief Executive Elon Musk is undeterred, and says, the Semi will "blow your mind clear out of your skull" when it is introduced in a webcast on Thursday at 11 p.m. ET.
He tweeted last month that the "Semi specs are better than anything I've seen reported so far."
The Semi will come in two versions, one with a 300-mile range, and another with a 500-mile range – priced accordingly at $150,000 or $180,000. And Musk said last year that he believes the electric Semi may be pushed to a 600-mile range by the time production begins – putting it ahead of a similar offering by Daimler Trucks.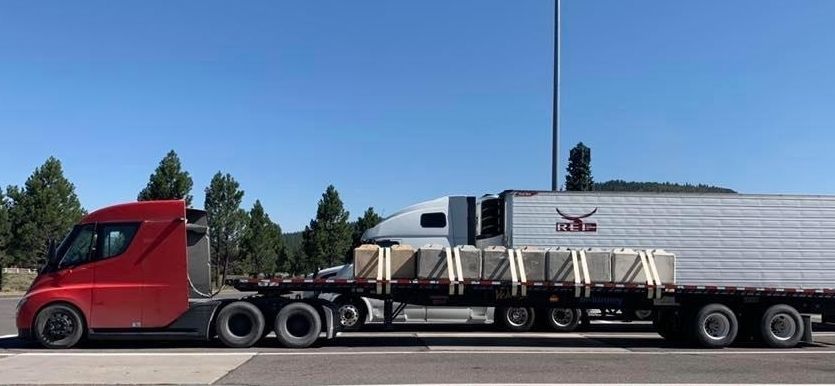 In an online article at Electrek, a Tesla Semi prototype was spotted at a California inspection station, and the driver reported that it was exceeding specifications. The driver was test-hauling a flatbed load of large concrete blocks with a total truck-trailer weight of 75,000 pounds. California Highway Patrol Photo
Raising the bar for electric semis
According to a Tesla news release the Tesla Semi performance will outshine a standard diesel Class 8 in just about every regard.
A bobtail Tesla Semi can achieve 60 mph within five seconds from a standing start, compared to 15 seconds for a comparable diesel truck. Pulling a fully loaded trailer at 80,000 total pounds total weight, it can hit 60 mph within 20 seconds, about a third the time required by a diesel truck.
It will take a 5-percent grade at a steady 65 mph, compared to the diesel truck maxing out at about 45 mph. This power comes from four independent electric motors, one on each of the two rear axle drive wheels.
There is no shifting or clutching and, like electric cars, braking recovers kinetic energy, regenerating about 98 percent back to the battery. Charging stations are few and far between right now, but where available the Semi can recharge in about 30 minutes for another 400 miles on the road.
Musk is also betting that the economic advantages will appeal to new-truck buyers. Tesla promotes that the Semi will save $200,000 in fuel costs over a million miles, and that drivers can expect to 2-year payback.
Also, it goes without saying that with fewer moving parts – like diesel combustion engines, transmissions, EPA treatment systems and all the accompanying components – maintenance requirements and costs are significantly less than a standard diesel Class 8.
Batteries and electric motors are designed for a life of more than a million miles.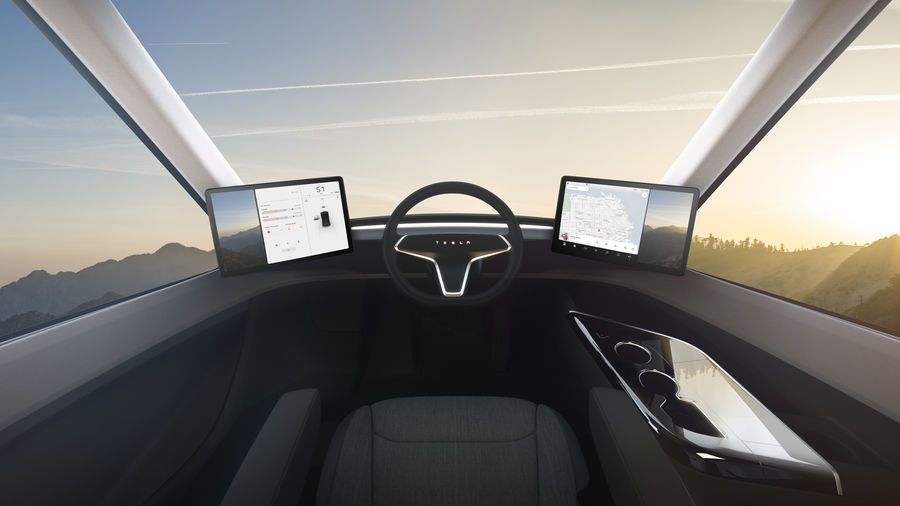 The driver will sit in the center of the minimal cabin, which employs touch screen displays for navigation, "mirrors," and data logging. Access is straight up a set of stairs, and there is full standing room inside.
The Tesla Semi will take advantage of its built-in advanced technology and will come platooning ready. And the battery weight gives the Semi a low center of gravity, which helps prevent rollovers.
PepsiCo was an early customer of the Tesla Semi, sighing up for 100 units when the Semi was announced in 2017. The company will soon take delivery of 15 Semis at its plant in Modesto. Other notable carriers like Walmart and JB Hunt have reportedly bought pre-production Tesla Semis.
Tesla is now taking reservations for the production Semis for $20,000 per truck.
Sources: Stock Daily Dish, Tesla Semi, Electrek
Tagged Under:
Autonomous Trucks
Driver Solutions
Electric Semi
Self-Driving Vehicles
Trucking News