Friday Short Haul - Travel centers announce special offers for drivers in September
Last Updated: Thu, August 27, 2020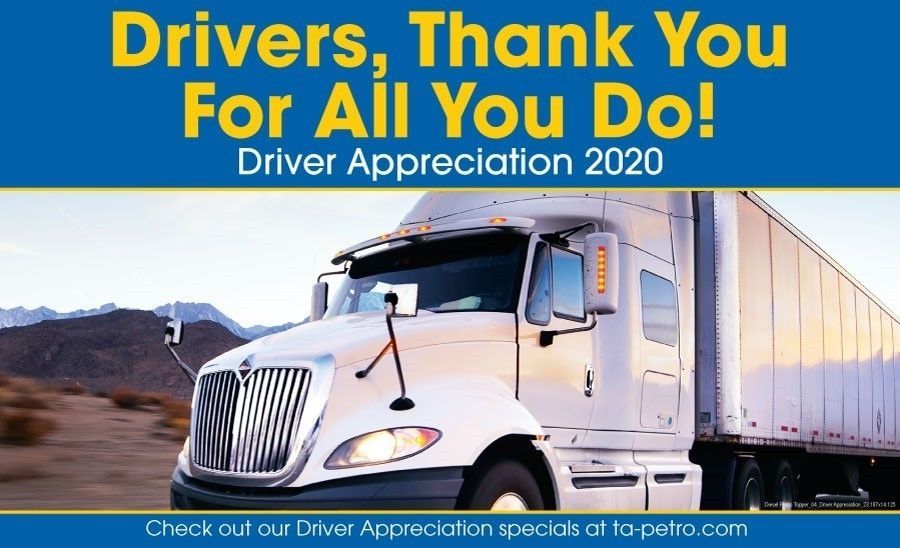 TA extends driver appreciation week to the whole month of September
National Truck Driver Appreciation Week is September 13 through September 19, and Travel Centers of America, which includes TA, Petro and TA Express, is extending its celebration of truck drivers for the whole month, offering benefits and a chance for prizes for all UltraONE members.
To start off the month TA will hold a sweepstakes for UltraONE members who make fuel or truck service purchases or who swipe their loyalty cards at a kiosk. Members will be eligible for a number of prizes that TA says would especially be enjoyed by members who they surveyed.
Drivers can make one swipe per day count toward the sweepstakes prizes. Winners will be chosen at random to win one of the following prizes:
Grand Prize of 1,500,000 UltraONE loyalty points (1 winner)
Winner's choice of an Indian Scout Bobber Motorcycle or Men's or Ladies Rolex Watch (1 winner)
Two airline tickets to anywhere in the continental United States, plus a $500 gift card (1 winner)
50,000 UltraONE loyalty points (70 winners)
In addition to the monthly sweepstakes, TA will offer special deals during the official driver appreciation week.
On Wednesday, September 16, all fuel purchases will receive double the loyalty point value, on September 14-18 shower costs will be reduced 50 percent when booked through the TruckSmart app, and additional specials can be found in the TruckSmart app on September 14-18.
"We are truly grateful to serve the millions of professional drivers who play such an important role in this nation, and the challenges of 2020 have certainly proven the sacrifice and commitment that professional drivers embody," said Jon Pertchik, CEO of TA. "We are proud and humbled to be part of their everyday lives and will continue working diligently to ensure we're their home away from home."
Pilot Flying J announces special deals for month of September
Pilot Company, including Flying J, is also turning National Driver Appreciation Week into a month-long celebration, offering free drinks and other deals for professional drivers.
From Sept. 1 – 30, Pilot Company will have exclusive offers for professional drivers in the Pilot Flying J app, including:
Free drinks every day
Free showers all month with September Shower Power after one 75+ gallon fill
Earn up to four points per gallon when activating Push4Points
Free JPRO diagnostics test at Pilot Flying J Truck Care service centers
Offers can be redeemed with the Pilot Flying J app at any of the 750 company-operated stores in the United States, as well as at Pilot Flying J Truck Care locations and participating One9 Fuel Network locations.
"Professional drivers deserve our gratitude every day," said Shameek Konar, chief strategy officer of Pilot Company.
"The last few months have shown the world how essential these men and women are to our economy and day-to-day life. On behalf of our 28,000 team members, we want to thank all professional drivers for their tireless work to supply goods across North America. To show our appreciation, we invite professional drivers to stop in for a free drink every day in September."
As an additional way to honor truck drivers Pilot Company commissioned singer-songwriter ray Wylie Hubbard to perform a voice-over in a video titled, "Make Way." TA says the video depicts professional drivers as modern-day pioneers paving the way with each mile traveled and load delivered that lets people live out their dreams.
Drivers can win signed merchandise during September by visiting Pilot Flying J's social media channels.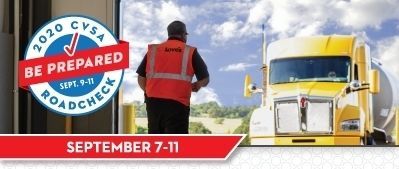 Love's offers discounted inspections to get ready for International Roadcheck
While not part of National Driver Appreciation Week, a Love's Travel Stops program the week of the International Roadcheck, September 9-11, is planned in order to make the roadcheck less stressful for drivers.
International Roadcheck was postponed from the original May 5-7 dates, and has been rescheduled to the September dates.
Love's is offering a free TirePass inspection, as well as half-priced DOT inspections at its Love's Truck Care and Speedco locations from September 7 through September 11. Drivers can also get a complimentary visual inspection with the purchase of a tire or oil change.
Love's says that tire-related issues tend to be at the top of the list for placing drivers out of service, so their free TirePass inspection "ensures any potential tire-related compliance violations are identified and properly addressed before professional drivers roll up to an inspection."
Love's TirePass inspection takes place in the inside diesel lane at Love's Travel Stops across the country. "Love's Truck Care and Speedco team members want to help drivers be safe and legal on the road and this event aims to help drivers be both of those things," said Gary Price, executive vice president of truck care for Love's.
"We know time is important to professional truck drivers, so by having the TirePass inspection completed - including mud flap and light inspections - while they fuel up, we can save them time and prepare them for CVSA Roadcheck."
Love's notes that during last year's International Roadcheck there were around 3.36 million inspections, and of those there were 952,938 driver violations.
Sources: Pilot-Flying J news release, TA-Petro news release, Love's news release
Tagged Under:
Life On The Road
Truck Maintenance
Truck Stops
Trucking News