More states signing on to enlist truckers against human trafficking
Last Updated: Mon, June 24, 2019

In truck driver lore it was common for truckers to be thought of as Knights of the Road. That sobriquet might not be so common these days, but drivers are increasingly being enlisted to aid damsels in distress by spotting and reporting instances of human trafficking.
In fact, so far 11 states have passed legislation requiring that training in spotting human trafficking be included in their CDL curriculum.
These efforts to stem this human tragedy are due in large part to the work being done by Truckers Against Trafficking.
TAT says that human trafficking is a form of modern-day slavery involving humans, mostly women and children, being bought and sold for labor or sex. Globally, it is estimated that there are more than 40 million such slaves today, and that in the United States human trafficking has been reported in all 50 states, with victims numbering in the hundreds of thousands.
Victims are recruited out of schools, via online, in shopping malls and off the streets, and they can be spotted on the streets, in private homes, and in legitimate businesses like restaurants, truck stops and motels.
According to the TAT website:
"This is where you come in! Truckers Against Trafficking recognizes that members of the trucking and busing industries are invaluable in the fight against this heinous crime. As the eyes and ears of our nation's highways, you are in a unique position to make a difference and close loopholes to traffickers who seek to exploit our transportation system for their personal gain."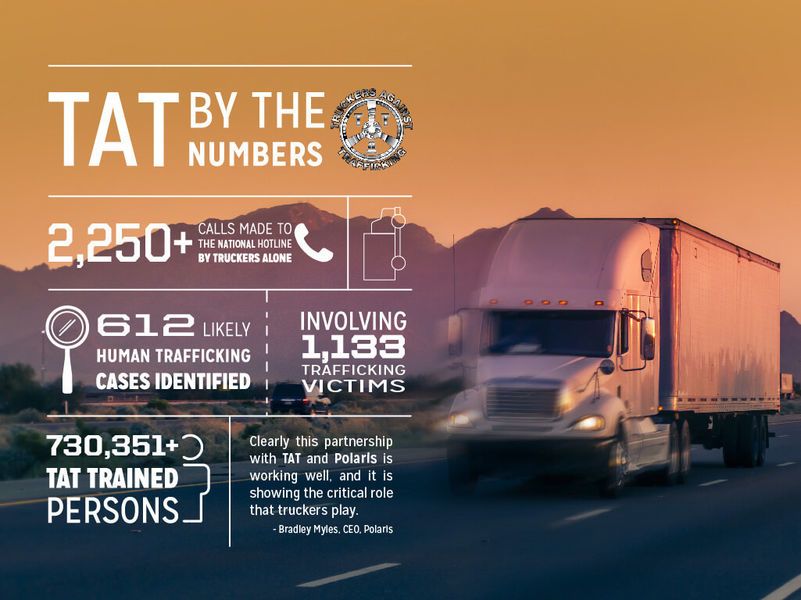 The numbers that TAT offers on its website are impressive.
To date, TAT has trained more than 730,351 drivers and other personnel in how to spot and report human trafficking. There have been more than 2,250 calls by truckers alone to the national trafficking hotline, resulting in 612 human trafficking cases identified, and involving 1,133 trafficking victims.
In June the State of Alabama was the latest to fight trafficking by signing into law HB261; which required all drivers receiving new commercial driver licenses to undergo human trafficking training. TAT will work closely with junior colleges and trade schools to facilitate the training.
And the State of Wisconsin might soon be the newest state to pass such legislation enlisting truckers' help in stemming the tide of human trafficking. Assembly Bill 22 was introduced recently in the Wisconsin State Legislature requiring all truck training programs to include this training.
Here are the states with some form of trafficking-training legislation for CDL licensees:
Some states require human trafficking training for renewing CDL licenses as well as new licenses, while others, like the proposed Wisconsin legislation would require it only for first-time CDL licenses.
Truckers Against Trafficking
Truckers Against Trafficking became part of Chapter 61 Ministries in 2009, and then became its own 501c3 in 2011.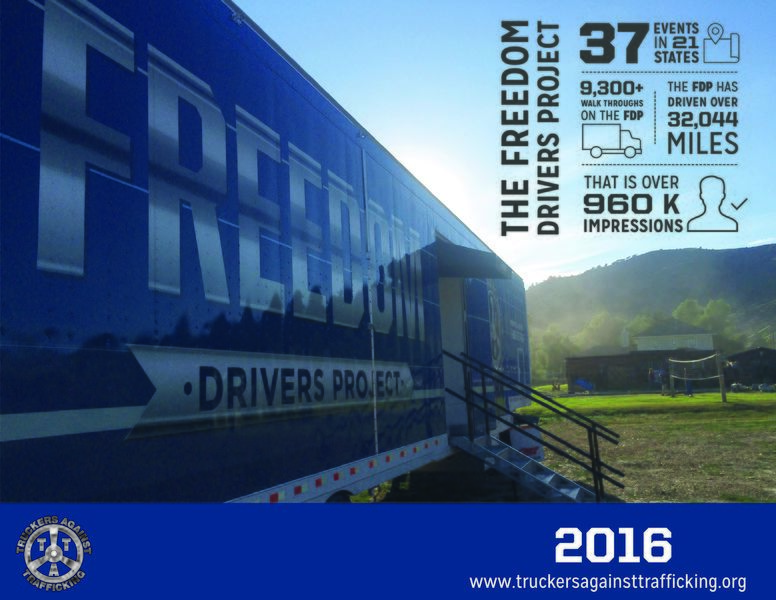 Since then TAT has grown into a wide-ranging organization partnering with trucking industry associations, numerous motor carriers, government transportation agencies, truck stops and travel plazas, and law enforcement agencies like the FBI.
TAT has also launched its Freedom Drivers Project comprising a 48-foot mobile exhibit and museum; which showcases information on domestic sex trafficking, including stories of survivors. More than 37,000 people have walked through the doors at more than 150 events in 40 states.
TAT says that before it existed only sporadic tips were being reported by truckers, but now many calls are coming into the National Human Trafficking Hotline at (888) 373-7888. Tragically, TAT reports that in 2017, nearly half of the cases generated by truckers' calls were involving minors.
Other TAT initiatives
Besides training drivers in how to spot and report human trafficking, TAT:
Created the Shipping Partners Program, enlisting shippers to encourage their carriers to implement TAT materials as part of their training and orientations.
Builds relationships between law enforcement and managers of truck stops and travel centers, trucking companies and state trucking associations to increase anti-trafficking activity in their areas.
Works with state patrols and other law enforcement agencies in training about the crime of human trafficking, with emphasis at weigh stations, rest stops, and ports of entry awareness of this crime.
Encourages manufacturers to provide TAT materials making personnel aware of the sex trafficking issue.
Seeks to replicate its anti-trafficking model across borders, modes and industries. "This removes the traffickers' best defense – ignorance or apathy on the part of people who might see it happening. By using TAT's model, every person, working within his/her sphere of influence, can play a critical role in fighting this crime by effecting social change – whether in seeing or reporting the crime, introducing the concept and training to others, being the catalyst for changing company policy or becoming a 'TAT champion'"
Sources: Truckers Against Trafficking, Opelika Observer, Go By Truck
Tagged Under:
Driver Responsibilities
Truck Driver Training
Truck Stops
Trucking Industry Concerns
Understanding The Laws