Predictive technology increases driver safety, benefits carriers
Last Updated: Mon, March 9, 2020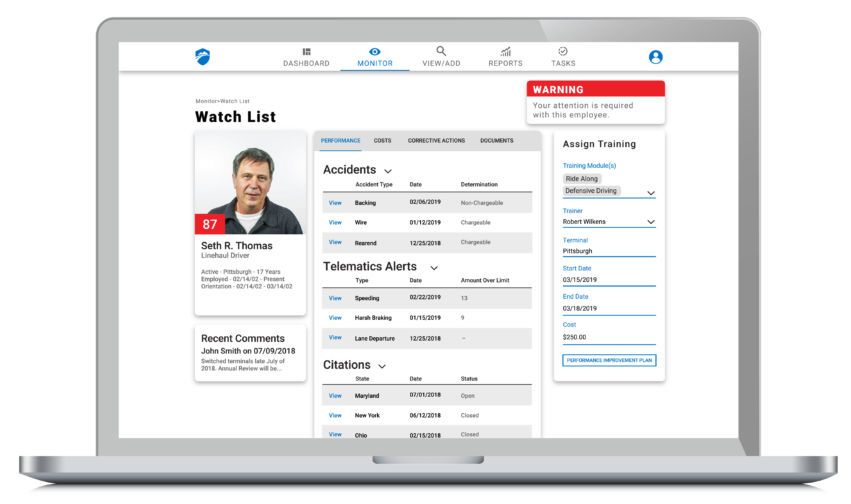 As commercial carriers acquire more telematics capabilities it was only a matter of time before someone came along and offered a way to integrate all of that information into a way to track, coach and train drivers, even to the point of making decisions about letting a driver go.
One such company doing that today is Idelic; which bills itself as a "safety and operations focused software provider born from the trucking industry" that uses modern technology "to get your drivers home safe each night."
Idelic's Safety Suite software collects information from fleet telematics systems, electronic logging devices, the FMCSA CSA program, in-cab cameras, crash claims, human resources documents and each driver's state CDL record.
Then Idelic's software uses predictive analytics to take all this information which can then identify patterns that can predict the likelihood of a driver's behavior causing a future accident.
The predictive software can take into account other factors like weather, time of day, road conditions and traffic in analyzing the likehood of an accident occurring.
"It's accidents of this type, for drivers who have a history of 'X', who have a tenure of 'Y', who also have these telematics events and these violations or incidents,"Hayden Cardiff, founder and CEO of Idelic, told Transport Topics. "All these combining factors get taken into account. That's what makes it so effective in identifying which drivers are most at risk."
The main interface is a screen portraying a driver "watch list" where artificial intelligence discovers patterns that might not be apparent to dispatchers or other personnel whom the driver comes in contact with.
Drivers are assigned a score in real time based on risk factors such as hard braking and lane departures, but the software also flags for things like past tickets for moving violations, lapsing licenses, and on-time performance.
Driver managers can then quickly spot a driver's risky behavior and react with appropriate intervention after receiving the alert.
For example, the software can recommend different type of coaching or training depending on the driver's score in the software. The system can then track the driver's progress in completing the training.
Positive behaviors are recorded as well as the results of training; which adjusts the driver's negative scores.
"[Training] and time are the two things that help to improve scores. The further you go in time without having negative events, the better your score is going to get," Idelic's Cardiff told Transport Topics.
Fleets are discovering the benefits of integrating all of the data provided by telematics and other factors into a predictive analytics program.
"The before and after results are rather dramatic," Steve Bryan, executive vice president and general manager of SambaSafety, told Transport Topics. SambaSafety is another company that integrates information for driver evaluations.
"Once you put a system like this in place, [there is] about a 22% reduction in the violations that you see from the results out on the road and a 14% reduction in crashes."
"Was the issue with the driver serious — something coming from an MVR, like a DUI? Or is this just the 37th time they hit a hard brake?" Bryan told Transport Topics. "That's where the AI comes in … Send alerts and then bring the customer back into the system to make it actionable."
Another benefit is that deploying predictive technology can help defray rising insurance premium costs. And each time a potential accident is averted because of early intervention with a risky driver means one less opportunity for a jury to award a "nuclear" verdict, something that is become all to prevalent these days.
Idelic says that fleets can experience a 55-percent reduction in insurance costs, a 48 percent reduction in Workman's Compensation premiums, a 43 percent reduction in driver turnover, and a 22 percent increase in productivity.
For example, a carrier with a fleet of 1,800 drivers can experience almost $3 million in annual savings.
As this predictive technology become more sophisticated software engineers believe it will have the capability even to predict if or when a driver might be predisposed to quitting. In other words, the software will be able to assess the risk of driver turnover.
The predictive software can take into account all of the above plus factors like the driver's pay, hours on the road, time off and even how much the driver communicates with driver managers.
"We are past predictive modeling — we're on to prescriptive modeling now," Chris Orban, vice president of data science for Trimble Transportation, told Transport Topics.
"It's everything we did with predictive modeling, but also, 'What action does that predictive model recommend we take?' It can't just be that we do a great job identifying an issue, we've got to have a solution, too."
The interaction is not entirely one-sided. Predictive technology innovators expect to be releasing apps soon that would allow drivers to monitor and review their own safety scores.
"These are the kind of things that are really transformative for our industry," Orban said. "We have the technology and data to do it, and I believe our customers have the will to do it, too. We can be better together."
Sources:
Transport Topics
,
Idelic
Tagged Under:
Driver Solutions
Truck Driver Safety
Truckers Technology
Trucking Accidents
Trucking Industry Concerns