Friday Short Haul - North Dakota road trains, Brake Safety Week, drivers not returning to duty, opposition to Mexican truckers
Last Updated: Thu, August 20, 2020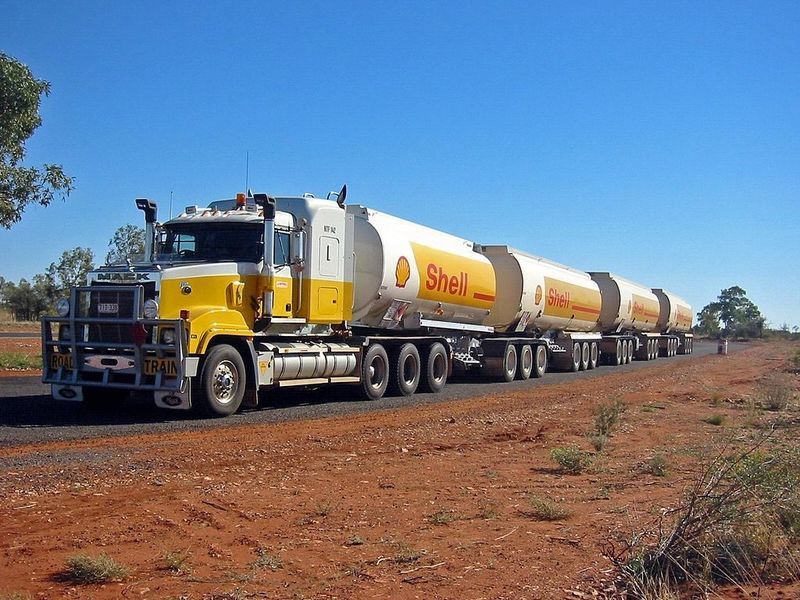 Road trains might be coming to North Dakota
North Dakota lawmakers want to do something about the truck driver shortage. So they have decided to tackle the problem not from the perspective that there are too few truck drivers available, but rather that there are too many trucks needing drivers.
A proposed North Dakota State Senate bill, would task the North Dakota Department of Transportation with looking into the feasibility of allowing road trains to ply the state's highways like the multiple-trailer rigs that are familiar in Australia's Outback.
The proposal, if approved, is a two-edged sword for truck drivers, however. That's because according to North Dakota Agriculture Commissioner Doug Goehring, "From what we can gather, they want to find ways to have fewer drivers on the road."
He told the Williston Herald he's in favor of examining if road trains could work for North Dakota.
The bill directs the North Dakota Department of Transportation to establish a road train pilot program in collaboration with Minnesota transportation officials so as to determine what exact length and weight could be allowed on the state's highways.
Safety aspects such as designated routes, hours of operations, and whether hazardous materials should be hauled in road trains would be studied in the pilot program.
Besides mitigating the driver shortage, proponents of the road train proposal suggest it would have a financial benefit to the state's agricultural community, specifically potato farmers competing with the Canadian potato industry; which "Right now the Canadians are eating our lunch (on potatoes), and I haven't been able to figure out how," Goehring told the Williston Herald.
He said the Canadian truckers can make it from Winnipeg to Chicago in a single day, underbidding North Dakota producers.
"If you have the ability in a road train to have six containers transported at the same time, you would have a little extra cost associated with the extra weight, but you wouldn't have six drivers and six rigs, so you wouldn't incur all these extraordinary costs," Goehring told the Williston Herald.
A few Western states allow limited use of triples, but the length and weight limits are less than what are found in the large road trains – two or three or more full-length trailers.
Brake Safety Week enforcement kicks off next week
Inspectors taking part in the Commercial Vehicle Safety Alliance's Brake Safety Week will be looking extra carefully to spot tubing and hose chaffing, and brake adjustment issues all week long beginning August 23.
In some of the areas participating in the enforcement blitz inspectors will be using roller dynamometers for performance-based brake testing.
CVSA officials say that brake tubing and hose issues are easy to spot and fix by carriers and drivers before having to face an out-of-service ticket.
One of the most common brake system wearing issues is air hoses dangling over the deck plate. Less common these days because of automatic slack adjusters are brakes being out of adjustment. But inspectors will be examining all parts of the air braking system during the special inspection week.
In recent years about half of out-of-service orders during Level 1 inspections have been because of brake issues.
Many drivers choosing not to return to duty after failing drug and alcohol test
The Federal Motor Carrier Safety Administration's recent analysis of Drug and Alcohol Clearinghouse statistics indicates that a large number of drivers with drug and alcohol violations are not bothering to complete the return-to-duty process to get back into the workforce.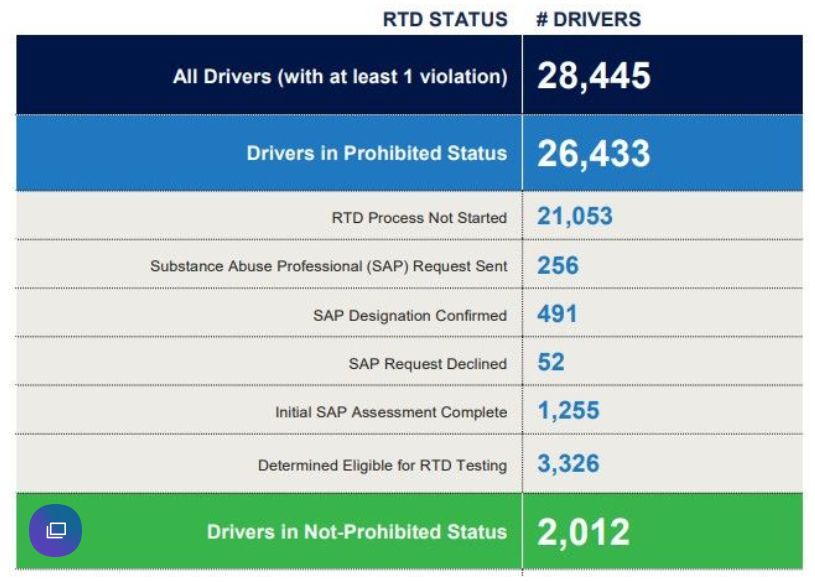 And the numbers are significant, leaving some industry watchers worried that it might impact the driver shortage problem even worse.
FMCSA revealed that of the 28,445 drivers in the Clearinghouse with at least one drug or alcohol violation there are 26,443, or a staggering 93 percent, who remain in prohibited status because they haven't completed the RTD requirements.
David Osiecki, President and CEO of Scopelitis Transportation Consulting, told FreightWaves, "Most drivers are not getting through the return-to-duty process, so we've basically lost those drivers. Having a violation doesn't make you a bad person, but the question is, how many are addressing their problem and staying in the industry? This may not be good for the driver shortage, but the American public expects sober and safe truck drivers."
The FMCSA also noted that over the last two months an increasing number of drivers, some 13 percent, are caught trying to cheat the urinalysis test. Trucking companies tell FMCSA officials that the agency's delay in allowing carriers to replace urine tests with hair testing is preventing them from hiring safe drivers.
On a positive note, the number of new-hire inquiries to the Clearinghouse has increased by 28 percent between May and June of this year, and by 13 percent between June and July, giving industry watchers optimism that the driver pool is looking up.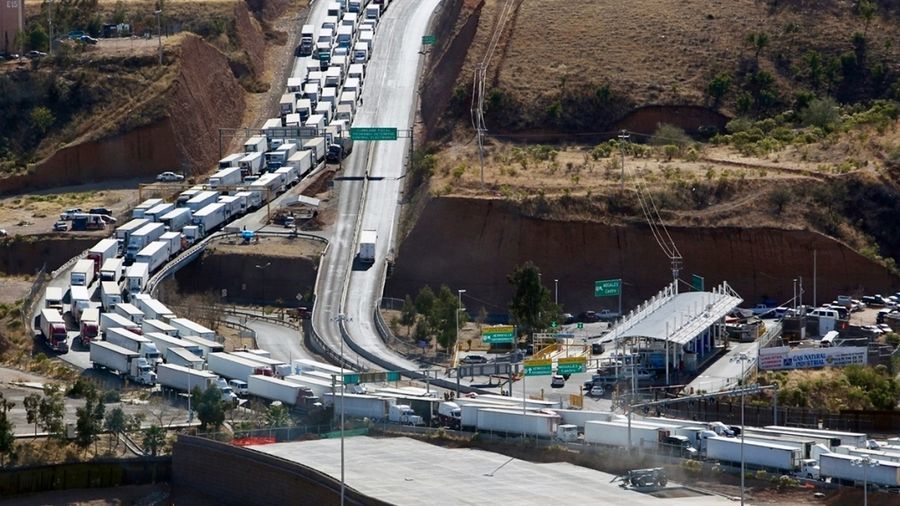 OOIDA, Teamsters join in request to determine if Mexican trucking harms the U.S. trucking industry
The Owner-Operator Independent Drivers Association has teamed up with the Teamsters Union to ask the U.S. International Trade Commission to look into Mexican trucking activity on the U.S. side of the border – particularly in regard to whether American truckers are "materially harmed by an increase in cross-border trucking services provided by Mexican suppliers."
The two organizations emphasize two main concerns -- the unsafe, less-regulated condition of the Mexican trucks and operators, and that Mexican truckers do not follow new regulations restricting them from making point-to-point deliveries within the United States.
"Because of the cross-border trucking services established in NAFTA, Mexican trucking companies are currently taking away jobs and profits from American drivers and motor carriers. At the same time, Mexican trucks are endangering the motoring public," the joint letter stated.
"Mexican carriers and drivers that are not held to the same licensing, inspection, vehicle, environmental, and operational regulations endanger the lives of not only professional truck drivers, but certainly the general motoring public as well."
The letter cited U.S. DOT safety statistics from 2016 that showed that the crash rate for Mexican-domiciled carriers was 2.8 times higher than U.S. carriers
The point-to-point restriction on Mexican drivers is called cabotage. "We believe that neither the federal government nor the states are properly enforcing these cabotage and labor laws which further exacerbates the threat of Mexican motor carriers and drivers to U.S. businesses, jobs, and compensation," the two groups stated in the letter.
According to Mexico's National Chamber of Freight Transport, as reported at FreightWaves, right now there are around 66 Mexican carriers, with more than 600 drivers and trucks, crossing the U.S.-Mexico border and providing transportation services here.
Sources: Williston Herald, Heavy Duty Trucking, Yahoo Finance, FreightWaves, OOIDA/Teamsters letter
Tagged Under:
Doubles and Triples
Drug and Alcohol Testing
Pre-Employment Screening Program
Return-to-Duty
Trailers