Veterans Day StopTheTires2020 shutdown protest planned
Last Updated: Tue, November 10, 2020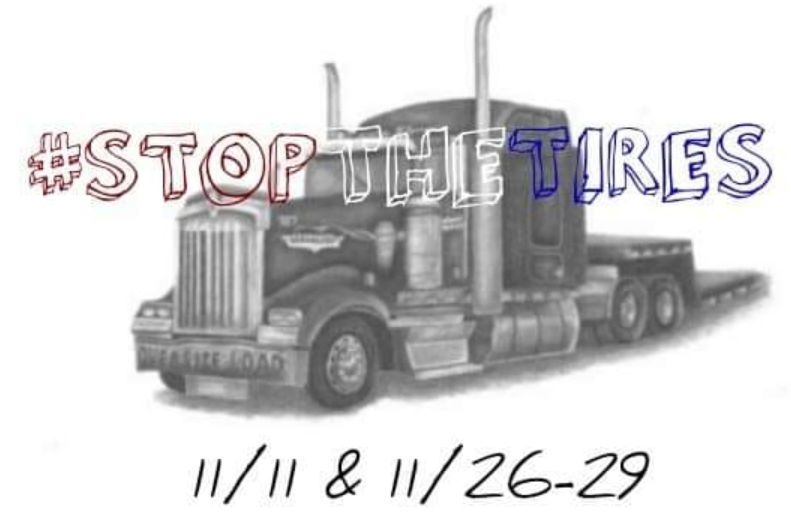 Today, November 11, Veterans Day, is the day that a trucker strike group has chosen for a trial run national shutdown called "StopTheTires2020" in protest of presidential candidate Joe Biden's Green New Deal platform; which would eliminate fracking, thus raising fuel prices.
The truckers' outrage extends as well to the "thanks" they have received by American voters in the recent general election for truckers being on the front line continuing to deliver important freight during the COVID-19 crisis.
One trucker whose Tik Tok video has gone viral says, "We've been out here in the middle of this pandemic this whole time bringing you shit and how do you thank us?"
"You close down the restaurants that we eat at … then you close down our rest stops," he went on. "Now in Wyoming they're talking about not even plowing the highways this winter because they can't afford it. And to top it all off, 70 million of you guys voted against the trucking industry, against first responders, against oil and gas – we ain't gonna forget this shit, you already have but we won't."
The StopTheTires2020 movement is headquartered in a private Facebook group of the same name. Currently, there are 41,777 members, but that number is increasing virtually by the minute.
Group members, and others, are vociferous about their passion, and have taken their cause to the Internet on platforms such as Tik Tok, Twitter, Parler and YouTube.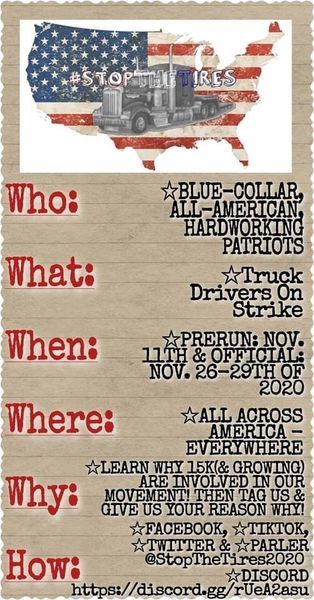 Founder Jeremy Rewoldt's statement has been copied throughout the blogosphere, like this one from the Twitter account of Sparks6767. In it, Rewoldt lays the groundwork for the protest.
"Our message is simple and hopefully effective," Rewoldt said. "We fully intend to exercise our rights, and will not have politicians making crippling decisions, that will negatively affect our future and the future of our children.
"The blue collar workers are literally the ones who make the wheels turn! Without the truck drivers this country could not survive for long. Our intention is not to harm anyone. We would like to make a point that we do NOT wish for any companies or private truck drivers supplying any kind of medical supplies and/or services to participate in our movement."
But Rewoldt remains adamant in not participating in the "leftist, Biden/Harris Green New Deal. We do not support the banning of fracking. The United States of America operates as a capitalistic economy, and oil is the fuel she survives on."
The initial date to "stop all tires" will be on Veterans Day.
He went on to say that "if this is not effective, and our leaders do not respect that blue-collar truck drivers are having to face domestic terrorism, primarily in Democrat-run cities all over the United States," then they will have a second "stop the tires" for four full days, November 26 through November 29.
In anticipation of Facebook censoring the StopTheTires2020 group, Rewoldt calls for all patriots to share his message all over the nation. "We might not last long on Facebook, but please do not be deterred, and continue to share this on social media or other outlets that you have available to you."
Then Rewoldt concluded his message with "Thank you & God Bless America."
Truckers and supporters have taken Rewoldt's suggestion and have spread the word throughout social media.
For example, Facebook member Isaiah Putnum reposted a message from the group's moderator, Lowe Frank, that "We want this post to go viral so we can reach 3.5 million truck drivers. But remember this: the 1% including our forefathers formed this country. If only 1% of truckers participate, we will make our voices heard."
One Twitter member posted, "Spread the news. You didn't consider us essential workers so we will just shut 'em down."
Another Tweeted, "You can only push the people so far for so long. Compliance is assumed. Intelligence underestimated. Will mocked. The contempt for the people in the political class along with the arrogance of dominant power will find its limits. The people will push back."
But there has also been some negative push back to the trucker strike plan.
One Twitter member posted, "I find it amazing that so many Billy Big Riggers are spouting off about #stopthetires2020 to make some convoluted point about a so-called billionaire who lost, when all I hear when I talk to actually truckers is how hard it is to make ends meet. Wrong side of history. Again."
Another stated, "To the 1% of truckers that will be stupid enough to participate in this, know that the majority of us are not on your side ... you're trying to overturn an election by attempting to bring the nation to its knees."
Sources: CDL Life, GoByTruck News, StopTheTires2020 Facebook Group
Tagged Under:
Adverse Conditions
The Economy And Politics
Trucking Industry Concerns
Trucking News
Videos