Queen of the Road winners named by REAL Women in Trucking
Last Updated: Sun, July 18, 2021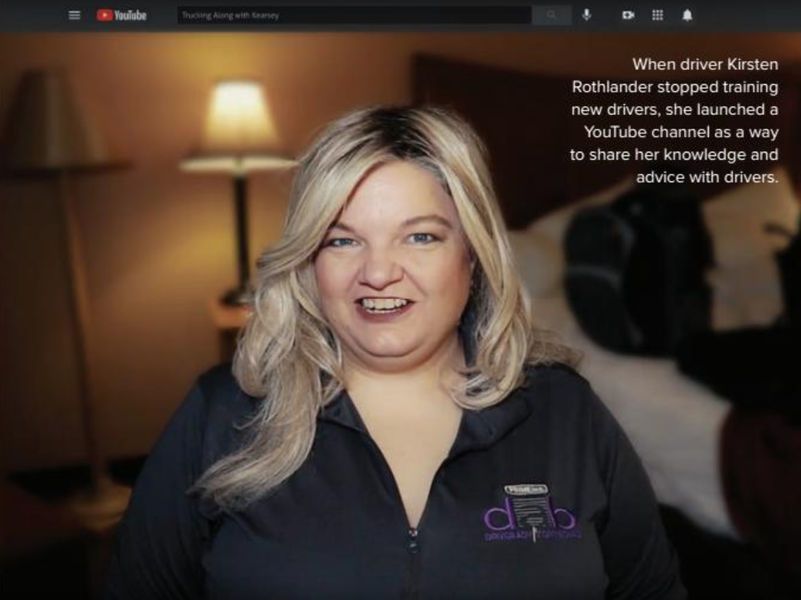 Screen capture of Kirsten Rothlander photo from PRIME Ways magazine
REAL Women in Trucking, an organization that supports women drivers, will honor its 5th Annual Queen of the Road winners during an award ceremony on August 14 in Las Vegas, Nevada.
RWIT, not to be confused with the Women in Trucking organization says they are, "women truckers that promote safety by educating the public about unsafe truck driver training and by creating a network of support for women entering trucking."
They believe that by "creating a reliable resource that promotes transparency" they are able to "mentor qualified women who wish to become commercial drivers and connect them to quality employers and services that will benefit them."
In addition to the five women honored as this year's RWIT winners is Trucking Truth's own Kirsten Rothlander, known to Trucking Truth members as "Kearsey" and "Rainy," who was nominated for the Queen of the Road contest.
The award ceremony will take place beginning at 6:30 pm August 14 at the Brio Tuscan Italian Grille in Las Vegas. All are invited to attend with an RSVP.
Other events during RWIT's Las Vegas multi-day get together that spans August 12 through August 16 include a Meet and Greet at 6pm Thursday at Carlos 'N Charlie's in the Center of the Flamingo Hotel and Casino, hanging out at a cabana pool party on Friday, and ending the weekend Sunday morning with a professional photo shoot open to all lady drivers from 10:30 am to 12:30.
RWIT's 2021 Queen of the Road Award Winners
Darnise Harris
Darnise Harris began her truck driving career driving three years OTR, loading and unloading for 60 cents a mile. Then she spent the next nine years transporting freight regionally for a major food distributor.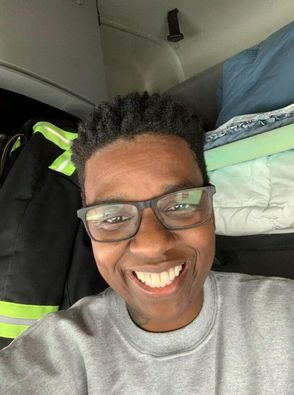 The person who nominated her tells the rest of the story:
"It was not until April 2019 that I would get the opportunity to hire her at Mariner Distribution. She came with a wealth of experience, but I soon realized that she had not reached her full potential. I watched as she demonstrated a positive attitude and impeccable work ethic. Even when her day does not go as planned, her unwavering commitment is evident to everyone who meets her.
"A team player who soon proved herself as a leader who the company could depend on often referred to as our Rising Star. It is with great pleasure that I share with you that since joining Mariner over two years ago, she has graduated from Company Driver to Owner Operator."
She also serves as a leader and trainer, being the go-to person for training new drivers and demonstrating the SMITH driving system.
Her nominator went on to say, "I still remember the day that she came to the office to discuss her options at Mariner. She entered the office with tenacity and confidence. She would be the only female driver at Mariner. I was slightly reluctant to hire her because I knew the physical demands of the job were difficult.
"By the end of our conversation, I offered to give her a chance. She worked hard: was always punctual, always positive, and is a great communicator. It was one of the best hiring decisions I ever made."
Mary Gomez
As a single mom, Mary Gomez finds herself working strange hours to accommodate her five children. Her youngest daughter is a super soccer player, and Mary makes sure to get to every game. She also has three grandsons who love to go trucking with "Nana."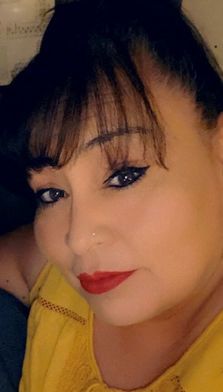 Her nominator says that, "Her family was at first against her becoming a truck driver but realized this was her dream. They could not be prouder of her now!
"She is always available to help someone and has made it a point to give 'newbies' her contact information if they need help with something or just need to talk. She has a brilliant smile that she shares with all!
"She will always get out and help another driver or be a spotter even before they ask that way, she protects her truck and has a chance to meet a new friend.
"I took her on her first trip with this company. Sometimes I was laughing so hard I almost cried. She did not tell me she had acid reflux and unfortunately when we parked her head was on the downhill side. I felt so bad that I had made her sick and she just smiled a BIG smile and said 'This is your truck, and I am only a guest.'"
Angie Baum
Angie Baum was the oldest in her CDL school class, as she started into trucking when she was 45 years old. She says that all of her trainers were male and treated her like she was too old to finish.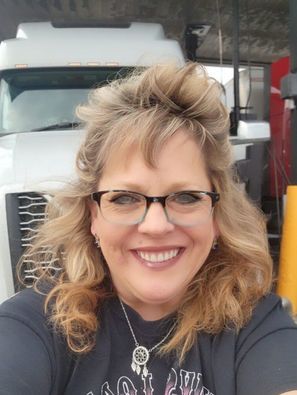 Her nominator says that, "They harassed her and tried to get her quit. After finally having enough she contacted FedEx who was sponsoring her class. They threatened to never send any further students to that school unless they trained her properly.
"Within a week of that phone call, she passed her CDL exam in Missouri, since then she has gone on to create Trucker's Safety Info providing weather and accident reporting for truck drivers."
Angie and her husband have, through a private truckers relief fund, gifted some 500 meals to truck drivers during the COVID period.
"She is one of the most selfless people I know who truly loves her trucking community and wants to make a real difference," her nominator said.
Presidents Choice Trucking Industry Trailblazer Awards
Brita Nowak, born in East Germany, began driving truck shortly after moving to Los Angeles, and spent the entire two years of her training contract planning to become an owner operator.
She is now in her 20th year of driving with her own authority as BratCat Express, owning her own truck and trailer.
Jess Graham has worked as both a company driver and as an independent, with her homeschooled daughter travelling with her for a time. Her daughter is now in college, and Jess acts as a mentor to many individual women truckers and is a tireless advocate in the industry.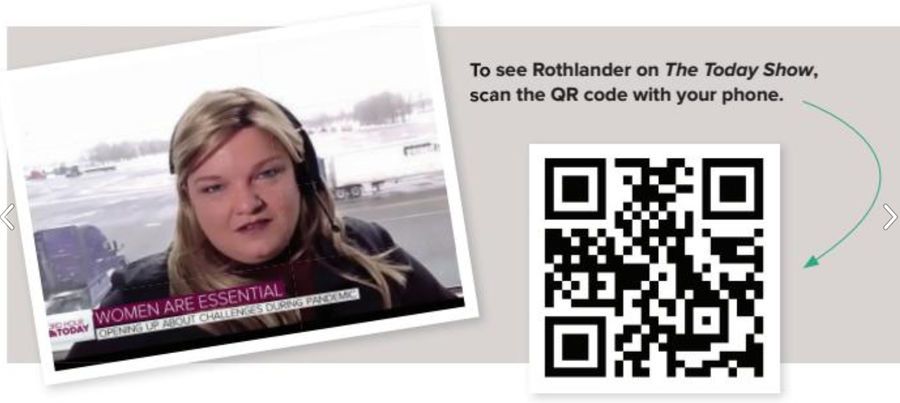 Screen capture of Kirsten Rothlander photo from PRIME Ways magazine
Kirsten Rothlander gets a PRIME Ways magazine writeup
Kirsten Rothlander, a regular contributor to the Trucking Truth website, earned a nomination to the REAL Women in Trucking Queen of the Road contest.
She has also been featured in PRIME Ways magazine, the carrier she drives for as a company driver.
She began her career with Prime, going solo on Valentine's Day in 2016. She remembers early on being at the Salt Lake City terminal when a Prime driver of 25 years was retiring and giving other drivers some of his equipment. He handed Kirsten his $300 GPS.
"He told us to pay it forward by helping future Prime drivers. This community spirit makes me feel at home here at Prime," she said in the magazine article.
She began doing just that, and offered her phone number to new Prime drivers who might be needing assistance. "I remember how nervous I was as a rookie driver, and try my best to explain to new drivers that it's okay. We all went through it," she says.
She then moved into training rookie Prime drivers.
Kirsten launched her YouTube channel called Trucking Along with Kearsey in September 2019.
"I started the channel because I decided to stop training, but I really love teaching people," she says. "You can't learn everything in training. There are things you learn on your own, like the widest toll booth is furthest to the right and to put your vi­sors down when defrost is on."
Her success with YouTube led to it being financially monetized, and Kirsten has paid it forward once again by turning over some of the proceeds to two favorite organizations, Meals on Wheels and Toys for Tots.
Kirsten told PRIME Ways that those organizations weren't just chosen at random. She said her mother relied on delivery services for groceries during the beginning of the coronavirus pandemic.
Toys for Tots similarly evoked emotion in Kirsten, as giving to that organization was a tribute to her late sister.
Kirsten has been featured on NPR, and most-recently the Today Show.
---
Dave Wickenhauser went on the road driving big rigs after retiring from 33 years in newspaper journalism. His trucking novels, Crimson Highway, the first in the Hugh Mann series, and the sequel, Road Test, are available at Amazon as paperbacks, and as Kindle ebooks.
Sources: REAL Women in Trucking, PRIME Ways magazine
Tagged Under:
Advice For New Truck Drivers
Becoming A Truck Driver
Life On The Road
Owner Operator
Prime Inc
Truck Driver Safety
Truck Driver Training
TT Website
Women In Trucking