Friday Short Haul - Walmart buys Tesla semis, FMCSA drivers panel, Pronto.ai is denied request, and Jim Mullen moves to TuSimple
Last Updated: Thu, October 1, 2020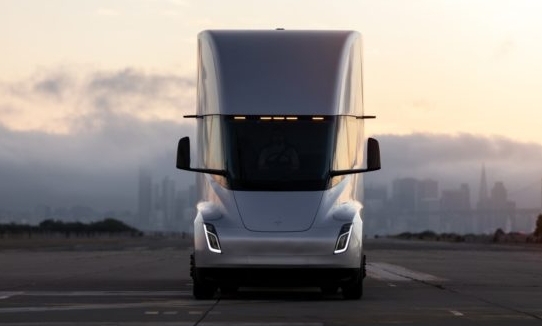 Walmart Canada planning to be 20 percent electric in less than two years
In a first step in Walmart's goal to be 100 percent alternative power by 2028 and to be zero emissions with its fleet of semis by 2040 Walmart Canada has ordered 130 Tesla electric semi trucks.
In addition to the electric semis, Walmart Canada will be building two new distribution centers "to speed up the flow of products, re-invented and 'smarter' stores, an enhanced omni experience and modern digital tools to ensure associates can best serve customers," according to a Walmart news release.
In Walmart Canada's news release Francis Lalonde, VP Transportation, said, "We are tremendously excited to equip our drivers with this next generation equipment. The safety and smart elements in the design are at the heart of our smart transportation ambition which will use technology and data to lower our operating costs and improve safety for associates."
Touting a 500 mile range per charge, Walmart Canada explained that there were many additional features that led them to the Tesla electric semis:
Tesla Semi consumes less than two kilowatt-hours of energy per mile at Gross Vehicle Weight (GVW) and highway speed, significantly reducing operating costs per mile compared to diesel.
500 miles range allows a driver to go to their destination and back without recharging (500 mile range at maximum weight at highway speed)
Capable of 0-60 mph in 20 seconds with a full 80,000-pound load and can climb 5 per cent grades at a steady 65 mph (compared to 45mph for same grade in a diesel truck)
Regenerative braking technology recovers 98 per cent of kinetic energy to the battery
Surrounding vehicle cameras and sensors aid object detection and minimize blind spots, automatically alerting the driver to safety hazards and obstacles
Additional driver safety features including Automatic Emergency Braking, Automatic Lane Keeping, Lane Departure Warning
FMCSA looking for input from truck drivers; creates advisory panel
The Federal Motor Carrier Safety Administration is ready to begin accepting applications from drivers interested in becoming members of the recently announced drivers advisory panel.
The agency regularly accepts comments from interested persons during proposed rule-making changes, but this panel will sit to give FMCSA direct advice on issues like hours of service rules, truck parking and truck driver training.
Drivers can submit a resume and a personal statement to the FMCSA by emailing MCSACDriver@dot.gov. Letters of recommendation outlining a driver's qualifications and experience are welcomed. The deadline for submissions is Friday, October 16.
Once selected, the panel will consist of 20 to 25 members representing various sectors of the trucking industry under the umbrella of the Motor Carrier Safety Advisory Committee.
"The Department of Transportation and this Administration believe in listening to our drivers and hearing their concerns directly. We know that many of the solutions to the challenges we face don't come from Washington—they come from the hard-working men and women who are behind the wheel all over our nation. This new subcommittee to MCSAC will further help us hear from America's commercial drivers," said FMCSA Deputy Administrator Wiley Deck, in announcing the advisory panel application openings.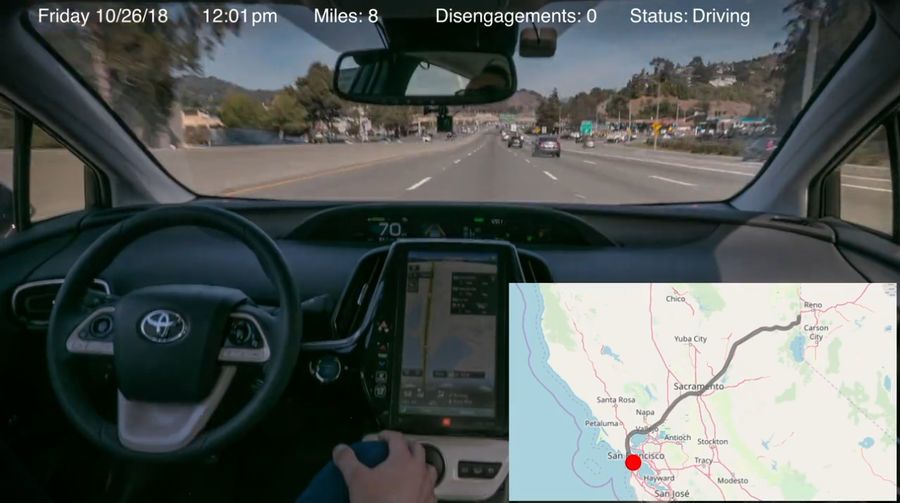 Pronto.ai denied request for HOS exemption for its drivers
Pronto.ai, innovator of the Copilot by Pronto advanced driver assistance systems, and the SmartDrive Video Safety Program, has asked the Federal Motor Carriers Safety Administration for an hours of service exemption for drivers using those technologies.
In its request, Pronto.ai said that it believes drivers using their systems would be as safe or safer than drivers using traditional methods, and asked FMCSA to allow drivers operating these CMVs to drive up to 13 hours within 15 hours after the beginning of the work shift, following 10 consecutive hours off duty.
Pronto.ai's examples of benefits of their technology that should allow for the HOS exemption included:
Mandatory use of the most sophisticated ADAS system on the market, coupled with SmartDrive's best-in-class videobased safety program and intelligence platform;
A significant increase in a driver's physical comfort, resulting in less physical fatigue during a shift;
An active management approach to the technology roll-out with carriers and drivers, achieved through Pronto's compulsory, full-day driver training program and the ability of SmartDrive's platform to enable rapid identification of drivers needing additional training;
Pronto's unique ''Safe Landing'' feature that identifies highly inattentive or non-responsive drivers, and attempts to safely and gradually bring the truck to a complete stop; and
SmartDrive's fatigue-monitoring and alerting system, SmartSense, which provides real-time in-cab alerts to the driver and triggers a video for immediate verification and intervention by the carrier.
On September 28 FMCSA announced its decision to deny Pronto.ai's application for an exemption from the 11-hour driving limit and the prohibition against driving after the 14th hour after coming on duty.
The agency stated that after analyzing the exemption application and the public comments it determined that the applicant has not demonstrated that the requested exemption would likely achieve a level of safety that is equivalent to, or greater than, the level that would be achieved absent the exemption.
According to the decision's publication in the Federal Register, FMCSA received more than 300 comments regarding Pronto.ai's request. Of those, 294 were opposed to the exemption request.
A long list of trucking and safety interests filing in opposition to Pronto.ai's request included Advocates for Highway and Auto Safety; California Highway Patrol; Commercial Vehicle Safety Alliance; Insurance Institute for Highway Safety; Institute for Safe Trucking/Road Safe America; International Brotherhood of Teamsters; Owner-Operator Independent Driver's Association; Transportation Trades Department American Federation of Labor and Congress of Industrial Organizations (AFL–CIO); Transport Workers Union of America AFL–CIO; Truckload Carriers Association; and the United States Transportation Alliance.
Reasons given for opposing the request varied from believing that the lack of safety metrics for Pronto.ai's ADAS system posed a risk to the public, to believing that the exemption would give Pronto.ai an "unfair competitive advantage to carriers that utilize its product."
Of the six commenters who wrote in support of the HOS exemption request, including one from Scopelitis Transportation Consulting, comments stated they believed the exemption was in line with the recent HOS changes that went into effect this week.
Also mentioned was that the FMCSA could impose a list of conditions that Pronto.ai-equipped drivers would have to abide by that would go beyond what Pronto.ai was requesting.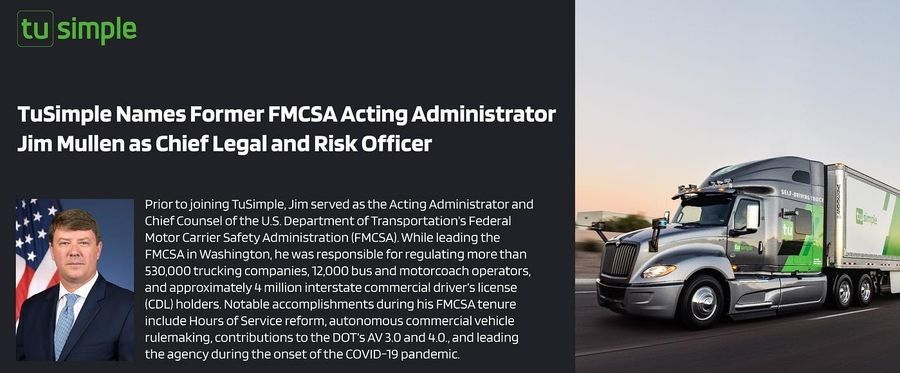 Former FMCSA acting administrator moves over to TuSimple
Jim Mullen, who left the Federal Motor Carrier Safety Administration as Acting Administrator in August, has been picked up by the self-driving semi truck innovator TuSimple, where he will serve as the company's chief legal and risk officer.
In the announcement on its Facebook page TuSimple said, "We're delighted to welcome former FMSCA Acting Administrator Jim Mullen to the team as TuSimple's new Chief Legal and Risk Officer. Jim's experience leading the U.S. Department of Transportation's Federal Motor Carrier Safety Administration will prove to be invaluable as we work to introduce L4 autonomous trucks to the market safely and reliably by 2024."
Mullen's short 10-month-long period at FMCSA occurred at an important time for the agency as it was at a time when the hours of service reform was underway and on the verge of being implemented.
Before that, he had served for more than a decade as executive vice president and chief counsel for Werner Enterprises.
"While leading the FMCSA in Washington, D.C., he was responsible for regulating more than 530,000 trucking companies, 12,000 bus and motor coach operators and approximately 4 million interstate commercial driver's license holders," TuSimple noted on its Facebook page about Mullen.
"Notable accomplishments during his FMCSA tenure include hours-of-service reform, autonomous commercial vehicle rulemaking, contributions to the DOT's AV 3.0 and 4.0 and leading the agency during the onset of the COVID-19 pandemic."
Sources: CDL Life, FMCSA, CDL Life, FMCSA, Land Line
Tagged Under:
Autonomous Trucks
Electric Semi
FMCSA
Hours Of Service
Self-Driving Vehicles
Truckers Technology
Walmart
Werner Enterprises