Senate Transportation Committee gets an earful from trucking execs
Last Updated: Sun, February 9, 2020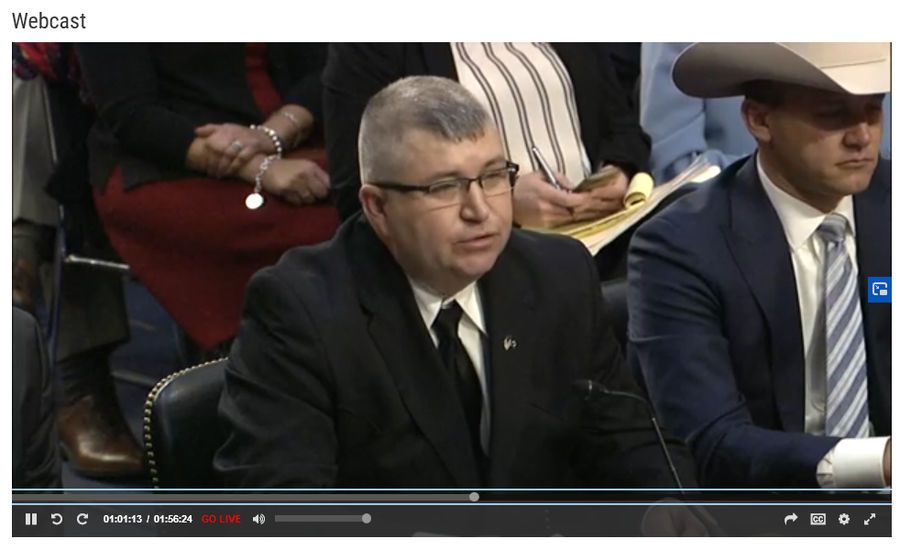 The United States Senate Commerce Subcommittee on Transportation and Safety invited testimony from trucking representatives on February 4 to allow them to sound off with their opinions on the U.S. trucking industry … and committee members got an earful.
Executives from two of the largest organizations representing truckers gave detailed testimony, sometimes being diametrically opposite in their views.
American Trucking Associations CEO Chris Spear took a more moderate stance, while Owner-Operators Independent Drivers Association Executive Lewie Pugh often gave a blunt appraisal of the job that Congress is doing in regulating trucking.
ATA's Spear reminded committee members that a "growing addiction" by passenger vehicle drivers to speeding and driving while distracted by texting has likely led to the fact that in 72 percent of accidents involving big rigs it's the other driver who is at fault.
The ATA opposes the Federal Communication Commission's proposed rule that would reduce the safety spectrum for transportation purposes, and asks the Department of Health and Human Services to prepare a rule allowing for hair testing for drugs.
OOIDA's Pugh took a stronger stance in calling on the committee to pull back on some proposals that he called meaningless, including speed limiters, mandated front and side underride guards, and increased insurance premiums.
Pugh said that OOIDA does not support the DRIVE-Safe Act that allows drivers under the age of 21 to engage in interstate commerce. ATA supports that measure.
Pugh's reasoning in opposing opening up interstate commerce to under-21 drivers revolves around a rejection of the idea that the nation suffers a driver shortage.
"Contrary to what other associations repeat, constantly, there is no driver shortage." Pugh said in his testimony. "The notion of a driver shortage isn't supported by facts, data, or reputable research. In other words, it's a myth. We oppose this bill because it's a solution in search of a problem, and we urge Congress to reject it."
He continued: "I would agree that I learned the skills on how to operate a truck and maneuver a truck very well in the United States Army, and I'm very thankful for that. But I think there's still more training that needs to be issued. Because driving a truck in military life … is much, much different than in civilian life. You're usually in convoy. You usually had people overseeing where you were going. You had designated routes, and you weren't just turned loose.
"When I turned 21 and went to work as an over-the-road trucker, I was just turned loose. Again, I was fortunate to be trained with the skill, but as far as the knowledge and the real-world knowledge of what's out there … I was lucky. I didn't have any accidents or anything happen, but that real-world knowledge would have been nice to have had a little more training on before I was just turned loose."
Spear countered that since 48 states allow an under-21 driver to haul freight in a big rig within state lines the reasoning for not allowing that driver to cross a state line fails when one considers that an under-21 driver can haul freight 850 miles the length of California, but is prohibited from hauling a load 10 miles from Providence, Rhode Island, to Rehoboth, Massachusetts, because a state line must be crossed.
The DRIVE-Safe Act, according to Spear, requires young drivers to undergo a 400-hour apprenticeship period, and training in safety technology. Currently, 48 states do not require this additional experience and training to receive their intrastate CDLs.
Pugh, in his blunt message, continued: "It's time to listen to the hard-working men and women that drive for a living. If you ask most drivers what Congress has done recently to improve the profession, the answer is 'nothing.'"
He declared that the ELD mandate has failed, and called on Congress to repeal that rule.
"Today's truckers are subject to more regulations and greater enforcement than ever before, and while compliance with those regulations has never been higher, crash rates are still moving in the wrong direction. A prime example of this problem is the electronic logging device (ELD) mandate," he stated in his written testimony.
"This massively expensive rulemaking, disguised as a silver bullet to improve safety, has driven many experienced truckers out of the industry. The roughly $2 billion in costs associated with the mandate have imposed financial and compliance burdens on American businesses of all sizes, especially small carriers who are forced to spend their resources on installation compliance, and service fees for equipment that has not shown any proven safety benefit.
"We urge the Committee to repeal the ELD rulemaking or consider commonsense legislation that would exempt small-business carriers and drivers who have exhibited a proven history of safety."
He also said Congress should repeal the provisions that exempt truck drivers from receiving overtime pay. In general, Pugh encouraged committee members to "abandon meaningless, unproven and unsafe proposals."
Some Pugh quotes from his written testimony:
"From the perspective of small-business motor carriers and professional drivers, the state of the trucking industry is dysfunctional. This is because too many people who know virtually nothing about trucking have an oversized role in shaping trucking policy. Drivers feel the negative effects of this firsthand, myself included."
"The hours-of-service rules are broken. There are hundreds of regulations that have nothing to do with highway safety. The lack of available truck parking is a national crisis. Enforcement is often motivated by profit. And drivers work extremely long hours with notoriously low pay."
In summary, Pugh recommended that members of Congress:
Repeal the failed electronic logging device mandate.
Repeal the overtime exemption for drivers in the Fair Labor Standards Act.
Provide dedicated funding for new truck parking capacity.
Create a fair process for drivers to appeal inspection violations written in error.
Fix the nation's crumbling infrastructure in an equitable way.
Do not mandate speed limiters.
Do not mandate front and side underride guards.
Do not mandate higher insurance minimums.
Do not enact a truck-only vehicle miles traveled tax or expand tolling authority.
Do not pass the DRIVE-Safe Act.
Where Spear and Pugh found commonality was in the areas of infrastructure improvement, and increasing truck parking capacity.
Spear pointed out that trucking loses about $70 billion each year while drivers have to sit and idle in traffic delays; which is the equivalent of 425,000 drivers idling for a year.
Not only is this a financial issue, all that idling results in 67 million tons of CO2 being emitted, he said.
Spear said ATA supports the Build America Fund that proposes levying a fee of 20 cents per gallon of fuel, with an estimate of $340 billion being raised in the first 10 years. He added that hybrid and electric cars should also pay some fee to contribute to the fund because they use the roads, but do not pay fuel taxes.
Others speaking before the committee included David Heller, Vice President of the Truckload Carriers Association; Dawn King, President of the Truck Safety Coalition; Jake Parnell, Manager of the Cattleman's Livestock Market; and Sgt. John Samis of the Delaware State Police and President of the Commercial Vehicle Safety Alliance.
Sources: Hearing Webcast, Spear's written testimony, Pugh's written testimony, Land Line, The Trucker
Tagged Under:
Electronic Logbooks
FMCSA
Owner Operator
The Economy And Politics
Trucking Industry Concerns
Trucking News
Understanding The Laws