FMCSA reminds drivers of 'adverse conditions' exemptions to HOS rules
Last Updated: Tue, August 4, 2020
Truck drivers are facing an increasing number of incidences of violence, as chronicled in this CDL Life article; with a marked increase recently because of out-of-control rioters.
However, perhaps the most bizarre incident involving a trucker occurred last Saturday on the Florida Turnpike.
Around 1 pm August 1 an ABF Freight System driver named Edward Hughes found himself having to deal with a scantily clad man clinging crazily to the hood of his truck, and the man stayed there for nine miles despite Hughes' attempts to shake him off.
Witnesses said the man attached himself to Hughes' truck after exiting a Toyota SUV and hiking over the median into the northbound lane, where he flagged down the semi.
Hughes said he slowed, perhaps to render aid to the man, but when the man climbed onto his hood and began beating on his windshield he decided to accelerate and make maneuvers with his truck to shake the man loose.
Before the incident was over, Hughes' windshield had all but been broken through from the man's efforts to break into the truck.
According to reports, law enforcement authorities transported the man to a hospital for a mental evaluation, and to administer to his minor injuries.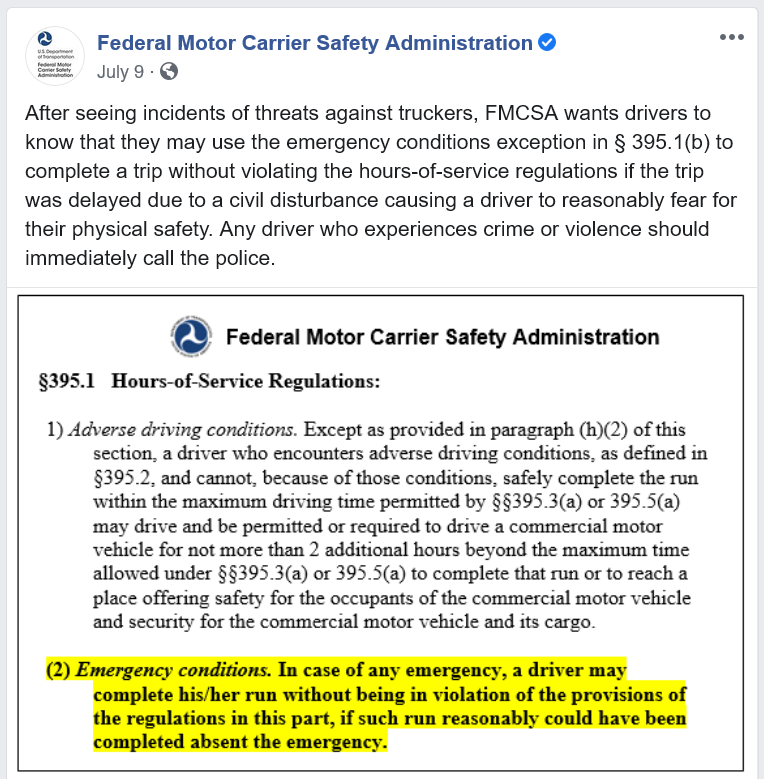 FMCSA issues guidance for 'adverse conditions'
Ironically, less than a month before this bizarre incident in Florida, the Federal Motor Carrier Safety Administration had issued a guidance, or reminder, to drivers that they may use an adverse condition exemption to the hours of service regulation if they encounter conditions causing them to go beyond their allotted daily drive time.
Normally, the exemption applies to acts of nature like weather, flooding, bridges out, etc., but this latest reminder from the FMCSA comes as a result of the recent road blockages and other incidents caused by lawless rioters throughout the nation.
Broadcast through its Twitter feeds and Facebook page, FMCSA's guidance reminds that:
"DRIVERS: Know you may use the emergency exception in §395.1(b) to complete a trip without violating HOS if the trip was delayed due to a civil disturbance causing reasonable fear for physical safety. A driver who experiences crime or violence should immediately call the police." -- Twitter
And:
After seeing the incidents of threats against truckers, FMCSA wants drivers to know that they may use the emergency conditions exception in §395.1(b) to complete a trip without violating the hours-of-service regulations if the trip was delayed due to a civil disturbance causing a driver to reasonably fear for their physical safety. Any driver who experiences crime or violence should immediately call the police. – Facebook
The exemption is meant to allow a driver to complete his or her driving day beyond the HOS allotted time despite encountering an adverse condition as long as that trip could have been completed legally if the condition had not been encountered.
The FMCSA has anticipated driver questions regarding use of the exemption:
Question: If a driver invokes the exception for adverse driving conditions, does a supervisor need to sign the driver's record of duty status when he/she arrives at the destination?

Answer:

No.

Question: May a driver use the adverse driving conditions exception if he/she has accumulated driving time and on-duty (not driving) time, that would put the driver over 15 hours or over 70 hours in 8 consecutive days?

Answer:

No. The adverse driving conditions exception applies only to the 10-hour rule.

Question: Are there allowances made in the Federal Motor Carrier Safety Regulations (FMCSRs) for delays caused by loading and unloading?

Answer:

No. Although the regulations do make some allowances for unforeseen contingencies such as in §395.1(b), adverse driving conditions, and §395.1(b)(2), emergency conditions, loading and unloading delays are not covered by these sections.

Question: How may a driver utilize the adverse driving conditions exception or the emergency conditions exception as found in §395.1(b), to preclude an hours of service violation?

Answer:

An absolute prerequisite for any such claim must be that the trip involved is one which could normally and reasonably have been completed without a violation and that the unforeseen event occurred after the driver began the trip.

Drivers who are dispatched after the motor carrier has been notified or should have known of adverse driving conditions are not eligible for the two hours additional driving time provided for under §395.1(b), adverse driving conditions. The term "in any emergency" shall not be construed as encompassing such situations as a driver's desire to get home, shippers' demands, market declines, shortage of drivers, or mechanical failures.
FMCSA recommends that drivers encountering unsafe conditions because of lawless behavior and needing to use the adverse conditions exemption make a notation in their ELDs saying, "civil unrest, unable to safely operate."
According to a recent Land Line article following reports of truckers encountering civil unrest in cities, truckers choose to observe discretion rather than drive into unsafe areas.
For example, in June, on the same night that four St. Louis police offers were shot, one driver told Land Line that she was entering the city at that time but her instincts told her to avoid making their delivery.
"I've been cutting through the woods a bit to go around cities," Linda Allen told Land Line. "The other night, coming up on St. Louis and I just had a feeling in my gut that I just didn't want to go through the city. My husband and I are running team, and I end up saying, 'Look we just need to pull over,' and he said, 'Our load will be late.' And I said, you know what, I don't care. It's better to be late and safe than sorry and dead."
"We ended up pulling in to a truck stop about 30 miles from St. Louis, and we would've been going through St. Louis right at the time those officers were shot – and protesters were closing down the freeway. So we definitely made the right decision, and we just didn't know. Just had this feeling that we just needed to stop."
Reminder: Virtual Trucking Safety Summit today
The FMCSA virtual Trucking Safety Summit will take place today, August 5, from 9 am to 4:30 pm. Ordinarily held "in person" in Washington, D.C., the summit this year will be held online, making it accessible to anybody with access to GoToWebinar.
Separate registration is required for each session, but there is no charge.
See the Trucking Truth article about the Trucking Safety Summit for more information about the summit, for a description of each session and for links for registration.
Sources: CDL Life, CDL Life, YouTube video, Land Line, FMCSA regulations
Tagged Under:
Adverse Conditions
FMCSA
Hours Of Service
Truck Driver Safety
Videos