CDC releases lates COVID-19 guidelines for truckers
Last Updated: Sun, November 22, 2020
In reaction to the latest news about an alleged new outbreak of the COVID-19 virus the Centers for Disease Control has released new guidelines specifically for truck drivers and their carrier employers.
According to the guidelines, "As a long-haul truck driver, you spend many hours alone in the cab of your truck. However, there are times when you will be at increased risk of exposure to COVID-19."
The CDC says that truck stop workers, store employees, dock workers, other truck drivers – virtually everybody a driver can potentially come in contact with doing his or her job – can be a source of exposure to the virus, especially if that driver touches his or her mouth or eyes after touching a surface touched or handled by someone with the virus.
A quick review of the major travel centers' websites found no recent announcements that any of the truck stops and travel centers frequented by commercial truck drivers are taking extra precautions or measures to accommodate this latest "outbreak."
This could change an any time, so drivers are cautioned to visit travel center websites often for news about restrictions or closures.
Much of the CDC guidelines closely follow those recommended to just about any other workers during the virus crisis, including wearing masks, washing hands, social distancing, etc.
But the guidelines also include advice specifically for commercial truck drivers:
Limit time spent outside of the truck cab during fueling, loading and unloading, and at rest and truck stops.
Use paperless, electronic invoicing for fueling, deliveries, and other tasks, when available.
Contact facilities in advance to make an appointment for unloading of cargo. Be aware that some facilities may not grant access to restrooms, and plan as best you can.
Use radio/phone to talk with dock managers or other drivers, if possible.
Pack food, water, and supplies to limit the number of stops.
Avoid shaking hands.
Keep your truck well-ventilated.
Truckers are also advised to clean and disinfect frequently touched surfaces in or on their trucks. Such surfaces can include the truck cab's door handles, steering wheel, seat belt and buckle, arm and head rest, seat cover, turn signal, wiper controls, dashboard, air ducts, radio, and temperature controls.
In the sleeper berth, CDC recommends drivers clean and disinfect light switches, the mattress tray, temperature controls and all other surfaces.
In addition to hand washing before entering and leaving the cab, after loading or unloading cargo, taking rest and meal breaks or fueling, the CDC recommends that drivers avoid sharing their protective equipment such as vests, safety glasses, hard hats, or tools, phones, radios or other personal items with other persons.
It is suggested also that drivers find out from their carriers which pre-qualified truck stops or hotels employ appropriate virus protections.
Finally, team drivers and drivers having ride-along guests are advised that everyone in the cab should wear face masks, and they should avoid sharing bedding in the sleeper berth.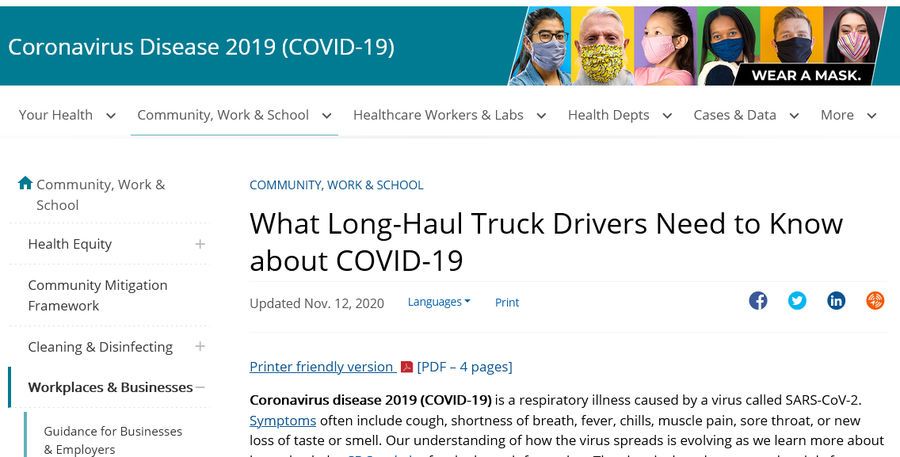 Advice for carriers
The CDC guidelines, again, closely follow those recommended for virtually every other business in the United States, like advising someone who is sick to stay home, having a COVID-19 response plan, providing employees with accurate information about the virus and how it spreads and how to reduce risk of exposure.
Being in mind of the average older age of truck drivers with their higher incidences of medical conditions, the CDC recommends that carriers have specific policies to keep contact between such drivers to a minimum, or at least to revise work policies that allow them to maintain a six-foot distance from each other and other employees.
The CDC also want carriers to make sure that all drivers have their own protective equipment like vests, safety glasses, and hard hats, so that they won't need to borrow such things from other drivers or shippers.
Carriers are also urged to install a removable barrier between the driver and passenger in the cab during a team driving or ride-along situation that does not obstruct driving capability.
Outside the cab, carriers are recommended to develop policies and technologies that allow contactless deliveries, such as no-signature delivery; which limits contact and prevents the need for sharing pens and signature clipboards at shipping locations.
During driver training sessions, the CDC recommends developing virtual training programs, limiting ride-alongs and avoiding in-person classroom training.
Carriers are also advised to make pre-qualification judgments on whether truck stops, rest areas and hotels are providing COVID-19 safety practices for cleanliness, proper food handling and contactless fuel payment.
Finally, the CDC advises carriers to:
Designate a person who is responsible for responding to COVID-19 concerns. Drivers should know who this person is and how to contact them.
Consider using a hotline for employees to voice concerns anonymously.
Make a plan with your employees as to what to do if they become sick while on the road. Include where to stop, where and how to seek medical advice and treatment, and plans for freight delivery.
Implement flexible sick leave and supportive policies and practices. Consider drafting non-punitive emergency sick leave policies if sick leave is not offered to some or all employees. Employers should not require a positive COVID-19 test result or a healthcare provider's note for employees who are sick to validate their illness, qualify for sick leave, or to return to work.
Provide information on who to contact if employees become sick. If an employee is confirmed to have COVID-19 infection, employers should inform fellow employees of their possible exposure to COVID-19 in the workplace, but maintain confidentiality as required by the Americans with Disabilities Act (ADA).
Schedule driver routes to allow for adequate sleep, and use fatigue management strategies.
Understand that the current environment could elevate stress levels among drivers. Provide resources to help manage stress.
Sources: CDC
Tagged Under:
Adverse Conditions
Advice For New Truck Drivers
Coronavirus
Health Concerns
Team Driving
Truck Driver Safety
Truck Driving Lifestyle
Truck Stops
Trucking Industry Concerns